Epson Red Sea 2009 presents Prizes Valued At $80,000!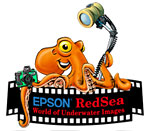 It's not that we think less of glory, recognition and reputation. On the contrary, we believe that talented underwater photographers deserve it all, but at last, we wish to grant you with the opportunity to finally go home with some REAL cash prizes as well.
About the Epson Red Sea Competition
The Epson Red Sea 2009 event will take place on November 9-14th in Eilat, Israel. This will be the 5th year in a row in which the Red Sea World of Underwater Images event is being held in Eilat, while prizes are rapidly increasing from one year to another.
The competition is open for all underwater photographers, including amateurs, professionals, videographers and more, and consists of two main categories. The first is called Images of the World, in which participants are invited to submit images that were shot anytime and anywhere around the world, without even attending the competition. The second category is called Eilat Shoot-Out, in which participants submit only images that are taken during the three days of this competition in Eilat.
Prizes this year are valued at more than $80,000 and include luxurious diving trips in exotic destinations, expensive diving gear, professional underwater photography equipment and of course- cash prizes. The first prize this year, one of many others, is a $10,000 check plus a trip for two to Papua New Guinea for 3 weeks including airfare.
For a full list of Epson Red Sea 2009 category prizes, please click here.
Competition Registration is Now Open
You are invited to start by choosing your best photos, taken anytime and anywhere around the world, and submitting them to the Images of the World category by clicking here.
Yes, you can stay home and still participate in the Images of the World category by simply filling out the on-line registration form and sending us the best underwater images you have ever taken. Note that images can be submitted to this category only till October 15th, so hurry up!
Don't Feel Like Staying Home?
Even better! Using the same Entry Form, register to the Eilat Shoot-Out competition category, which takes place in Eilat on November 9-14. Categories were specially created for professional underwater stills photographers, underwater videographers, amateurs and more. Join us for an unforgettable week of adventures, including valuable prizes for the winners.
For further information, please visit our website, www.eilatredsea.com, or contact us at info@eilatredsea.com.
Related Content:
Photography Events News & Articles
Epson Red Sea 2009 Web Site