I've been waiting a long time for this camera. The new Nikon 1 AW1, announced last week, is the first rugged, waterproof interchangeable lens digital camera. The AW1 can be submerged nearly 50 feet underwater, dropped more than 6 feet, and it's even freezeproof. To go with the AW1, Nikon also introduced two new Nikkor AW waterproof lenses: an 11-27.5mm f/3.5-5.6 zoom (approximately equivalent to 30-74mm) and a 10mm f/2.8 prime (27mm equiv.). I've been using rugged waterproof point-and-shoots for a long time but they always fall a little short in the image quality department. With a larger 1-inch CX-format sensor, RAW shooting, PASM manual shooting modes, world's fastest full-res burst rate, and the Nikon 1 system's outstanding continuous auto focus, the new AW1 brings a whole new level of performance to outdoor photos and videos.


Nikon 1 AW1 Key Features & Specs:
14.2 megapixel High-Speed AF CX-format CMOS sensor
1080 60i full HD video with 720p at 60 FPS
Super-quick hybrid auto focus for stills and video
Waterproof to 49 feet / 14.9m
Shockproof from 6.6 feet / 2m
Freezeproof to 14F / -10C
P,A,S,M and scene modes
Simultaneous still and video capture
3-inch 921k-dot LCD display
ISO 160-6400
Built-in pop-up flash
15 FPS continuous AF burst and 60 FPS with focus locked
JPEG, NEF RAW, NEF RAW + JPEG
Built-in GPS with altimeter, depth gauge and compass
Electronic level
Action Control for shooting with gloves on
I've been waiting for one of the big camera manufacturers to step up and make a truly high-performance compact, waterproof camera. I love rugged point-and-shoots for mountain biking and skiing and I've been using them since they first became available (check out my Outdoor & Waterproof Camera Guide). They've gotten a lot better over the past couple of years but there's no way around it – even the best waterproof P&S is an image quality compromise. Even the best of them have small 1/2.3-inch sensors and the controls don't compare to more serious cameras. While Nikon's 1-inch "CX-format" sensor is smaller than what you get in most mirrorless cameras and DSLRs, it's still a lot bigger than the sensors in waterproof point-and-shoots – and that means significantly better image quality.
Better image quality and interchangeable lenses aren't all the AW1 has to offer. The Nikon 1 cameras are really fast and have exceptional auto focus performance – especially for moving subjects. At 15 frames per second with continuous auto focus, the AW1 actually has the fastest full-resolution burst rate of any camera, insuring you're not going to miss any of the action. But it's the Nikon 1 auto focus that's most impressive to me. The continuous auto focus is far better than any other mirrorless camera and totally able to keep up with high speed action sports. That was the biggest surprise for me when I reviewed the first Nikon 1 camera, the J1. I was blown away by the J1's ability to stay focused on really fast moving subjects while I was recording video. Check out my full Nikon 1 J1 review to see sample photos and video. Action-worthy auto focus, a crazy-fast burst rate and great image quality in a compact, waterproof, shockproof camera? Count me in!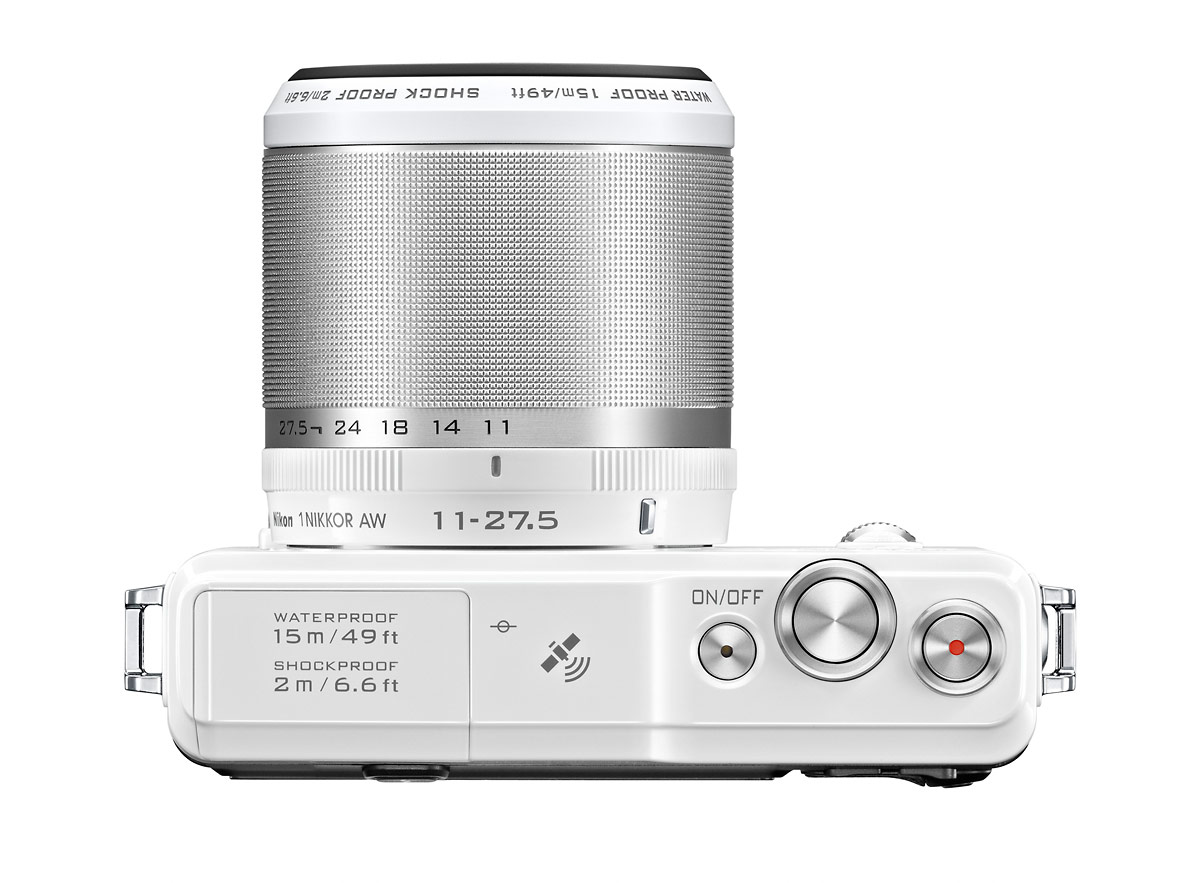 I think the new Nikon 1 AW1 strikes a great balance for outdoor photographers who want a compact, waterproof camera with serious performance and image quality. The body is only a little larger than most waterproof point-and-shoots and I can totally see skiing with it under my jacket on the neck strap, where it's ready and available for quick powder day photos and videos. It even has something Nikon calls "Action Control," which allows you to control key camera functions just by swinging the camera – perfect for when you're wearing gloves. I'm not an experienced underwater photographer so I don't have a lot of insight there. However, for surfing, snorkeling, and kayaking, the 49 foot depth rating is more than enough. I'll be interested to see if serious underwater photographers and videographers start to use the AW1. It's a lot smaller, lighter and less expensive than a DSLR and waterproof housing so and I expect it will be very attractive to them. The question is whether it can stand up to professional-level underwater use. For outdoor photographers like me, who want a small, high-performance camera that can handle wet weather and light underwater use, I think the AW1 looks perfect. I can't wait to try it out for ski photos and videos and maybe a little bit of hot tub testing.
The Nikon 1 AW1 waterproof mirrorless camera will be in stores in October (2013). It will sell for US $799.95 with the new 1 Nikkor AW 11-27.5mm f/3.5-5.6 zoom lens. The AW1 will also be available in a two lens kit for $999.95, with both the AW 11-27.5mm f/3.5-5.6 zoom and the new 1 Nikkor AW 10mm f/2.8 prime lens.
Related Content:
All Nikon User Reviews
All Compact System Camera User Reviews
Nikon Cameras Forum
Compact System Cameras (Mirrorless) Forum
All Mirrorless Camera News & Articles
All Nikon News & Articles
Nikon Web Site