The Sony NEX compact mirrorless camera system is one of the more exciting things to happen to camera technology in the past couple of years and it demonstrates Sony's commitment to innovative camera design. Even though it looks more like a point-and-shoot camera than a digital SLR, Sony's $650 entry-level NEX-C3 uses the same large APS-C sensor Sony used in last year's award-winning Alpha SLT-A55 digital SLR and I called it a wolf in sheep's clothing in my announcement article. I hate to admit it but I haven't used one of the Sony NEX cameras yet so I made it a point to take a closer look at the C3 at this year's PhotoPlus tradeshow.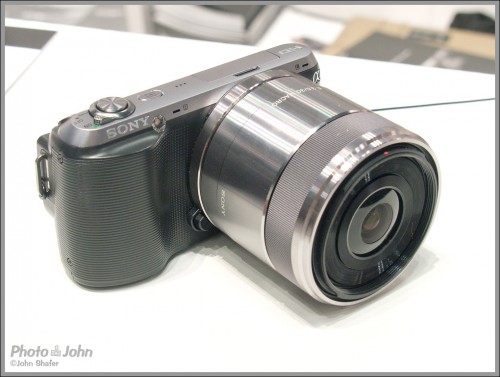 Sony NEX-C3 Key Features & Specs:
Price: $650 with 18-55 kit lens
16.2 megapixel Exmor APS HD CMOS sensor
720p MPEG-4 HD video
Lens compatibility: Sony E-mount (Sony A-mount and Konica Minolta Maxxum lenses
Exposure: P, A, S, M, Auto, Auto+, scene modes and more
Burst – 2.5 FPS or 5.5 FPS in Speed Priority scene mode
3-inch Xtra Fine, 921k-dot tilting LCD display
Sweep Panorama and 3D Sweep Panorama modes
Built-in stereo recording
Smart accessory terminal (for microphone and electronic viewfinder)
SD and Memory Stick PRO Duo memory card compatibility
HDMI terminal
One of the complaints about the Sony NEX cameras is that the controls are too menu-based and not intuitive enough. I'd heard they've improved them a bit since the first generation, though. I was a little lost when I first picked up the NEX-C3 but after a few minutes of poking around I had it sorted out. Sony had a demo area set up with dancers and the camera's auto focus and high-speed burst seemed to be up to the challenge. I can't judge the image quality because I didn't save any photos. But the C3's 16-megapixel APS-C sensor is larger than the Olympus and Panasonic Micro Four Thirds compact system camera sensors and it's supposed to have better image quality. Overall, I'm impressed with my first taste of the Sony NEX system and looking forward to more.
Related Content:
Sony Digital Camera User Reviews
All Digital Camera User Reviews
EVIL & Micro Four Thirds Cameras Forum
More Sony Camera News & Articles
Sony Alpha NEX Cameras Web Site