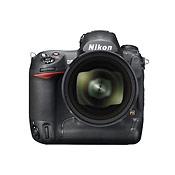 I had the pleasure of using the Nikon D3s pro digital SLR in 2010. It is, without a doubt, the king of action and low light photography right now (my Nikon D3s vs. Canon EOS-1D Mark IV comparison). It was painful to return my test camera to Nikon. I know zerodog personally, so I was happy to see his review for the D3s. I know he uses it all the time and pushes it hard so his review carries a lot of weight for me.
We need more user reviews for professional cameras like the Nikon D3s. So if you've got a pro Nikon, Canon or other professional digital SLR, please write a review. Your reviews are critical in helping other photographers decide what camera to buy.
---
Featured Review: Nikon D3s Professional Digital SLR
by zerodog (Professional)
Price Paid: Price not listed – Pictureline in SLC
Review Date: July 1, 2011
Used product for: 3 Months to 1 year

Overall Rating: 5 of 5
Value Rating: 4 of 5

Summary:
The D3s is an amazing workhorse camera. It has changed the way I go about taking pictures due to the high ISO ability. I shoot mostly low light action. I have probably shot more at 10,000 and 12,800 ISO than any other setting. It is just stunning. At these levels the noise is completely manageable in LR3.
In use the D3s is big and heavy. But it balances very well with bigger lenses such as a 24-70 and 70-200. So it doesn't seem to wear me out. At normal ISOs the colors and textures that big sensor puts out are beautiful and rich. The controls are all easy to find and use. If you use any other Nikon DSLR you will instantly be able to use the D3s.
Read The Rest Of The Review >>
Zerodog, a.k.a., Rob Norbutt, is a professional photographer in Salt Lake City, Utah. He specializes in action sports photography – especially MMA fighting, motorcycle trials and extreme dance competitions. You can see his work at theinfinitymachine.com.
Related Content:
All Nikon Digital SLR User Reviews
Nikon Review Page
Nikon Cameras Forum
All Featured User Reviews
All Nikon News & Articles
Official Nikon Digital SLR Page