There's a new Nikon 70-200mm zoom lens for outdoor, travel and budget-minded photographers. The new AF-S Nikkor 70-200mm f/4G ED VR zoom lens is smaller, lighter and less expensive than its f/2.8 sibling. The 70-200mm f/4 VR zoom is also Nikon's first lens to incorporate the third generation of their VR (Vibration Reduction) image stabilization. Thanks to the improved VR system, Nikon says photographers will be able to shoot at shutter speeds as much as five stops slower with the new 70-200mm f/4 VR lens.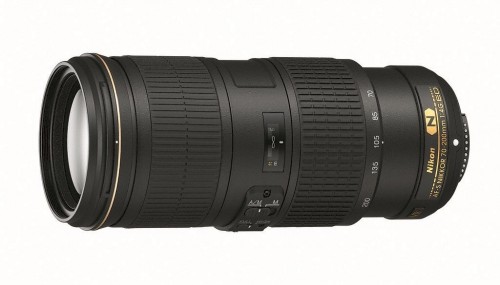 Nikon AF-S Nikkor 70-200mm f/4G ED VR Zoom Lens Key Features & Specs:
3rd generation VR offers five stops of camera shake compensation
3 ED elements
Silent Wave Motor (SWM) for fast, quiet auto focus
M/A auto focus with manual override
Nano Crystal Coating reduces of ghosting and flare
9-blade aperture diaphragm for smooth out-of-focus image quality
Weighs only 29.3 ounces (830.6g)
I consider a pro-level 70-200mm zoom lens to be mandatory equipment for any serious photographer. I bought my 70-200mm f/2.8 zoom lens about 15 years ago and it's arguably the best camera gear purchase I've ever made. I've gone through all kinds of cameras in that time but the lens is still rocking. I mostly use it for action photography but it also works well as a telephoto landscape lens and occasionally as a portrait lens. The problem with good 70-200mm zoom lenses is they're big and expensive. That's why this new AF-S 70-200mm f/4 VR zoom lens is such great news for Nikon shooters. It's about half the weight of Nikon's f/2.8 70-200, it's an inch shorter and thinner, and it costs about half as much. For outdoor photographers who mostly shoot in sunlight, the one stop aperture loss won't make much difference (especially with the improved VR) and the smaller size and lower weight will make a real difference in the backcountry. The same is true for travel photographers who need to keep their camera kit compact and light. As much as we all love super-fast lenses, I've actually heard of photographers replacing their f/2.8 70-200mm zoom with an f/4 lens to save space and weight in their pack. That might sound strange to some of you but I'm sure the outdoor and travel photographers understand.
The AF-S Nikkor 70-200mm f/4G ED VR zoom lens should be available about the end of November (2012). The suggested retail price is US $1399.95. The lens does not come with a tripod collar but Nikon is planning to make one available as an accessory for $223.95.
Nikon AF-S 70-200mm f/4G ED VR Zoom Lens Press Release >>
Related Content:
All Nikon User Reviews
All Lens User Reviews
Nikon Cameras Forum
Digital SLR Forum
All Nikon News & Articles
Nikon Web Site