Because Nikon's new AW1 waterproof interchangeable lens camera is such a big deal, I've been making an effort to go the extra mile for testing. With waterproof point-and-shoots I usually just take them in a swimming pool, a hot tub or dunk them in a creek and call it good. But the AW1 is a more serious camera and deserves more rigorous testing. Photographers and outdoor sports enthusiasts will go big with the AW1 so we need to make sure it can stand up to the abuse it was designed for – in this case, underwater testing.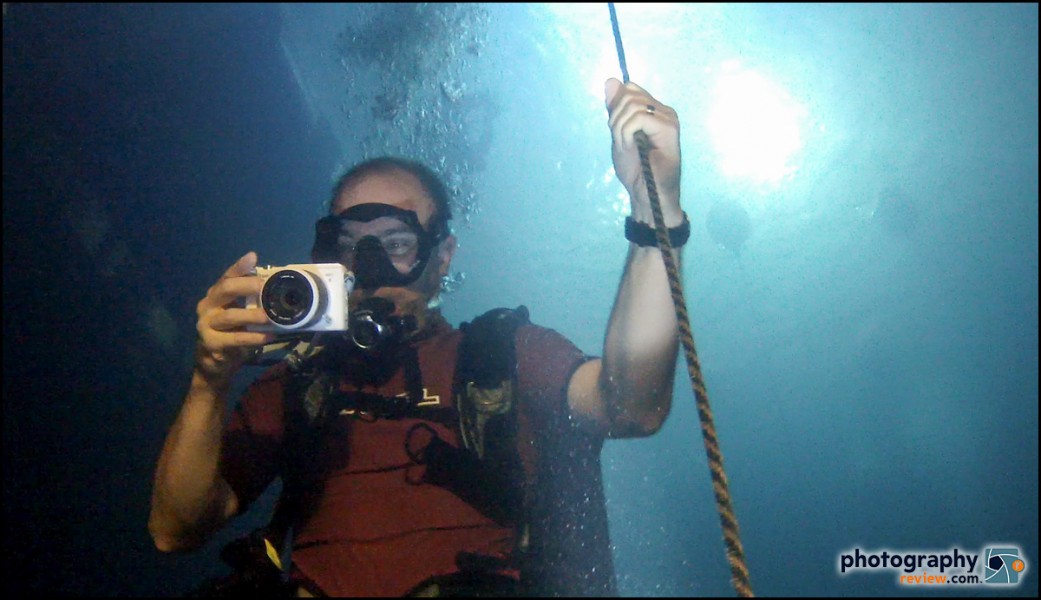 I met my friends Matthew and Elisabeth at their house and we drove over the mountains from Salt Lake City to "The Crater", in Midway, Utah (Homestead Crater Web site). The Crater is a hot springs inside a 55-foot high limestone formation with an open ceiling – kind of like an inactive geyser. It's a surreal place – especially if you're in the water. Basically, you're swimming in a cave with sheer walls that go down over 40 feet. The property owners bored a tunnel through the side of The Crater and built a dock and seating in the water so you can swim, snorkel, soak or dive. It's actually the only warm water scuba diving destination in the continental US so it attracts a lot of visitors. The water is about 95 degrees Fahrenheit (35C) and very comfortable – especially when the temperature is nearing single digits outside, like it was yesterday.
Here's the video we made:
In order to really demonstrate the waterproof capabilities of the AW1, Matthew and Elisabeth took it down to 20 feet (6m) below the surface. The AW1 is rated for 49 feet for up to an hour* so we actually went easy on it. Still, this is a lot more than I usually do when I test a waterproof camera. It's also more than I expect most photographers and videographers will subject the camera to. Most likely the AW1 will be used for kayaking, rafting, surfing, canyoneering and other activities where it won't go deeper than about 10 feet. But if you want to go deeper, the video above is proof it can handle it.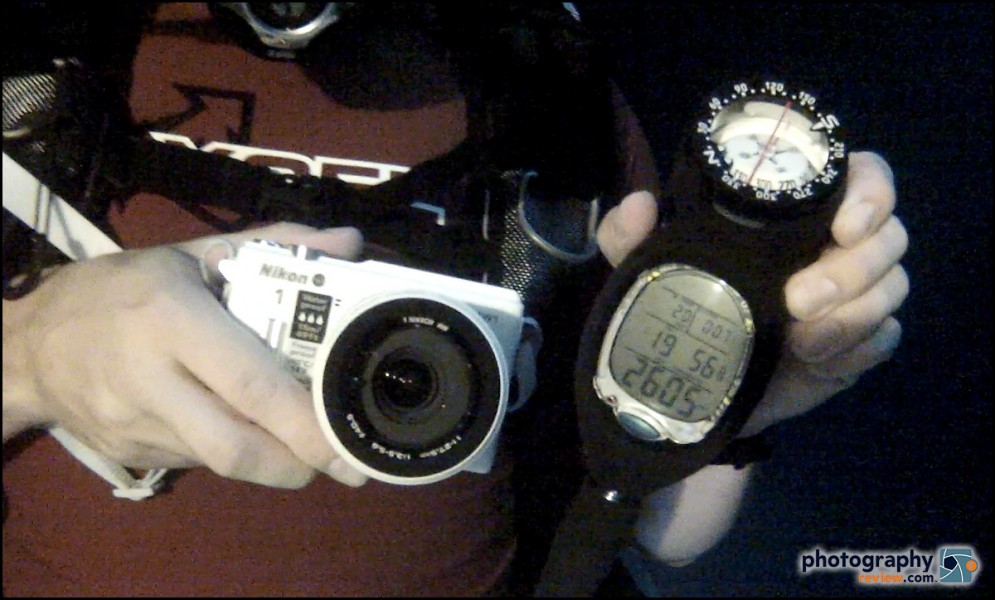 Everything in the video was shot with the Nikon 1 AW1 – except the clips where you can see the AW1. Those bits were shot with the GoPro you can see Elisabeth holding in the video. We wanted to make sure we had footage actually showing the AW1 underwater and the GoPro was the easiest way to do that.
Since the Crater is basically a cave it's very dark and there really isn't much to see once you've had a quick look around. If there was more to see this video might have ended up being longer. But it seems like it speaks for itself so I decided to keep it short and sweet. The important thing is the AW1 survived its trial by fire – well, trial by warm water, actually. Anyway, it survived – it is worthy.
For more Nikon 1 AW1 info and analysis, please read our original intro article:
Nikon 1 AW1 Hands-On Preview >>
Nikon 1 AW1 Photo Gallery >>
*The Nikon 1 AW1 manual actually says not to use it in a hot springs. Since the water temperature at The Crater isn't that high, and we're testing, we decided to do it, anyway. Since it's technically not rated for hot springs, though – this is not recommended as it will probably void the warranty.
Related Content:
All Nikon User Reviews
All Compact System Camera User Reviews
Nikon Cameras Forum
Compact System Cameras (Mirrorless) Forum
All Mirrorless Camera News & Articles
All Nikon News & Articles
Nikon Web Site