I got to use the Sony Alpha NEX-6 for a few days in the fall, at a Sony press event. A full Sony NEX-6 review, based on that experience, has already been published. Unfortunately, I only had the camera for about three days and couldn't get it in our studio for proper controlled test photos. Last week I got a local photographer to bring his personal NEX-6 over so I could shoot a full set of studio tests, which you'll find below. I've been describing the NEX-6 as a mini-NEX-7 – that's Sony's 24-megapixel, top-of-the-line mirrorless camera. The NEX-6 is a compact system camera with a tilting LCD display and a built-in electronic viewfinder, but it has a 16-megapixel APS-C CMOS sensor instead of a 24-megapixel sensor like the NEX-7. And right now the NEX-6 is selling for about $350 less than the $1100 (body only) NEX-7.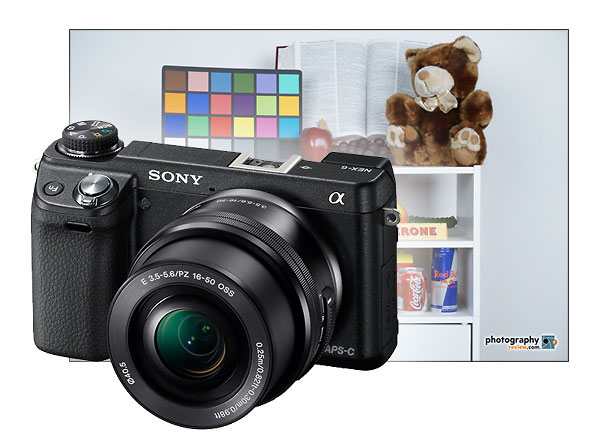 As far as image quality goes, 16-megapixels do not necessarily equal 16-megapixels. I compared the our Sony NEX-6 ISO 800 sample photo (below) to previous studio tests taken with the Sony NEX-5N, the Nikon D7000 and the Olympus OM-D E-M5, all of which have 16-megapixel sensors. The NEX-6 sample photo was pretty much noise-free and had plenty of detail at ISO 800. The other samples had obvious noise, although not enough for me to really consider it a problem. Still, the NEX-6 image sample is definitely better. The Olympus OM-D E-M5 has a Sony-manufactured sensor but it's a Four Thirds format sensor with less surface area. So while the OM-D sample looks great, the NEX-6's larger pixels are even better. The Sony NEX-5N is a couple of years old but also has a 16-megapixel APS-C sensor. The Nikon D7000 DSLR is also a couple of years old and it also has a 16-megapixel APS-C Sony sensor. Even though those two cameras have the same size and resolution sensors as the NEX-6, the clearly visible noise shows that Sony has been able to significantly improve in-camera noise control over the past couple of years. Incidentally, all samples made from RAW files so we're only talking about on-sensor noise control, not in-camera processing. Looking at all the Sony NEX-6 samples, I think the camera is probably very useable up to ISO 3200, and even ISO 6400 should be ok for subjects and situations where you don't need tons of detail. This is very impressive for an APS-C sensor camera, in my opinion. I haven't made studio tests with the Sony NEX-7 yet but I'm very curious to see if the NEX-6's image quality might ultimately be better than the NEX-7.
For the tech geeks, these Sony Alpha NEX-6 studio tests photos were shot RAW with the Sony 16-50mm kit lens, in aperture priority mode, at f/8. The RAW files were converted to 16-bit TIFFs in Lightroom and the graybar, text and logo were added in Photoshop before the images were resaved as maximum quality JPEGs. No adjustments of any kind were made – that includes noise reduction and sharpening. What you see is what you get.
Warning: these files are big – be patient while they download.
Sony Alpha NEX-6 Sample Photos
Sony Alpha NEX-6 Pro Review >>
All Digital Camera Sample Photos >>
Related Content:
Sony Digital Camera User Reviews
All Compact System Camera User Reviews
All Sony Alpha NEX-6 Sample Photos
Compact System Cameras Forum
Sony Cameras Forum
All Compact System Camera News & Articles
All Sony Cameras News
Sony Alpha Cameras Web Site
All Digital Camera Pro Reviews
All Digital Camera Studio Sample Photos