The Panasonic Lumix GF3 camera was announced this June and I believe it's the smallest interchangeable lens camera Panasonic has ever made. Its part of the Micro Four Thirds partnership between Panasonic and Olympus, who both make compact, interchangeable lens Micro Four Thirds cameras. I finally got a chance to see the GF3 in person last week at the PhotoPlus Expo in New York City. And I have to admit, I was surprised by how small it is and I like the softer, rounded body design – especially in red. The GF3 has a 12-megapixel sensor, full HD video, a 3-inch touchscreen LCD display and improved auto focus performance. It isn't small enough for a pants pocket – especially with a lens mounted. But you could definitely carry it comfortably in a coat pocket or purse.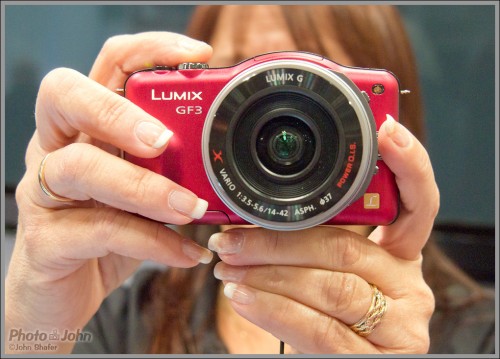 I really like compact system cameras like the Panasonic GF3 for travel, family events and any situation where I need more than a point-and-shoot but don't really need my digital SLR. The GF3 will give you about 80% of the performance of a digital SLR but in a much smaller, less threatening and easier to carry package. In fact, I've been leaving the digital SLR home most of the time and using Micro Four Thirds cameras like the GF3 instead. Whether you're a pro or a beginner, there should be a place in your pocket or camera bag for the GF3. It's got great auto controls for beginners and casual photographers and full manual controls for enthusiasts and pros. And even though it's about the size of a high-end compact camera, the image quality and performance are far, far better – plus, you can change lenses. Panasonic was showing the GF3 at PhotoPlus with their brand new power zoom lenses, designed for video. Notice the zoom lever on the lens barrel (see below). The power zoom will give you smooth zooming action for video, something that's impossible to do with a manual zoom ring.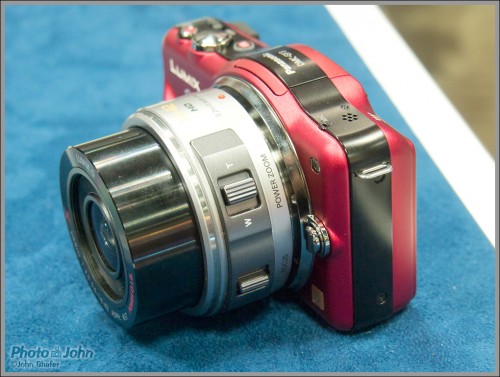 Panasonic Lumix GF3 Key Features and Specs:
12-megapixel Live MOS sensor
1920 x 1080 60i AVCHD full HD video
3-inch 460k-dot touch-control LCD
Sensitivity: ISO 160 to 6400
Built-in pop-up flash
Faster, more precise, touch-control auto focus
New iA Plus shooting mode offers beginner-friendly touch-screen-slider-enabled manual controls
Creative Control mode with Retro, High Key, Sepia and High Dynamic effects
The Panasonic Lumix GF3 sells for $699 with a compact 14mm pancake prime lens or $599 with a 14-42mm zoom lens. There's also a GF3X kit, which comes with the compact 14-42mm "X" pancake power zoom lens. It sells for $750. The Panasonic Lumix G X Vario PZ 14-42mm F3.5-5.6 Power O.I.S zoom costs $399 alone and the Panasonic Lumix G X Vario PZ 45-175mm F4.0-5.6 Power O.I.S. zoom sells for $499. If you want more than the GF3, Panasonic also makes the 16-megapixel GH2 Micro Four Thirds camera. It has a built-in electronic viewfinder, tilt-swivel LCD display and it's one of the most popular cameras for serious and professional videographers who want a digital SLR-style camera for video.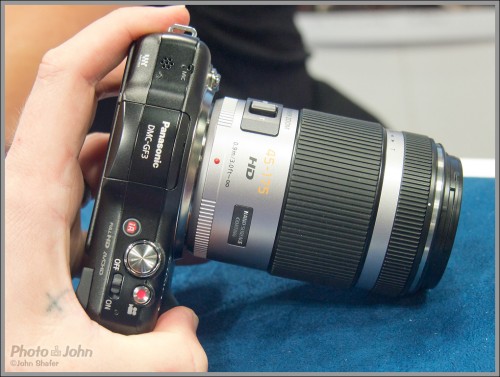 For more information on the Panasonic Lumix GF3 and the Panasonic power zoom lenses, visit the intro articles linked below:
Panasonic Lumix GF3 Intro >>
Panasonic Power Zoom Lens Intro >>
Related Content:
All Panasonic Digital Camera User Reviews
All Digital Camera User Reviews
EVIL & Micro Four Thirds Cameras Forum
More Panasonic Camera News
Panasonic Digital Cameras Web Site