The Our World Underwater and DEEP Indonesia photo and video competitions are back again for their 6th anniversary, featuring over $120,000 in prizes of dive resort and live aboard packages, underwater photo and video equipment, and scuba diving gear. Our World Underwater has technical categories such as, Macro Traditional, Macro Unrestricted, Super Macro Traditional, Wide Angle Traditional, Wide Angle Unrestricted, Novice, Commercial, Conceptual & Fashion, Compact: Wide Angle, Compact: Macro, and General and Conservation videos. DEEP Indonesia features seven themed categories, such as Compact Cameras, Divers, Animal Portrait, Animal Behavior, Reefscapes, Environment and Conservation, and Indonesia Residents, a cateogry open to Indonesian residents only.
Deadline for submisisons is Monday, January 17, 2011 and the winners for both competitions will be announced during the Our World Underwater film festival in Chicago on February 18-20, 2011. The winners will also be exhibited at DEEP Indonesia in Jakarta on March 31 – April 3, 2011.
For more information and to submit photos and videos, visit the Our World Underwater, DEEP Indonesia and underwatercompetition.com Web Sites. 15% of entry proceeds will be donated to marine conservation efforts.
2011 Underwater Photo & Video Competitions: Our World Underwater and DEEP Indonesia Press Release
Related Content:
All Underwater Photography User Reviews
Contest News & Articles
Underwater Photography News & Articles
Our World Underwater 2011
DEEP Indonesia 2011
underwatercompetition.com Web Site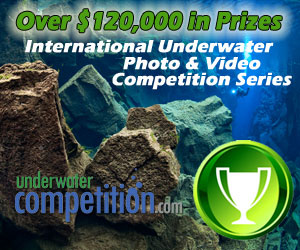 next page – 2011 Underwater Photo & Video Competitions: Our World Underwater and DEEP Indonesia Press Release >>