If you like the looks of the Nikon 1 mirrorless camera system but wish they had more fast prime lenses, then you'll be happy about this announcement. Nikon is introducing a new 32mm f/1.2 prime lens for the Nikon 1 system. The 1 Nikkor 32mm f/1.2 lens is equivalent to 86mm in the 35mm / full-frame format. The 85mm lens is traditional for portrait photography and the large f/1.2 aperture paired with the telephoto focal length will make the new 32mm lens great for shallow depth-of-field people photos. It will also be a good choice for low light sports and other situations where you would benefit from a medium telephoto prime.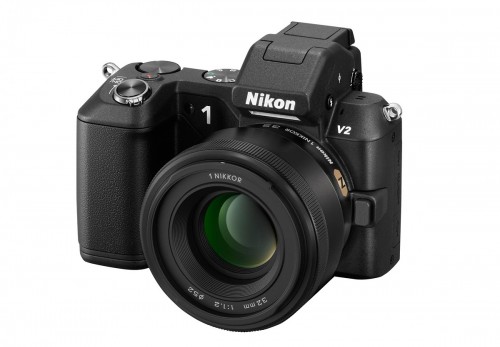 The new 1 Nikkor 32mm f/1.2 is the third and fastest prime lens made for the Nikon 1 mirrorless cameras. It's the ninth lens total in the 1 Nikkor lens lineup and the first to include Nikon's Silent Wave Motor (SWM) motor for fast, silent auto focus, just like Nikon's big boy DSLR lenses. It also has a manual focus ring with manual override and Nikon's Nano Crystal Coat to help minimize flare and ghosting.
The new Nikon 1 Nikkor 32mm f/1.2 prime lens will come in black or silver and sell for US $899.95. It's scheduled to be available next month (June, 2013).
Nikon 1 32mm f/1.2 Lens Press Release >>
Related Content:
All Nikon User Reviews
All Compact System Camera User Reviews
All Compact System Camera Lens User Reviews
Nikon Cameras Forum
Compact System Cameras (Mirrorless) Forum
All Mirrorless Camera News & Articles
All Nikon News & Articles
Nikon Web Site