A couple of weeks ago, Leica teased their Facebook fans with a mysterious "Mini M" camera (Mini M teaser article), shown as a black box between an M-rangefinder and an X2 "Micro M." Yesterday they unveiled the Mini M, a.k.a. the Leica X Vario, a new X-Line camera with a 16.2-megapixel APS-C CMOS sensor and fixed 18-46mm f/3.5-6.4 (28-70mm equivalent) auto focus zoom lens.

For the most part, the Leica X Vario is an X2 with a zoom lens instead of the X2's 24mm f/2.8 prime (Leica X2). The controls are basically the same and it uses the same 16.2-megapixel APS-C CMOS sensor with the same maximum sensitivity of ISO 12,500. The main differences, besides the zoom lens, are a much better 3-inch 920k-dot display and the addition of full HD video recording. The X Vario is also quite a bit larger and heavier than the X2, but that's to be expected with the larger zoom lens.
Leica X Vario Key Features and Specs:
16.2-megapixel APS-C CMOS sensor
Leica Vario Elmar 18-46mm f/3.5-6.4 ASPH (28-70mm equiv) auto focus zoom lens
Sensitivity: ISO 100 to ISO 12,800
Full HD video
3-inch 920k-dot LCD display
DNG RAW format
5 frames per second high-speed burst, full-resolution, RAW or JPEG
Built-in pop-up flash
Magnesium body with machined aluminum top plate and leather trim
Adobe Photoshop Lightroom 5 download included
Personally, I think the X Vario's most impressive feature is its price – nearly US $3000. With that kind of price tag, the question becomes, does anyone need a $3000, DSLR-sized, APS-C sensor, non-interchangeable lens camera with a 28-70mm variable-aperture zoom lens? There's no doubt Leicaphiles will buy the X Vario. But for regular photographers – even wealthy ones, it's gonna be a tough sell. For the same amount of money you could buy a full-frame Canon or Nikon with a fast-aperture pro zoom lens, or a Sony RX1 with a full-frame sensor. I felt the same way about the Leica X1 and X2. They're beautiful cameras and they feel wonderful and there's no doubt that the optics and sensor are excellent. But for that kind of money I want a lot more camera – or a pocket-sized camera with the same specs.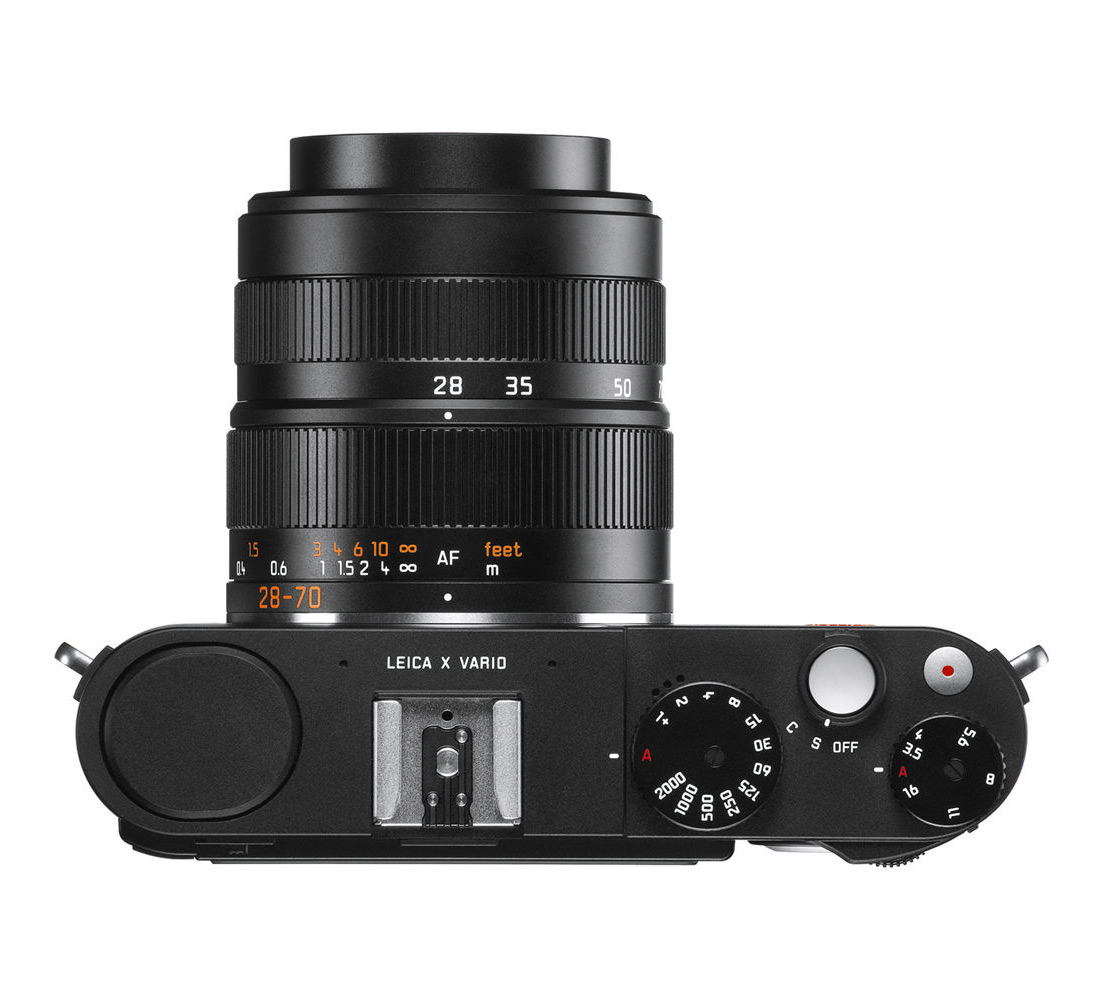 The Leica X Vario camera is available now from your favorite authorized Leica dealer. The price is US $2850 and that includes Adobe Photoshop Lightroom 5 and Leica's excellent warranty. Leica is also offering a bunch of accessories for the X Vario, including the SF 24 D flash, a handgrip, the EVF 2 Viso-Flex electronic viewfinder and an assortment of straps and cases.
Leica X Vario Press Release >>
Related Content:
All Leica Camera User Reviews
All Digital Camera User Reviews
Digital Cameras Forum
More Leica News
Leica Web Site