Leica just announced the X2, a high-end compact camera with a 16.2-megapixel APS-C CMOS sensor. The X2 is basically an updated version of the X1, which was introduced in the fall of 2009. Most of the features and functionality are the same, including the 24mm f/2.8 Elmarit Asph lens. What sets the Leica X2 apart from other high-end compacts is the big APS-C sensor – the same size used in most consumer and prosumer digital SLRs. And the new 16.2-megapixel sensor has 30% more resolution than the X1, which should make a noticeable difference in photo detail and overall image quality.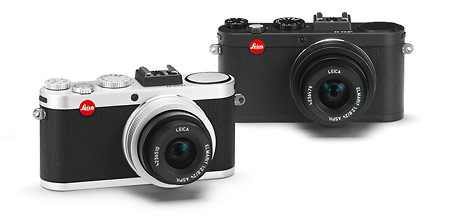 Leica X2 Key Features and Specs:
16.2-megapixel APS-C CMOS sensor
Leica Elmarit 24mm f/2.8 ASPH. lens – equivalent to 36mm in 35mm / full-frame format
Sensitivity: ISO 100 to ISO 12,800
2.7-inch 230k-dot OLED display
DNG RAW format
5 frames per second high-speed burst, full-resolution, RAW or JPEG
Built-in pop-up flash
To go along with the improved image quality, Leica announced some new accessories to compliment the X2. The most interesting, in my opinion, is the 1.4-megapixel, swiveling Viso-Flex electronic viewfinder (EVF). Not only does is make it possible to shoot from what would otherwise be difficult angles, but the new EVF also makes it easier to shoot in bright light and adds a third point of contact between the photographer and the camera, making it possible to get sharp photos at slower shutter speeds. There's also a new mirror finder that mounts on the X2 accessory shoe.
Check out the video below for a look at the Leica X2 in use. It features French street photographer, Mr. Hoveeto, talking about the camera and shooting on the streets of Paris.
Leica X2 Promotional Video With Pro Photographer Mr. Hoveeto (in French):
The price of the Leica X2 has come down a bit compared to the X1's original $2200 list price. But $1995 for a fixed lens camera is still going to make the average photographer's head spin – even if the camera does have a great Leica lens and DSLR-sized sensor. But for pros and avid photographers with deep pockets – especially street photographers and travel photographers who appreciate the traditional 36mm reportage focal length (with 1.5x conversion), the X2 will be very attractive. Not mention that it's also, well, a very attractive camera.
The new Leica X2 is available now at a suggested retail price of US $1995. That price includes Adobe Photoshop Lightroom, a $150 value. The Viso-Flex electronic viewfinder will set you back $575.
All Leica Camera User Reviews
All Digital Camera User Reviews
Digital Cameras Forum
More Leica News
Leica Web Site