Panasonic just announced the 12-megapixel Lumix DMC-FZ200, the world's first superzoom camera with a large, f/2.8 aperture – a fixed f/2.8 aperture, I mean. The FZ200's Leica zoom lens can open up to f/2.8 across the whole 24x zoom range, from 25 to 600mm (equivalent). That's an impressive achievement for a compact, consumer-level superzoom camera. Most superzoom cameras have lenses with slower f/3.5-5.6 variable apertures. The FZ200's large f/2.8 aperture allows more light to reach the sensor and that means better low light shooting, better action-stopping ability and better depth-of-field control. To complement the fast lens, the FZ200 can shoot RAW and has a full range of shooting modes, including program, aperture priority, shutter priority and full manual, as well as Intelligent Auto (iA) for less experienced photographers.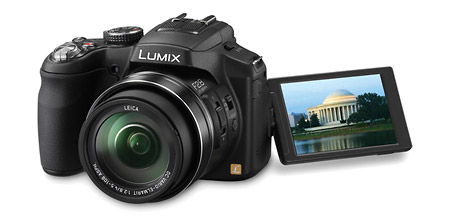 Besides the 24x f/2.8 Leica zoom lens, full suite of exposure options and RAW shooting, the FZ200 also has 1920 x 1080 60p AVCHD video, a flash hot shoe, a 3-inch tilt-swivel LCD display and a brand new 1.3-million-dot electronic viewfinder (EVF). The FZ200 is fast, too. It can shoot full resolution bursts at up to 12 frames-per-second and its High Speed Video mode can shoot at 120 FPS (NTSC/HD) or 240 FPS (NTSC/VGA) – perfect for slowing down action sports footage or analyzing your golf swing.
The FZ200 looks like a great choice for someone who wants a compact camera with serious performance and a lot of lens, but without the cost and size of an actual digital SLR. I see it as an especially good camera for sports-related business, coaches and athletes. The only other superzoom camera that compares is the Fujifilm X-S1, which has a 24-624mm (equivalent) optical zoom with an f/2.8-5.6 variable aperture. It will be interesting to see how these two cameras measure up in the real world. The FZ200's f/2.8 Leica zoom certainly looks better at first glance – especially for low light and action telephoto photography. However, the Fujifilm X-S1's 26x zoom is a bit wider, longer and also has an f/2.8 aperture at the short end of the zoom. More important, the X-S1 uses the same 2/3-inch sensor as the Fujifilm X10. It's considerably larger than the FZ200's 1/2.3-inch sensor and produces some of the best image quality I've ever seen from a compact camera.
Panasonic hasn't announced pricing or availability for the FZ200 yet. However, I checked the B&H Web site and they already have a page up for the FZ200 with a price of US $599, which sounds about right based on the features and specs.
Panasonic Lumix FZ200 Superzoom Press Release >>
Related Content:
All Panasonic Digital Camera User Reviews
All Digital Camera User Reviews
Digital Cameras Forum
More Panasonic Camera News
Panasonic Digital Cameras Web Site