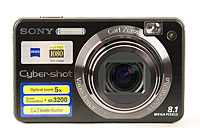 The Sony Cybershot DSC-W150 is a pocket-sized point-and-shoot camera with 8.1 megapixels of resolution; a wide-angle, 5x optical zoom lens; and a 2.7-inch LCD monitor. Part of Sony's extensive Cybershot series of compact digital cameras, the W150 offers very good image quality and a number of fun features. It can also capture up to 10 minutes of continuous MPEG VX video. It comes in black, red, silver and gold.
Want to buy a Sony Cybershot DSC-W150?
Compare prices and shop for a Sony Cybershot DSC-W150 digital camera >>


Pros
Small and lightweight – perfect for carrying in a pocket or purse.
Super SteadyShot image stabilization.
Excellent image quality in a variety of conditions.
8.1 megapixels for prints to 16×20 inches.
5x optical zoom (30-150mm equivalent).
Large, vivid LCD monitor.
Easy Shooting mode for simple shooting.
100 shot burst mode.
In-camera editing tools.
Photo album and slideshow capabilities (with music).

Cons
Menu settings and mode dial less than intuitive.
No manual shutter or aperture control.
ISO can only be changed in Program Auto mode.
Only a handful of exposure modes.
Tiny optical viewfinder does not show full scene.

Introduction
The Sony Cybershot DSC-W150 is an attractive little camera with a $249 suggested retail price tag. It captures high-quality photographs in a variety of lighting conditions. I took it with me on a business trip to Miami and also used it to photograph friends, pets, landscapes and night scenes around my home in Montana. It's the second pocket-sized digital point-and-shoot I've tested this year, and the second to wipe out any preconceived notions I had about small digital cameras. The W150, and most of today's small digital cameras, take big, beautiful pictures and pack a surprising number of features into a compact package. The Sony W150 won't necessarily replace your high-end compact camera or DSLR, but it can capture great photos and preserve important memories when space (and budget) is at a premium.
Features
The Sony Cybershot DSC-W150 packs a lot of camera into a small package, with leading-edge technologies like Face Detection, Smile Shutter and HDTV-compatibility. The W150 offers an impressive 8.1 megapixels of resolution – enough to produce excellent prints at 11×17 inches and acceptably sharp prints up to 16×20 inches.
The W150′s 30-150mm (35mm-equivalent) Zeiss lens has a nice zoom range for a camera this size and the 30mm wide end offers more coverage than the average pocket camera. Helping ensure sharp photos is Sony's Super SteadyShot optical image stabilization system. The W150 also offers 5x digital zoom, although it's important to point out that image quality will suffer when using digital zoom.
A vivid, crisp 2.7-inch LCD monitor allows easy framing and viewing of photographs. The W150 also has an optical viewfinder, though I found it less than useful.
Other highlights include Face Detection, which finds faces in a scene and then optimizes focus and exposure for them; and Smile Shutter, which snaps a picture when your subject smiles. (In theory, anyway.)
Camera modes accessible from the mode dial are Auto Adjustment, Program Auto, Movie, Scene, Twilight Portrait, Landscape, Soft Snap, Smile Shutter, High Sensitivity and Easy. Selecting Scene mode, then pressing the Menu button allows the user to select another five exposure modes: Twilight, Beach, Snow, Fireworks and Underwater. The W150 also has a movie mode capable of shooting at 640×480 at 30 frames-per-second – as long as you have an optional Memory Stick PRO Duo memory card. With the normal Memory Stick Duo card, it shoots video at 640×480 at 16 frames-per-second.
The control button's four-way navigator provides fast selection of auto or macro focus, display options, flash settings and self-timer. Another four buttons provide access to the Menu, Home, Display and Slideshow functions.
Burst Mode will take almost unlimited pictures at 1.6 frames per second while the shutter button is held down. However, this continuous shooting only works with the flash off.
The Sony W150 offers a bunch of ways to share photos directly from the camera. Photos can be organized into albums and slideshows that can be viewed right on the camera's LCD. You can even add music to slideshows and share them on your high-def television. Sony has added a bunch of HDTV features to the W150 to make it better interface with high-def TV sets. You can shoot at the 16:9 aspect ratio at 7-megapixels so images can be viewed on an HDTV and still have enough resolution to print well. Images can also be resized in-camera to the 16:9 ratio. Photos that weren't shot or haven't been resized to 16:9 can be automatically fit using the W150′s Wide Zoom setting so that they fill the entire HDTV screen. (An HD adaptor cable must be purchased separately.) Imagine inviting friends and family over to view a vacation slideshow with music on your high-definition television.
Camera Menus
| | | |
| --- | --- | --- |
| Sony Cybershot DSC-W150 Record mode w. info, histogram and composition grid | | Sony Cybershot DSC-W150 Playback mode w. info and histogram on |
| Sony Cybershot DSC-W150 main menu | | Sony Cybershot DSC-W150 Home menu w, ISO selected |
Design
Strangely, the official Sony specifications web page for the Cybershot DSC-W150 doesn't list the camera's measurements or weight. However, I'd say it's a few millimeters larger than a deck of cards and about the same weight as my Palm Treo or a BlackBerry. It's just a wee bit chunkier than the Casio EX-Z77 I recently reviewed.
Sony Cybershot DSC-W150 digital camera design

The Cybershot is well-built and sturdy. After a month of banging around in my purse, it looks good as new, minus some fingerprints on the LCD monitor. Its brushed metal surface comes in black, red, silver and gold. It's an attractive, but business-like design that I believe would appeal to both men and women. It feels comfortable and reasonably secure in my large-ish hands.
The mode dial and various buttons are extremely small. I occasionally had trouble depressing the buttons, especially Menu and Display, which are very close to the raised LCD monitor. The power button is flush with the camera surface and difficult to find by touch alone; on the positive side, it's unlikely to accidentally turn itself on in a pocket or purse. A friend who tried the Sony Cybershot W150 told me she found its small controls and compact size a turn-off. While I agree this is one petite camera, the small buttons and size are not enough to deter me from its advantages. Do be aware, though, that people with large hands or less finger dexterity may have problems.
The rechargeable lithium-ion battery and Memory Stick Duo media card fit securely and easily in the bottom of the camera. The battery charger is about the same size as the camera but practically featherweight, and it plugs directly into a wall outlet.
Camera Experience
Overall, I'm impressed with Sony's W150 digital camera. It is pleasant to look at and hold, and it takes great pictures for a camera its size. The tiny control buttons pose a slight challenge, but not enough to dissuade me. It's great to have high resolution, a relatively long lens and very good image quality in such a small package. The slideshow function – and ability to import your own musical soundtrack – isn't really my thing, but it's delightful nonetheless and undoubtedly will be appreciated by many users.
My biggest gripe is that the user interface is not as intuitive as it could be. For example, the options available on the mode dial don't appear to be in any logical order – it goes from Auto Adjustment to Program Auto to Movie to Scene Selection. Some exposure modes – Twilight Portrait, Landscape and Soft Snap (for subjects with soft backgrounds) — are located on the mode dial, while others – Twilight, Beach, Snow, Fireworks and Underwater – are hidden in the Scene Selection menu. Seems rather random to me.
The available options in any given shooting mode aren't necessarily intuitive and confused me. For example, I could change ISO settings only in Program Auto mode — not in Auto Adjustment or even ISO mode. The Super SteadyShot can't be turned on or off in Auto Adjustment mode, but Scene Recognition is only available in Auto Adjustment mode. The manual has an elaborate table showing the options for each mode — if you have the patience to study it.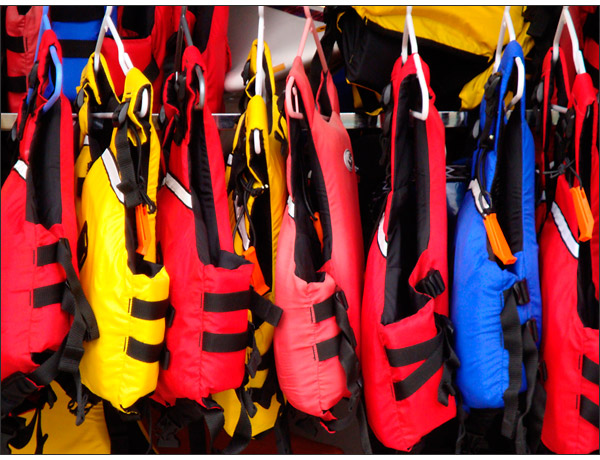 The Sony Cybershot W150 performed well under a variety of lighting conditions. It took excellent people shots, self-portraits and landscapes. Images came out of the camera true to color and well-saturated, requiring little adjustment after the fact. Reds and blues, in particular, popped. Flash snapshots of people on the beach in the dark of night were surprisingly sharp and well-exposed, thanks to the auto focus illuminator. (The red, auto focus illuminator light can be annoying in some situations.) Neon signs came out beautifully. Shooting video was easy and resulted in reasonably good video and sound quality.
The camera focused well in complex situations. Children playing, tree branches and a wind vane came out sharp using Auto mode. Landscape mode worked well for mountains at sunset. Wildflower close-ups using the Macro setting were sharp at regular focal lengths, although the camera loses its ability to focus as it zooms in from less than a foot away. This is fine as long as you remember to simply leave the camera zoomed out while physically moving it closer to your subject.
Sony Cybershot DSC-W150 Smile Shutter Mode

Sony's touted Smile Shutter mode performed inconsistently. I tested it on a friend, then on myself. It is supposed to work by sensing when your subject smiles (after you've focused and pressed the shutter button) and snapping a picture. It does do this about half of the time, which is thrilling; however, the other half of the time it either fails to take a picture when the subject smiles, or takes a picture when the subject is not smiling. And if Smile Shutter fails, you can go to Plan B and use the Happy Face feature to add a smile after you take the picture.
I tried hooking the W150 up to my television, and it almost worked. I could see the slideshow images, but the vertical hold was out of control and I couldn't get the image to stop rolling. Those of you who don't remember old tube TVs and antennas with foil on them might not know what I'm talking about. Suffice to say, I couldn't get it to work. Someone who understands TVs better than me could probably figure it out. But the average person might have trouble.
Battery life was good – I had plenty of juice for moderate use without recharging during my four-day visit to Miami. Shooting video will, however, drain the battery more quickly.
It took me a while to get up to speed using the W150 because of its unconventional interface. I was initially confused by the differences between the Menu and Home buttons, although I now understand that Home contains all the general camera settings (like auto focus, sounds and clock), while Menu has settings specific to the current mode. The randomness of the mode dial further confused me. However, now that I've spent time familiarizing myself with the camera and studying the manual, it has become easier to understand.
Image Quality
Image quality is where the Sony Cybershot DSC-W150 really shines. I'm very pleased with the exposure, color, contrast and sharpness of photographs I've taken with this camera — even under challenging lighting conditions. Would I hang any of these pictures on my wall? Yes, I would.
The W150 offers sensitivity settings from ISO 80 to 3200, which is quite high for a small point-and-shoot. Noise becomes noticeable at ISO 800 and ghastly at 3200, but it's nice to have the option if you need to take pictures in very poor lighting conditions.
Lens quality is excellent. Wide-angle photographs reveal no distortion or purple fringing and very little vignetting. White balance is good.
Colors, especially reds and blues, are rich and true. I like intensely saturated photographs, and I tend to bump up color and contrast quite a bit in Photoshop, but found that these images didn't need much adjustment. People who prefer more natural or less saturated colors will want to turn down the in-camera contrast and saturation.
Click on thumbnails to view sample photos.
Conclusion
I have mixed feelings about the Sony Cybershot DSC-W150. While it was far from love at first use, I find I'm a little sad to have to send my review copy back. I really like how easily the W150 fits into my purse and the excellent image quality it produces.
The disorganized user interface was a real stumbling block for me, although I eventually got used to it. Limited exposure options are another deterrent – I like being able to adjust shutter, aperture and ISO settings. I'd also like to have more scene exposure modes. But it is what it is – a point-and-shoot digital camera. The majority of the W150′s target market – beginner and intermediate photographers – will not miss having real manual exposure controls.
Image quality is really the Sony Cybershot W150′s selling point. It's quite good, particularly in a camera this small. I'm especially impressed by the rich, vivid colors. The 8.1 megapixels of resolution, 5x Carl Zeiss zoom lens and attractive, comfortable build are also high points.
While in-camera editing and slideshows don't really interest me, they are strong features in this camera and will make the right person very happy.
Who Should Buy It
This camera will satisfy many types of users, including:
Vacation travelers who want a small but feature-rich camera to tuck into a backpack.
Teenagers who want a stylish camera for shooting and sharing pictures and video. (Slideshows! Music! YouTube!)
Beginners who want a camera that can grow with them.
Intermediate and advanced photographers who want a small, relatively inexpensive camera as a backup, and don't mind the lack of manual settings.
Anyone for whom excellent image quality in a small, affordable package is a priority.
Those who would not be happy include:
Pros and advanced photographers who can't live without manual controls.
Beginning to intermediate photographers who are sticklers for simple, elegant user interfaces.
Anyone with hands that are very large, weak or lacking in dexterity.
- end -
Contents of the Sony Cybershot DSC-W150 Box

Sony Cybershot DSC-W150 Digital Camera
NP-BG1 rechargeable battery
BC-CSG battery charger
A/V and USB multi-connector cables
Wrist strap
Software CD-ROM
Other Resources:
Shop For Sony Cybershot DSC-W150 >>
Sony Cybershot DSC-W150 User Reviews >>
Write a Sony Cybershot DSC-W150 Review >>
Sony Cybershot DSC-W150 Camera Specs >>
Sony Cybershot DSC-W150 Sample Gallery >>
Sony Web site >>
All Digital Camera Pro Reviews >>
Digital Camera Buyer's Guide >>
All Digital Camera Sample Images >>
patia Profile >>
All photos copyright Patia Stephens and/or PhotographyREVIEW.com.
Read Patia's blog and see more of her photos at www.PatiaStephens.com