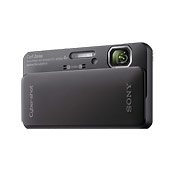 Thanks to Wolfy for writing a review for his Sony Cybershot TX10 waterproof, shockproof point-and-shoot camera. It's good timing since summer has arrived and I'm sure a lot of our readers are looking at waterproof pocket cameras for vacations. Last summer I reviewed the Sony TX5 and really enjoyed it. In fact, it was my favorite rugged point-and-shoot camera ever. So when I saw Wolfy's well written, positive TX10 review I knew I had to make it a Featured User Review.
If you've got a Sony Cybershot TX10 or TX5 or any other waterproof camera, please write a review. Your camera reviews are the foundation of this site. If you're shopping for waterproof outdoor cameras, make sure to read our Outdoor & Waterproof Camera Guide for more information on what to look for.
---
Featured Review: Sony Cybershot TX10 Rugged, Waterproof Camera
by Wolfy (Intermediate)
Price Paid: $329.00 from BH Photo
Review Date: June 10, 2011
Used product for: 1 to 3 months

Overall Rating: 5 of 5
Value Rating: 4 of 5

Summary:
This camera is GREAT! If you are looking for a light durable, waterproof, shockproof camera that takes good snapshots on an SD card. The camera takes really good photos, and the in camera touchup and features are really amazing. The lens is 28 mm equivalent which is way wider than normal P/S cameras. It starts up relatively fast and shoots fast. The isweep panorama feature is awesome. It has in camera HDR which really only produces good images in certain situations (It makes people look orange).
I bought this camera to capture good images and video when I didn't want to haul my 7d. For family trips, around the house, ski/bike/climbing trips, etc. It has been the perfect camera for me for that. The menus and settings are easy enough to use. They're not amazing in terms of user interface and heuristics, but they are ok…
Read The Rest Of The Review >>
Wolfy aka Mike is a writer, photographer, skier, mountain biker and blogger living in Reno, Nevada. He has a more detailed Sony Cybershot TX10 review with photos and video samples on his blog: Sony TX10 First Impressions. He mostly takes photos of his son, serene alpine lakes, skiers and bacon. Check out his reviews of photography and travel gear, his photos and videos at www.iamindisposed.com.
Related Content:
Outdoor & Waterproof Camera Guide
All Sony User Reviews
Sony Cameras Forum
Digital Cameras Forum
All Featured User Reviews
All Sony Camera News & Articles
Sony Digital Camera Web Site