The Canon PowerShot ELPH 330 HS is a sexy little pocket point-and-shoot camera with built-in Wi-Fi and a 10x optical zoom lens. It uses Canon's proven 12-megapixel 1/2.3-inch backlit CMOS sensor and HS system to produce class-leading image quality for a camera of its size and ease-of-use. Canon has been using this sensor for a couple of years now and we've sampled it in a few other cameras, namely the PowerShot ELPH 300 HS, the PowerShot SX230 HS, and it's also in their current top-of-the-line pocket superzoom, the SX280 HS. So there are no real surprises here – just the same great image quality we've come to expect from Canon's 12-megapixel HS System point-and-shoot cameras. If it ain't broke – don't fix it.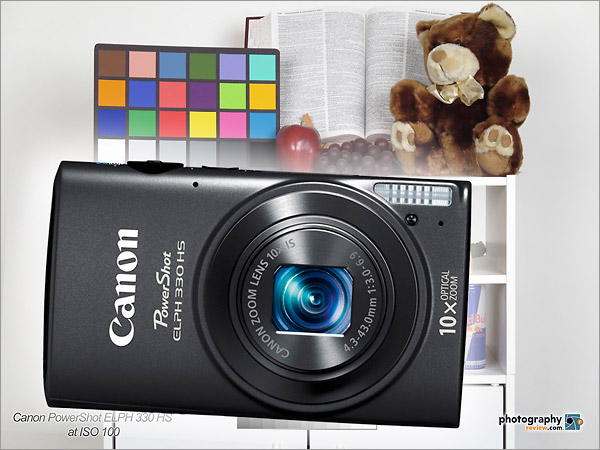 Like the other Canon PowerShot HS System cameras that share the same 12-megapixel 1/2.3-inch CMOS sensor, the ELPH 330 HS is useable right up to ISO 1600. That's great for such an inexpensive pocket camera – and it's way better than any camera phone. The ISO actually tops out at ISO 6400 but above ISO 1600 the image quality starts to get a bit mushy.
Since the Canon PowerShot ELPH 330 HS is a pure point-and-shoot camera, all we could control were the ISO, white balance and exposure compensation. The photos below were taken at all ISO settings, with the white balance on the tungsten preset, and exposure compensation set to +2/3 to get the white patch on the color card as close to pure white as possible without blowing it out. No post-production adjustments of any kind were made. The text, gray strip and logo were added in Photoshop before the samples were resaved as maximum quality JPEGs. Please pixel-peep and compare as you see fit.
Warning: these files are big – be patient while they download.
Canon PowerShot ELPH 330 HS Studio Sample Photos
We welcome your comments and user reviews. If you own the Canon PowerShot ELPH 330 HS, please click on the link below to go to the user review page and write your own review.
All Digital Camera Sample Photos >>
Related Content:
All Canon User Reviews
All Digital Camera User Reviews
Canon Cameras Forum
Digital Cameras Forum
Canon News, Reviews & Articles
Canon Web Site