One of the most interesting announcements at CES this year was the Polaroid SC1630 Smart Camera. It's an Android-powered 16-megapixel camera with a 3x 36-108mm (equivalent) optical zoom lens instead of the standard fixed wide-angle you get with most smart phones. The Polaroid SC1630 Smart Camera gives you a real lens and real camera functionality along with wireless connectivity and all the benefits of Google's Android operating system, including over 400,000 available apps. In theory, that means better photos to start with before you hit them with Hipstamatic, Instagram or Photoshop Express and then upload to Facebook, Twitter or your other social network of choice.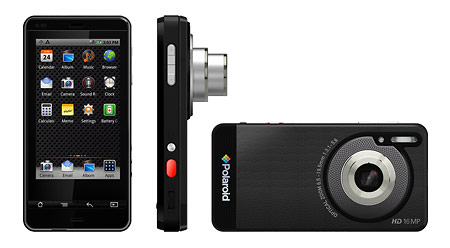 I've been a bit critical of the iPhoneography movement – mostly because the cameras in smart phones are so limited and I don't like to compromise quality too much. The Polaroid SC1630 Smart Camera addresses current smart phone camera limitations by putting the camera first, with a better lens and better camera controls. To be fair, the Eye-Fi Mobile X2 SD memory card with corresponding smart phone app and a good point-and-shoot camera does the same thing and does it even better (our Eye-Fi Mobile X2 card review). But by including a real zoom lens in an Android device, the Polaroid SC1630 is a move in the right direction. The Polaroid's lens quality and image quality are still unknown, too. Just having a 16-megapixel sensor doesn't actually make it a better camera. In fact, in small sensor cameras and camera phones, higher resolution often means worse image quality. So we'll have to see some real-world samples before we can say the Polaroid SC1630 is actually a better camera. But Polaroid's Smart Phone concept is definitely a good one.
Here's a hands-on video of the Polaroid SC1630 Smart Camera from the CES tradeshow, last week in Las Vegas:
Besides my concern about the Polaroid SC1630's actual image quality, people who played with the SC1630 at CES said the reaction time was a bit slow. Apparently it's running an older version of Android and that's probably the culprit. Polaroid says they plan to update the operating system and hopefully that will make the camera quicker. Right now there are no wireless carrier deals for the Polaroid SC1630, either. So it remains to be seen who, if anyone, will provide mobile wireless service for the SC1630. Polaroid says they're negotiating with US carriers right now but they haven't said who might be providing service for the camera.
Pricing and availability for the Polaroid SC1630 Smart Camera haven't been announce yet but it's looking like it will probably be available in the US sometime in the spring of 2012.