I was really excited when Eye-Fi announced their new Mobile X2 wireless SD card with Direct Mode. The new card creates its own Wi-Fi network so you can transfer photos directly from your digital camera to your iPhone, iPad or Android mobile device and then upload to the Web without a computer. I don't like sharing blurry iPhone photos and the Eye-Fi Mobile X2 card is the solution I've been waiting for. Now I can share high-quality photos from a real camera on Facebook and Twitter whenever my cat does something funny or I'm about to eat something with bacon.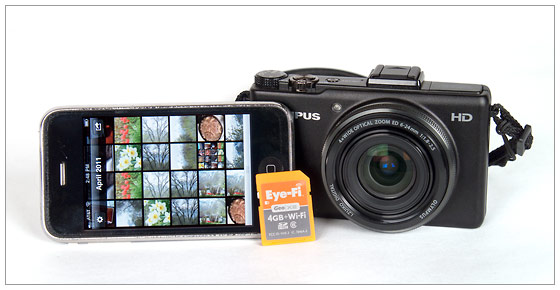 Eye-Fi Mobile X2 SD Card Pros
Works with (almost) any SD-compatible camera
Wireless digital photo and video uploads to your computer and iOS / Android mobile devices
Makes it easy to share high quality digital photos
Comes with a USB card reader


Eye-Fi Mobile X2 SD Card Cons
Direct Mode is a little tricky to set up
Wireless image transfer is very slow
Large digital camera files require more processing power than some mobile devices (my iPhone 3G, for instance) can provide
Sucks camera and mobile batteries dry
Have to shoot in JPEG mode

Price: $79.99 for the 8GB Mobile X2 card or $49.99 for an upgradeable 4GB X2 card
I didn't actually get the Mobile X2 SD card. I visited the Eye-Fi office a couple of weeks ago and they didn't have Mobile X2 cards at their office to give out so they gave me an upgradeable 4 GB X2 card with geotagging. The upgrade is quick and painless and gives you all the functionality of the 8GB Mobile X2 card (except the extra 4 GB of storage, of course). It also saves you $40. It was really nice of Eye-Fi to make the original X2 card upgradeable. They didn't have to do that and it's great that X2 card owners can have the benefits of the Mobile X2 card without having to spend any more money.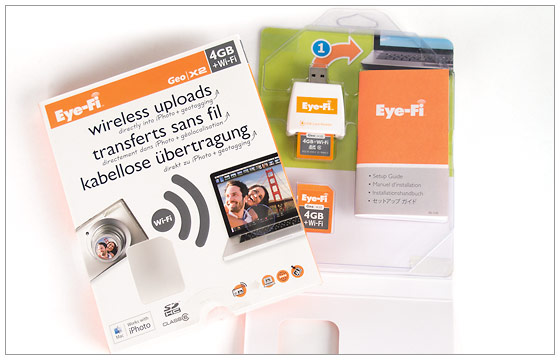 The basic Eye-Fi card setup procedure will be familiar to anyone who's ever installed a plug-and-play device. You plug your new card into the computer (I used a Windows 7 PC) via the included USB card reader and the computer recognizes the card and installs it. The next step is to install the Eye-Fi software that comes on the card. Once the Eye-Fi Center application is installed you configure your new Mobile X2 card to connect to your home Wi-Fi network. Wi-Fi connectivity is the raison d'être for the Eye-Fi card and setting it up was smooth and simple. The Direct Mode mobile connectivity is new and it was a little trickier. It actually took me a couple of days messing with settings and digging around on the Eye-Fi Web site to figure it out. I did eventually get it to work but not before I started to have some serious doubts.
Getting the Eye-Fi card to pair with my iPhone was easy, actually. At that point I thought I was set – until I took a few pictures and realized nothing was transferring to my iPhone. I flailed around re-pairing the card and iPhone over and over and looking for hidden settings I might have missed. A day later I discovered an Eye-Fi card settings section in the Eye-Fi Center software. I already had the Eye-Fi app installed on my phone so I ignored the button that said, "Check our Direct Mode mobile apps." (see screenshot, below) When I finally decided to click on it I discovered it linked to a step-by-step guide for setting up Direct Mode. For the benefit of my readers, here's a direct link to the Direct Mode setup page: http://support.eye.fi/mobile-applications/ios-eye-fi-app/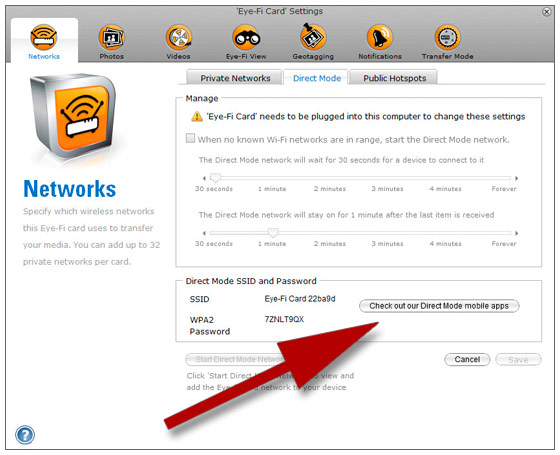 There really should be more a more prominent link to that guide and it should also be mentioned in the little paper quick start manual that comes with the card. I'm pretty good about following directions and I'm not inexperienced with computers, cameras and other tech devices. If it took me two days to find the Direct Mode instructions, imagine how difficult it might be for someone with less tech experience? However, once I found the setup instructions I got it working pretty quickly. The last stumbling block was a conflict between my home Wi-Fi network and the Eye-Fi card network. Your phone or mobile device will prefer connecting with recognized Wi-Fi networks to the Eye-Fi card's network. For example, when I'm home it's next to impossible to get the card to connect to my iPhone because my phone wants to stay connected to my home network. But as soon as I leave my house and get out of range of my Wi-Fi network the phone promptly connects to the Eye-Fi card and begins transferring photos. I did discover a couple of exceptions:
The Eye-Fi X2 card doesn't work with every camera. I tried it with a few SD card-compatible cameras and found it didn't work with the Olympus Tough waterproof point-and-shoot I'm currently using. I expect the camera's extra burly build acts as a radio frequency shield, blocking the Eye-Fi card's Wi-Fi network.
Direct Mode doesn't support RAW files. That makes perfect sense to me, although it took a while for me to think of it and switch my camera to JPEG. The Eye-Fi Pro X2 card ($149.99) does support RAW and you can upgrade the Mobile X2 card to handle RAW files for an extra $29.99. I'm not sure if that will allow Direct Mode to transfer RAW files, though. If my iPhone doesn't support RAW files, I don't see how it upgrading the card would change anything. It may work with the iPad or Android tablets, though. RAW files make more sense if we're talking tablets.
The Eye-Fi Mobile X2 card with Direct Mode is just as cool as I thought it would be. So I had a little bit of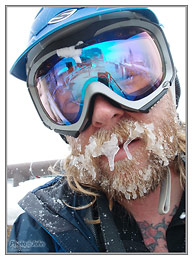 trouble getting it up and running. Once I got it working it was totally worth the effort. One of the first things I did was Tweet a properly exposed, sharp ice beard photo from Alta. No more dingy, mushy iPhone photos for me. Wireless transfer of images from the camera to my phone is slow so taking lots of pictures isn't recommended unless you have to time to sit and wait. It would be nice if there were a way to tag photos in the camera for upload so you don't have to wait for everything to upload to get to your last photo (see workflow update at end of review). This has turned out to be one of the biggest issues with Direct Mode for me.
For most people, just being able to share their photos and videos via the Eye-Fi Mobile X2 card will be enough. But for other photographers there will be some workflow issues to sort out. What if I want to shoot RAW? Do I just switch to JPEG and leave it at that? Wouldn't that be a shame with a wonderful camera like the Olympus XZ-1 I've been using? And how about file size? I don't really need or want to upload 3500-pixel JPEGs to my Facebook page. Should I change the resolution in the camera? You know what happens if you do that – you forget to change the settings back and shoot a Pulitzer Prize-worthy masterpiece at 640×480. One solution is resizing and editing photos on your phone. I've got a couple of good photo editing apps installed on my iPhone (Photoshop Express and Photogene) that allow me to adjust levels and exposure, crop, resize, etc. However, my iPhone 3G usually crashes when I try to resize a photo. That's not an Eye-Fi problem, though. The iPhone 3G just doesn't have the processing power to handle big JPEG files.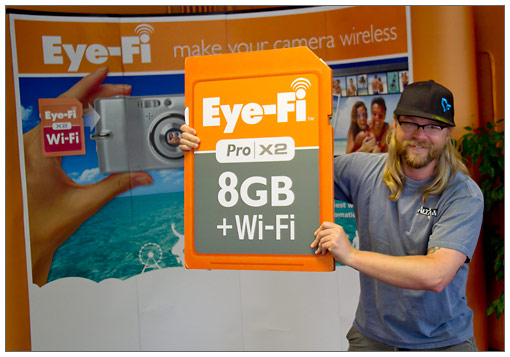 Regardless of the open workflow questions and my phone problems, I'm really excited about my new Eye-Fi card. It may even motivate me to finally upgrade my phone so I can edit my photos too – I want it all! One thing is for sure – From now on, Twitter and Facebook food, ski and mountain bike posts are going to be accompanied by much better photos.
I believe the Eye-Fi Mobile X2 SD card with Direct Mode is the beginning of a new era in photo and video sharing. With an Eye-Fi card and an iPhone, iPad or Android mobile device, image quality compromise is no longer a requirement for on-the-spot sharing. You can have the immediate convenience of a camera phone with the quality of your favorite SD-compatible digital camera. If you're a member of the Instagram army or you use other iPhone image processing / sharing apps, Direct Mode will allow you to get the same effects with superior image quality and control. This term is seriously overused but the Eye-Fi Mobile X2 card is a true game changer.
Eye-Fi Mobile X2 Card Workflow Update
I wanted to post a quick follow-up to my Eye-Fi Mobile X2 memory card review. I'm continuing to use it and as I hoped, I'm starting to sort out some of the workflow issues. In the review above I mentioned it would be nice if there were a way to tag photos I want to transfer from the camera to my iPhone so I don't have to wait for everything to transfer to get to the most recent photo. My friend Demetri, who works at Eye-Fi, sent me a link to a page on the Eye-Fi Transfer Mode support page (http://support.eye.fi/upload-mode/). Turns out there are a bunch of transfer modes. One of those modes, "Selective Transfer," uses the camera's built-in "Protect" function to tag photos, just like I wanted. After I changed my Eye-Fi card settings, it only transfers images that are protected. Thanks, Demetri!
But there's more! In my review I also expressed some frustration with the processing power of my iPhone 3G for editing photos. Good news – I found a workaround! I never had any use for in-camera editing in the past. Now I do. The Olympus XZ-1 compact camera I've been using has a bunch of edit options built in (as do most current digital cameras). So I've bypassed editing photos on my phone in favor or doing it in the camera. Even better – I'm now able to go back to shooting all RAW. The XZ-1 will convert RAW files to JPEGs in the camera. So when I take a picture I want to immediately share, I convert the RAW file to JPEG and resize it to 640×480 in the camera. I can even crop it if I want! The one thing the camera doesn't do that I can do with the Photogene app on my iPhone is a levels adjustment. The bottom line here is that I'm working out the workflow kinks with the Eye-Fi card and Direct Mode. At first I was a little concerned that it would end up being more of a novelty than a really useful tool. The more I use it and the more I learn, the more I'm convinced the Eye-Fi Mobile X2 card and Direct Mode are going to be a real asset for sharing photos when I'm out in the field.
Eye-Fi Mobile X2 Intro Article & Press Release >>
Related Content:
Eye-Fi User Reviews
Memory Card News & Articles
Eye-Fi Web Site