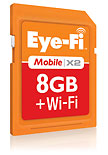 The folks at Eye-Fi have done some neat stuff with their Wi-Fi digital camera memory cards. But their latest announcement takes the cake. With their new Mobile X2 SDHC memory card and a corresponding Eye-Fi app for your Android phone, iPhone, iPad, or Android tablet you can wirelessly transfer photos from your digital camera to your phone or tablet – even if there's no Wi-Fi network available.


How does the Eye-Fi Mobile X2 work? I have no idea – magic, probably. All that really matters is I can take pictures with one of my many sweet point-and-shoot cameras, transfer them to my phone and then upload to the Internet. Unlike the millions of hipsters plastering the Web with over-processed Hipstamatic photos, I am not a fan of low quality iPhone photography. I love the image quality and exposure control of my real cameras and I'd much rather share those photos than a crappy camera phone photo. Thank you, Eye-Fi for making this possible!
Ok, I actually did read the press release and I do know how the Eye-Fi Mobile X2 card and Direct Mode work. The X2 card generates its own mini Wi-Fi network, which allows your phone or tablet to connect and snatch up the photos from your camera. Olympus has a Bluetooth accessory called the Penpal that essentially does the same thing except it's only compatible with Android devices. As an iPhone owner, I'm psyched that I will soon be able to do the same thing – and with any SDHC memory card-compatible camera! Check out the video below to see it in action.
The new Eye-Fi Mobile X2 SDHC memory card will be available at Best Buy and Apple stores later this week. The retail price for the 8 GB card is US $79.99. The Eye-Fi mobile apps and a free Direct Mode upgrade for previous Eye-Fi X2 memory cards will also be available later this week. Gimme.
Official Eye-Fi Mobile X2 Card Press Release >>
Related Content:
Eye-Fi User Reviews
Memory Card News & Articles
Eye-Fi Web Site