Beginning with the S90 in 2009, Canon's S-Series PowerShot cameras have been very popular with photographers who wanted great image quality and manual control in a camera that actually fits in a pocket. Last night Canon announced the PowerShot S120. The S120 keeps the same basic design as the S110 but adds DIGIC 6 processing for more speed and improved video. It also has refined Wi-Fi connectivity and new creative shooting modes.

Canon PowerShot S120 Key Features And Specs
12.1-megapixel 1/1.7-inch CMOS sensor
5x 28-140mm f/1.8-2.8 zoom lens
Canon HS System for low light image quality
DIGIC 6 image processing
Built-in Wi-Fi with iOS and Android apps
RAW shooting
12.2 max burst rate (for 6 frames, then it slows to 9.4 FPS)
1920 x 1080 full HD video at 60 FPS with built-in stereo mic
PASM manual exposure modes
Customizable Control Ring
Pop-up flash
I was at Canon headquarters in NY yesterday for a press briefing on the new PowerShot S120, G16 (read our G16 intro) and other new imaging products. Unfortunately, it was a quick affair with a bunch of other press and they didn't allow us to take any photos of the new products. That said, I was there, and I did get my hands on the S120. In terms of feel and design, it's the same camera as the S110. It's the same size and has the same controls, including a 3-inch touchscreen display and the excellent programmable Control Ring around the lens – one of the features that set the original S90 apart from other hand-end compact cameras.
Even though the PowerShot S120 looks and feels the same as the S110, and uses the same 12-megapixel 1/1.7-inch CMOSA sensor and 5x 24-120mm f/1.8-5.7 zoom lens, Canon did make some significant internal updates. The most important change is the new DIGIC 6 processor, which speeds up pretty much every part of the camera, from startup to auto focus. In fact, Canon says the S120 achieves, "significantly faster autofocusing speeds" – up to 50% faster was what they told us at the press briefing. The DIGIC 6 processor also allows the S120 to record full HD video with stereo sound at 60 frames per second.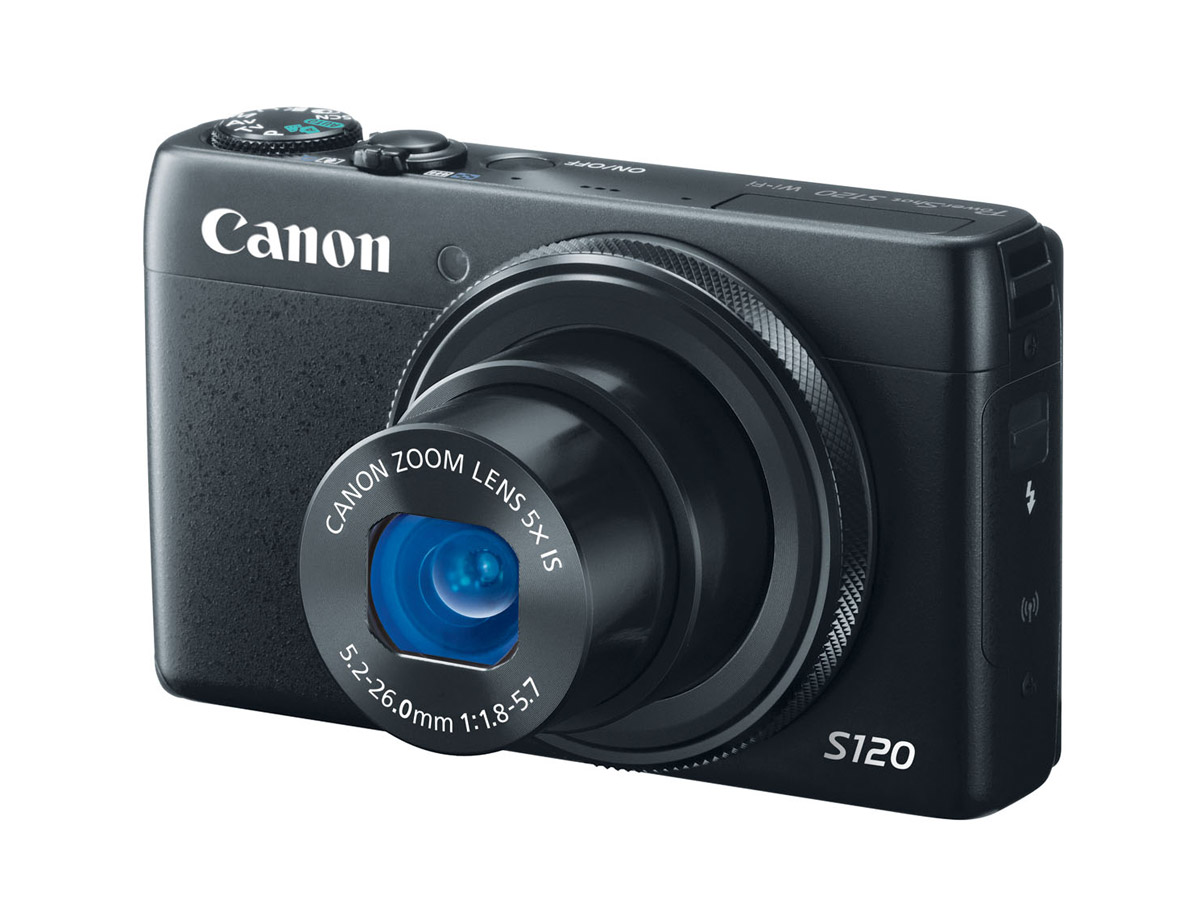 Canon (and everyone else) is all about connectivity right now. The S110 already had built-in Wi-Fi but the setup and implementation were a little awkward. With the S120, you can set it all up with your Smart Phone and Canon's free CameraWindow mobile app. Once the app is installed, you can wirelessly transfer photos and videos from the camera to your Smart Phone or tablet and share from anywhere you have mobile service. You can also use the built-in Wi-Fi to wirelessly transfer photos to a computer on a Wi-Fi network, or to Canon's Image Gateway cloud storage service. I've actually been using my old Canon SX230 HS like this for a couple of years, with an Eye-Fi card. I prefer using a point-and-shoot camera to my Smart Phone camera because it has a larger sensor, better controls and an optical zoom lens. The Eye-Fi card has been great but cameras with built-in Wi-Fi make it even easier.
Although the PowerShot S120 has the same 12-megapixel 1/1.7-inch sensor as its predecessor, Canon says the new DIGIC 6 processor means better image quality at high ISO settings – for JPEG images, anyway. I have to hedge on that a bit until I can actually use the camera, but I expect the new processor will make a difference. That's probably not true for RAW images, though, since they don't usually benefit from in-camera processing.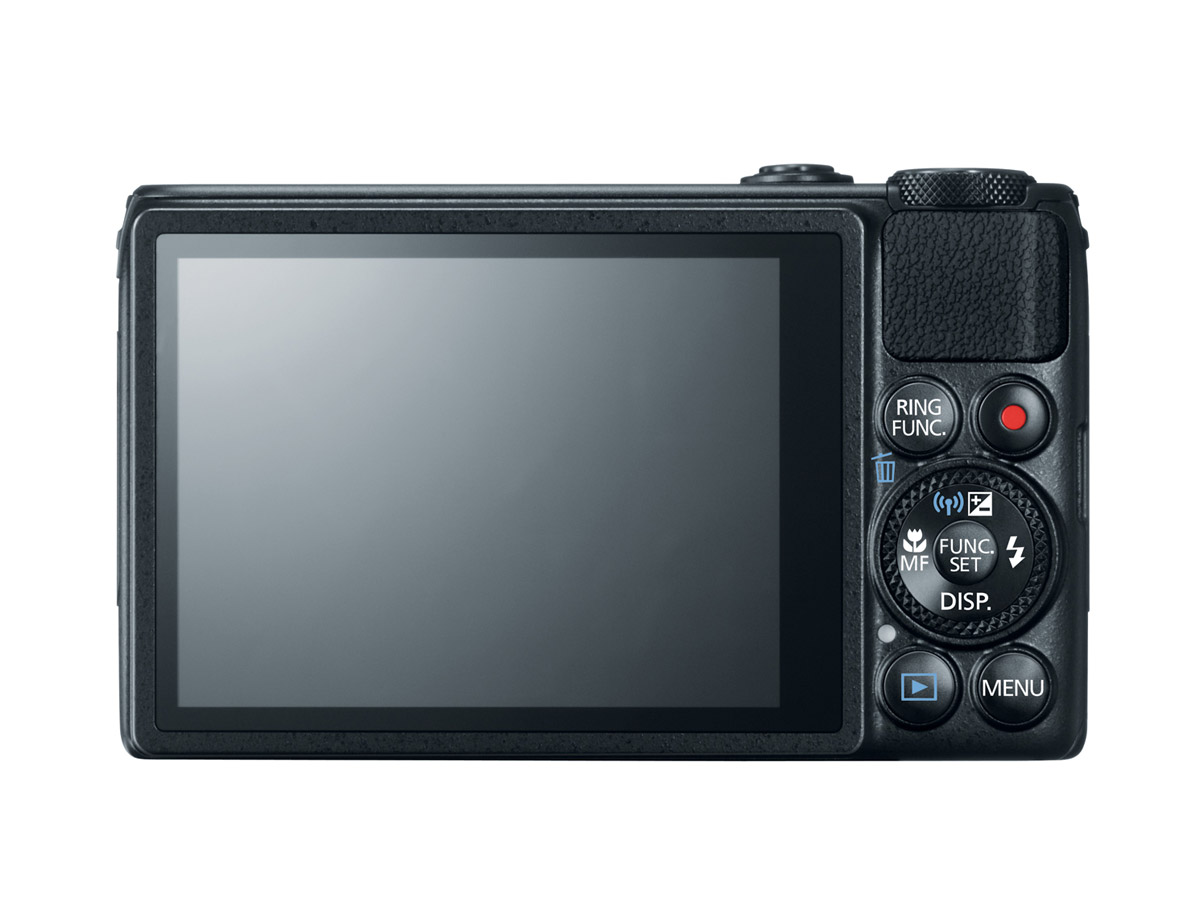 Last but not least, Canon added a few new creative shooting modes to the S120. It has a new handheld HDR Scene mode, which automatically brackets and combines multiple exposures in-camera – no tripod necessary! The HDR Scene mode includes multiple options, including Natural, Art Embossed, and Art Vivid. There are also new Star and Background Defocus modes, both of which offer multiple options, like the HDR mode. Of course, for the manual photographers, the S120 has PASM Manual modes and the Control Ring can be programmed to adjust aperture, shutter speed, exposure compensation, etc. You don't have to be a pro to benefit from the S120's features and image quality, though. Less experienced photographers can use Canon's Smart Auto mode, which evaluates a scene and chooses the best of over 50 programmed scene modes – it's like point-and-shoot photography on steroids.
For the most part, the S-Series cameras like the S120 offer the same performance and image quality as Canon's bigger, more expensive G-Series cameras. You do give up a flash hot shoe and the S120's lens has a slower aperture at the telephoto end of the zoom. But the S120 and the new G16 both have the same sensor and the S120's lens is actually a little wider. Personally, I think the pocket-sized S120 is more useful and compelling. If you want to go small, it might as well fit in your pocket.
The Canon PowerShot S120 will be available next month (October, 2013). The suggested retail price in the US is $449.99.
Related Content:
All Canon User Reviews
All Digital Camera User Reviews
Canon Cameras Forum
Digital Cameras Forum
Canon News, Reviews & Articles
Canon Web Site