Canon has announced a new compact 4×6 wireless printer, the Selphy CP900 Compact Photo Printer. Canon made it smaller and lighter than previous models so it weighs less than two pounds (1.8 lbs. / 0.8 kg) and it's only 7 x 5 x 2.4-inches (17.8 x 12.7 x 6.1 cm), including the tilting 2.7-inch LCD display. It's perfect for easy home printing, event photographers who want to easily make small prints on-site and even for traveling. I've often thought it would be nice to be able to make prints for people I visit while I'm on the road. Since it's only about the size of a box of crackers and there's an optional battery, it would be no problem to stash the CP900 in the car during road trips. Canon says it can make a 4×6 dye-sublimated print in about 47 seconds with a compatible Canon compact camera and that the prints have an archival life of, "up to 100 years."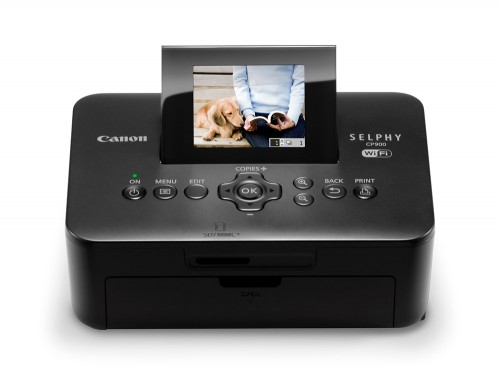 Besides wireless printing (IEEE 802.11 b/g/n), the Selphy CP900 can also help you find and print from a local wireless network, transfer photos to your iPad or iPhone or print wirelessly from iOS and Android handheld devices. I don't know for sure but I believe it should also work with an Eye-Fi wireless memory card. That would open it up to wireless connectivity with almost any camera. The CP900 also has built-in photo optimization tools, including face and scene detection, red eye correction, noise reduction as well as brightness, contrast and sharpness adjustments so you don't need a computer to tune up your images before printing.
The new Canon Selphy CP900 wireless Compact Photo Printer will sell for about US $100 – a compact price for a compact printer!
Canon Selphy CP900 Press Release >>
Related Content:
All Canon User Reviews
All Photo Printer User Reviews
Canon Cameras Forum
Printers, Computers & Hardware Forum
Canon News, Reviews & Articles
Canon Web Site