This is a very interesting announcement. Canon has just added a new camera to their EOS Rebel entry-level digital SLR line. The 18-megapixel Canon EOS Rebel SL1 is now the world's smallest DSLR. With easy to use touchscreen controls and full HD video, Canon says the SL1 is, "perfect for users looking for the ideal camera to bring sightseeing on vacation or to capture the everyday." But is it a mirrorless camera competitor?

Canon EOS Rebel SL1 Key Features & Specs:
World's smallest and lightest DSLR
New 18.0-megapixel APS-C CMOS sensor
DIGIC 5 processing
New Hybrid CMOS AF II system with nine-point center cross-type auto focus array and expanded area in Live View
Sensitivity: ISO 100-12,800, expandable to ISO 25,600 for stills; ISO 100-6400, expandable to ISO 12,800 for video
4 FPS max burst speed
3-inch touchscreen LCD display
1080p full HD video
Movie Servo AF continuous subject tracking
Manual exposure control in movie mode
Pop-up flash
So how small is the Canon EOS Rebel SL1? At 4.6 x 3.57 x 2.74 inches (116.8 x 90.7 x 69.6mm), Canon says it's, "approximately 25 percent smaller and 28 percent lighter than the EOS Rebel T4i digital camera." I also looked up the specs for Canon's EOS Rebel T3, their bottom-of-the-line DSLR, and the SL1 is about half an inch less in width, half an inch shorter and a third of an inch thinner. Compared to the Olympus E-420 (2008), formerly the world's smallest digital SLR, it's half an inch shorter, side-to-side – but it's also about half an inch thicker. Weight-wise, the SL1 is also about the same as the Olympus E-420. The E-420 hasn't been available for a while anyway, and the SL1 can do a whole lot more than the E-420 could back in 2008. My point here is, the Olympus E-420 was a big deal when it was announced because, with a small prime lens, people were able to easily carry it in a purse, under a jacket or in a jacket pocket. Mounted up with Canon's 40mm f/2.8 STM pancake lens, the EOS Rebel SL1 will be very easy and unobtrusive to carry around – for a digital SLR. It's still considerably larger than most mirrorless cameras – especially when you consider the size of the lenses.
Like Canon's EOS M mirrorless camera, the new EOS Rebel SL1 is, in many ways, a miniaturized EOS T4i / 650D. The SL1 has a 3-inch touchscreen LCD display, 1080p full-HD video, an 18-megapixel APS-C CMOS sensor with hybrid auto focus, and DIGIC 5 processing – just like the T4i and EOS M. And based on the SL1's sensitivity spec (ISO 100 to ISO 25,600), I also expect it to have the same image quality as the T4i / 650D [link]. However, the official press release says the SL1 has a "newly developed 18.0-megapixel CMOS (APS-C) sensor." What's new is the Hybrid CMOS AF II auto focus, which improves continuous auto focus speed and expands the focus area in Live View. Hopefully that mean's better continuous auto focus performance for video because I wasn't very impressed with the T4i's Movie Servo AF continuous auto focus. I'm looking forward to getting my hands on the SL1 to see how good the video auto focus is. I've been waiting for a Canon DSLR with useable movie mode auto focus.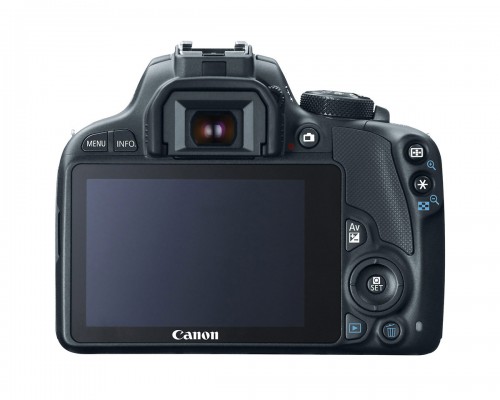 Some other new additions in the SL1 are the Effect Shot mode and new Kids, Food and Candlelight scene modes. The Effect Shot mode saves two versions of a photo – one with a Creative Filter applied, and one without. Creative Filter effects and Background Blur Simulation can now be seen immediately in Live View, too. And of course, the SL1 has a full range of shooting modes, including P,A,S,M and the Scene Intelligent Auto Mode, which ""detects faces, colors, brightness, movement, contrast, distance and other factors and automatically adjusts and selects the exposure method needed." For experienced photographers and videographers, the manual shooting modes can also be used to control aperture, shutter speed and ISO for videos.
To complement the EOS Rebel SL1, Canon is also introducing a new EF-S 18-55mm f/3.5-5.6 IS STM kit lens. Along with the EF-S 18-135mm f/3.5-5.6 IS STM and the EF 40mm f/2.8 STM, there are now three Canon STM lenses. The STM lenses work with the camera's Movie Servo AF to provide smooth, silent continuous auto focus while the camera is in the movie mode.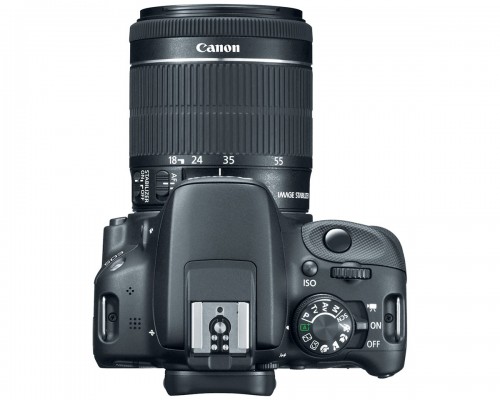 As an entry-level digital SLR, the Canon EOS Rebel SL1 looks like a solid camera. But to me, the most interesting thing about it is the positioning and whether or not Canon intends it to be a mirrorless camera competitor. It's definitely small for a DSLR. But it's probably too big to appeal to photographers who are considering a mirrorless camera system for the size – especially when you consider how much bigger SLR lenses are. Ultimately, I think the SL1 might be a good stopgap measure for Canon system owners who've been thinking of investing in a mirrorless camera system. But I don't believe it's a real mirrorless camera alternative.
The Canon EOS Rebel SL1 will be in stores next month (April, 2013). The body alone will sell for US $649.99 and it will also be available with the new EF-S 18-55mm f/3.5-5.6 IS STM kit lens for $799.99.
Canon EOS Rebel SL1 Press Release >>
Related Content:
All Canon Reviews
All Digital SLR Reviews
Canon Cameras Forum
Digital SLR Forum
All Canon Camera News And Articles
Canon Cameras Web Site