A few days ago, Mamiya announced the RZ33, a dedicated digital version of a classic medium format workhorse camera. In the pre-digital era, Mamiya medium format film cameras were one of the top choices for serious photographers who wanted better image quality than they could get from 35mm film. In particular, the Mamiya RB67 and RZ67 6×7 cameras appealed to landscape, portrait and commercial photographers. The 6×7 cm film area offered no visible grain at standard print sizes and still retained the flexibility of roll film. Mamiya camera bodies are also arguably some of the best-built cameras ever made.

So what does the Mamiya RZ33 bring to the game, you ask? For $18,000 you get a dedicated digital camera body with a 48 x 36mm 33-megapixel CCD sensor, an ISO 50-800 sensitivity range, 1.1 frames-per-second burst rate, 16-bit RAW files and a touchscreen digital control interface. With a significantly larger sensor than a full-frame digital SLR and 33 million pixels, the RZ33 can be expected to provide noticeably better image quality than any currently available digital SLR. The new RZ is compatible with previous Mamiya RZ leaf-shutter lenses (Mamiya medium format lens user reviews), which have flash synch to 1/400th of a second; and built-in bellows focusing means you can do close-up photography with any lens. According to Mamiya, the RZ33 is, "fully compatible with all Mamiya RZ system lenses, viewfinders and most accessories." So for professional photographers who still have an RZ stashed in the closet, the new RZ could be a great, and even economical way to upgrade their current studio camera system.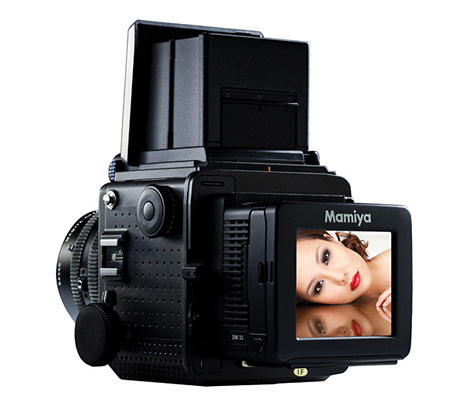 For most photographers, the new Mamiya probably isn't the best replacement for a professional-level digital SLR. Well, let me qualify that – if you're using your digital SLR in the studio, the Mamiya could be a very good replacement. But with manual focus only and a bulkier, heavier body*, the RZ33 probably won't be your first choice for a candid wedding or event camera. On the other hand, for slow, precise work on a tripod, the RZ33 will be hard to beat – especially for flash portrait photography where high-speed flash sync makes a real difference.
The Mamiya RZ33 is scheduled to ship in July of 2010 with an MSRP of $17,990. That price is for a "camera kit" I'm not totally clear on what's in the kit but I believe it includes the RZ33 camera body along with Capture One DB and Leaf Capture software. Although it's being called a "kit," I would be surprised if a lens was included.
*Approximately 2 pounds heavier than the 2.5-pound Nikon and Canon pro DSLRs.
Official Mamiya RZ33 Press Release >>
Related Content:
All Mamiya Camera Equipment User Reviews
Digital SLR User Reviews
Digital SLRs Forum
Mamiya Web Site