Update: In spite of my skepticism about the Nikon D800's high resolution 36-megapixel sensor, my concerns have mostly been squashed. First, it turns out that the image quality is excellent – about as good as it gets, in fact. Since I first wrote this intro article, image quality testing site DxO Mark gave the D800 their highest rating ever and the photography community has had nothing but good things to say about the D800. Check out our Nikon D800 studio sample photos page to judge the image quality for yourself. Second, Nikon also introduced a lower resolution full-frame camera this year, the 24-megapixel D600, providing an alternative for photographers who don't want or need a 36-megapixel sensor. I still consider the D800 a specialty camera because of its high-resolution. Although it's excellent for landscape, studio and commercial photographers, most people just don't need that kind of resolution. Personally, I think the sweet spot for a good balance between speed, file size and image quality is 16 to 18 megapixels. That said, the popularity of the D800 and its excellent image quality are proof that Nikon was on-target with the D800.
The boat this camera came in on must have sunk as soon as it reached the harbor because it was a seriously leaky vessel. However, you never know how much of what the rumor sites say is true until the announcement is official. Well, the Nikon D800 "Multimedia HD-SLR" is now official. The rumors were actually pretty much right on target this time. In a departure from previous strategy, the D800 gets a totally new, Nikon-designed 36.3-megapixel FX-format CMOS sensor. The positioning of the D800 is very similar to that of the D700. It's a more affordable full-frame camera than the new Nikon D4 and it inherits a lot of the same technology but without the speed or battle-worthy build. The D800 has the same 51-point auto focus system and EXPEED 3 image processing as the D4, 1080p HD Video, 3.2-inch 921k-dot LCD display – it even gets Nikon's new 91k-pixel 3D Color Matrix Metering III system and corresponding Advanced Scene Recognition System. Where the D800 diverges from the D700 strategy is resolution. Instead of offering the same number of pixels as the D4, the D800 more than doubles the resolution of the D4 and triples the resolution of the D700. And of course, unlike the D700, which had no video capability, the D800 gets full HD video with a lot of pro-level perks, including manual exposure control.


The D800 has been one of the most-anticipated digital SLRs Nikon has ever introduced. It's been almost 4 years since the D700 was announced (August, 2008) and speculation on the final features and specs have been going on for a couple of years now. Now that it's public, I'll be curious to see what the photography community thinks. Is the high-resolution sensor something the majority wants or not? I spoke to one photographer a couple of days ago who said he wasn't interested in a super high-res sensor and that he needed more speed than he thought the rumored (at the time) Nikon D800 was going to offer. I think he will be happy to find out that the D800 is actually capable of bursts as fast as 6 frames per second if you use the new MB-D12 battery pack. Without the battery pack, the D800 can shoot 4 frames per second. That's actually pretty damn good for a camera with a 36-megapixel sensor. Those are going to be some huge RAW files! For photographers who already own Nikon DX-format (APS-C sensor) cameras and lenses, the D800 also has a DX-format mode so you can use all your lenses. In DX crop mode, the D800 captures 15.4-megapixel images and the burst rate is increased to 5 frames per second.
Nikon D800 Key Features & Specs:
Nikon-designed 36.3-megapixel FX format (full-frame) CMOS sensor
EXPEED 3 image processing
The same 51-point auto focus system as the D4
AF detection down to -2 EV with all AF-Nikkor lenses
Sensitivity from ISO 100 to 6400, expandable to ISO 50 and ISO 25,600 (Hi-2)
91,000 pixel 3D Matrix Metering system
2-axis electroninc level
Built-in adjustable HDR mode
4 frames per second burst (6 frames per second possible with MB-D12 battery pack)
3.2-inch 921k-dot LCD display
1080p HD video at 30 or 24 frames per second and 60 FPS at 720p
Full manual exposure control in video mode
Live, uncompressed output via HDMI port
Stereo headphone jack, stereo mic jack and 30-step in-camera audio levels control
Full time auto focus in video mode
Built-in intervalometer with in-camera with in-camera time-lapse video output
100% coverage optical viewfinder
Built-in pop-up flash (can be used in Commander Mode)
SD and CompactFlash memory card slots
Weather-sealed magnesium alloy body
USB 3.0 interface
Price: $2999.95
The new 36-megapixel sensor was made with landscape, commercial, wedding and portrait photographers in mind. With a resolution of 7360 x 4912 pixels, it's going to deliver medium format-level resolution. That means crazy wedding dress detail, every leaf and blade of grass clear and sharp in landscape mural prints, and arguably too much detail for portraits – no one wants to see their pores and zits that well, right? But there's definitely a big market for a high-resolution camera like this.
But it's not all about resolution now is it? There's a reason that Nikon kept the resolution low on their last few high-end digital SLRs. Lower resolution means less noise. But according to the Nikon folks who briefed me on the D800, in spite of the serious increase in resolution the noise levels remain the same in the D800 as they were in the D700 until you get all way up into the expanded sensitivity settings. I haven't seen any sample photos so I can't confirm that but if they managed to triple the resolution of the D700 and keep the noise the same, I think people are going to be very happy. I will be very impressed. On the other hand, there will be photographers who don't want to deal with the extra storage and post-processing requirements that 36-megapixel image files demand.
The video success of the Canon EOS 5D Mark II, the D700's direct competitor, has to be a long-term irritation to Nikon executives and product managers. Canon hasn't replaced the 5D Mark II yet (at least not today, while I'm writing this article) and that gives Nikon a chance to get a leg up. They gave the D800 pretty much the same video specs as the D4, positioning it as an affordable alternative to the D4 for both still photographers and videographers, something they weren't able to do last time around. And looking at the video features and specs, the D800 is probably going to be as big a deal to video guys as it is to still photographers. It's got full HD video of course. Anything less is unthinkable these days. Frame rates are selectable with full 1920 x 1080 at either 30 or 24 FPS; and 30 or 60 FPS at 720p. The D800 uses H.264 compression enhanced by something called the "B-Frame data compression method." I'm guessing video pros already know about this but it's the first time I've heard of it. According to Nikon it makes the D800 able to produce cleaner video files with more detail without increasing the file size. Nikon also says the new sensor moves data faster resulting in less rolling shutter effect and the low light capability means you can record video in very low light without compromising quality.
If the H.264 B-Frame compression isn't good enough, you can also use the D800's HDMI port to bypass the in-camera processing by recording directly to a digital recorder. You can also use the HDMI port to display live video on an external video monitor. Some other significant video features are adjustable audio levels; a headphone jack with adjustable output; you can also use the DX-format crop for an effective 1.5x conversion while still recording at full HD resolution. And as I mentioned before, the D800 has full manual exposure control in movie mode. Nikon was also the first camera makers to introduce a digital SLR with continuous auto focus in movie mode and the D800 also has that capability.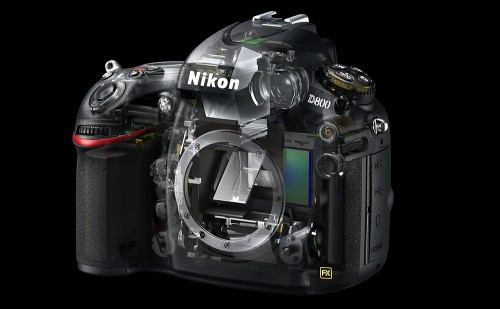 Although the D800 isn't really designed for action photographers it's got the same 51-point auto focus system as the D4 with AF capable of performing at light levels as low as -2 EV. Theater and concert photographers, photojournalists, wedding and event photographers and anyone else who shoots moving subjects in low light will appreciate the improved auto focus. One of the main complaints about the Canon EOS 5D Mark II has been the poor auto focus performance. I don't think Nikon D700 shooters had any issues and with the D800's improved auto focus there shouldn't be any reason to complain. Yes, the burst rate is slower, but like I said earlier, with the new MB-D12 battery pack the D800 can shoot as fast as 6 frames per second, really pretty quick and good enough for most action photography.
Nikon is actually going to make two versions of the D800 – the standard camera and the D800E, basically a D800 with no low-pass filter. The D800E will offer even better detail but at the cost of moiré. Commercial photographers who want the absolute maximum detail will pay $300 more plus some added post-processing to minimize the moiré. But that's a small price to pay for a camera that, in theory, delivers medium format digital image quality in a standard DSLR-sized body and at a DSLR price.
The Nikon D800 will be available in late March at a suggested retail price of US $2999.95. The D800E should be available about a month later for $3299.95. If you want a D800 in any reasonable amount of time, I suggest getting a pre-order in right now as this camera is going to be ridiculously popular.
Nikon D800 Studio Sample Photos >>
Nikon D800 vs. Canon EOS 5D Mark III Intro Video >>
Nikon D800 Press Release >>
Related Content:
Nikon Digital SLR User Reviews
All Nikon User Reviews
All Digital SLR User Reviews
Nikon Cameras Forum
Digital SLR Forum
Digital Video Forum
More Nikon News And Articles
Nikon Web Site