Just before Thanksgiving I got Jeff McGrath, a.k.a. "Youtah," to bring his Nikon D800 over to HQ so we could shoot some studio tests. In case you're one of the five people who don't know, the D800 is a 36-megapixel full-frame DSLR – a medium format digital camera challenger, if you will. It has the highest resolution of any digital SLR and it also has excellent image quality. In fact, image quality experts DxOMark gave it a 95 rating, the highest they've ever given any camera. Now you can pass your own judgment with our Nikon D800 studio sample photos.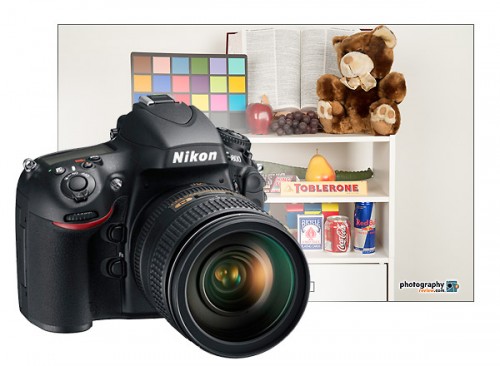 Our Nikon D800 studio sample photos were shot RAW in aperture priority at all ISO settings, from Lo-1 (ISO 50) to Hi-2 (ISO 25,600), at f/11 with Jeff's standard zoom lens, the Sigma 24-70mm F2.8 IF EX DG HSM. The RAW files were converted to TIFFs in Lightroom and the graybar, text and logo were added in Photoshop before they were resaved as maximum quality JPEGs. No adjustments, sharpening or noise reduction were applied at any point.
Warning: these files are huge – be patient while they download.

Nikon D800 Intro Video >>
All Digital Camera Sample Photos >>
Related Content:
Nikon Digital SLR User Reviews
All Nikon User Reviews
All Digital SLR User Reviews
Nikon Cameras Forum
Digital SLR Forum
Digital Video Forum
More Nikon News And Articles
Nikon Web Site