The Nikon D600 is an "affordable" 24-megapixel full-frame pro / enthusiast digital SLR – if you consider $2100 without a lens affordable. It's designed to be either an alternative to more expensive pro cameras like the D800 or D4; or as an upgrade for DX-format (APS-C) DSLR owners who want the benefits of a larger sensor. It's also a solid option as a backup camera body for pros. Below, you'll find our high-res Nikon D600 controlled studio sample photos, shot at all ISO settings.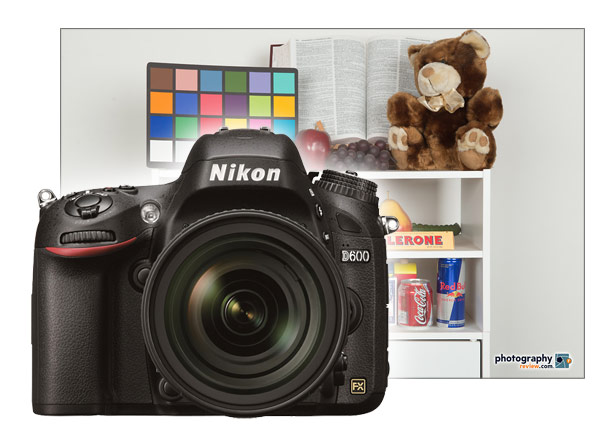 The Nikon D600 fits into Nikon's FX-format full-frame digital SLR line between the $3000 36-megapixel D800 (Nikon D800 Intro) and the $6000 16-megapixel D4 (Nikon D4 Samples). The 24-megapixel D600 splits the difference and does it a very reasonable price compared to the D800 and D4, both of which are really more specialized professional cameras.
As far as image quality goes, the D600 looks great. It uses the same sensor as the Sony Alpha SLT-A99, with Nikon's own tweaks applied. Looking at the A99 studio sample photos we did last year (Sony A99 Studio Sample Photos), it's clear Nikon has managed to get more out of the sensor than Sony. The Nikon images have the smooth, creamy look I've come to expect from Nikon DSLRs and hint at better dynamic range for more post-processing potential. Frankly, the D600 sample photos make the Sony A99 tests look a bit harsh.
I don't want to get too off-track here, but I encourage everyone to take a look at our Nikon D7100 studio samples (Nikon D7100 Studio Sample Photos). Like the D600, the D7100 has a 24-megapixel sensor, but it's a smaller DX-format APS-C sensor. And it's very, very good – nearly as good as the D600, if you can believe it. So if you're wondering if you really need to upgrade to a full-frame camera, please take a look at our D7100 studio tests. I think you'll be surprised. The D600 image quality is better overall – especially in terms of sharpness. But considering that the D7100 has a smaller sensor and costs half as much as the D600, it's very impressive and probably a better camera choice for most photographers.
Ultimately, I don't really have a whole lot to say about the D600's image quality other than it looks great. The color is nice, contrast is very good, and I honestly can't imagine needing any more detail than the 24-megapixel sensor offers. Viewing the ISO 6400 test at 100%, all of the dictionary text is still sharp and easily readable. Just to get an idea of how far it can be pushed, I enlarged the ISO 6400 test image to 24×36 inches and printed an 8.5×11-inch cropped section. Noise is definitely visible up close at that level of enlargement. But at a normal viewing distance (twice the diagonal – about 80 inches) you don't see the noise at all. Even ISO 12,800 looks pretty decent, although the dictionary text does start to get a bit mushy. I wouldn't hesitate to push the D600 over ISO 6400 if I needed to, though. Photographers who don't need the speed and build of the D4 and who aren't resolution nuts (potential D800 owners), will be more than happy with the D600's image quality. After analyzing these sample photos the D600 is definitely be to be my top camera recommendation for Nikon photographers shopping for a new full-frame DSLR body.
The Nikon D600 studio sample photos below were shot on a tripod in the PhotographyREVIEW.com studio with the Nikon AF-S 28-70mm f/2.8 Nikkor zoom lens. The photos were shot RAW in aperture priority mode at f/11 with white balance on the tungsten preset. The RAW files were converted to 16-bit TIFFs in Lightroom and the graybar, text and logo were added in Photoshop. The photos were then resaved as maximum quality JPEGs before they were uploaded to be shared in this article. No adjustments, sharpening or noise reduction were applied at any time. Please do as you please with the samples below. Pixel peeping at 100% is ok but doesn't really tell you the whole story. Making prints is the best way to really compare since it equalizes resolution differences between cameras and provides a better real world method of evaluation.
Warning: these files are big – be patient while they download.
Nikon D600 Sample Photos
Thank you very much to award-winning Utah family and wedding photographer Mark Bowers, who was kind enough to bring his Nikon D600 over to HQ so I could make these studio tests. Check out his photos by visiting his Web site, Mark Bowers Photography.
Nikon D600 Intro >>
All Digital Camera Sample Photos >>
Related Content:
Nikon Digital SLR User Reviews
All Nikon User Reviews
All Digital SLR User Reviews
Nikon Cameras Forum
Digital SLR Forum
Digital Video Forum
More Nikon News And Articles
Nikon Web Site
All Digital Camera Pro Reviews
All Digital Camera Studio Sample Photos