Last night, Canon announced two new professional, interchangeable lens video cameras. These aren't the shoulder-mounted camcorders that most people think of when they think of high-end video. Rather, Canon's new Cinema EOS System is based on the recent HD DSLR video revolution – digital SLRs that can also capture HD video. The main announcement was for the Canon EOS C300 interchangeable-lens digital cinema camera, which uses an approximately 8.29-megapixel (4096 x 2160 pixels) "4k" Super 35-mm CMOS sensor to record 1920 x 1080 full HD video to Compact Flash (two slots). The EOS C300 cinema camera uses the same EF lens mount as Canon's digital SLRs so it can use the full line of Canon's EF lenses. To compliment the new EOS C300 camera, Canon also introduced seven manual focus cinema lenses – four zooms (two lenses with different mounts) and three primes.

"The launch of the Cinema EOS System marks Canon's full-fledged entry into the digital high-resolution production industry."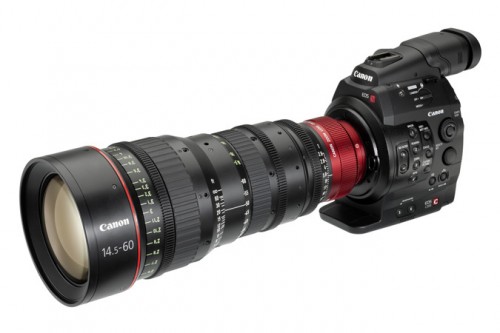 Amateur video makers, avant-garde filmmakers and even Hollywood have all started using digital SLRs for video because they're far less expensive than traditional pro video and film gear and they're also much smaller and lighter. That brings budgets down and makes it easier to film certain kinds of scenes – especially some kinds of action, low angles and scenes that are shot in small spaces. I'm just a still photographer, reluctantly dipping my toe into the murky waters of video so I won't pretend to understand all the technical details about the new EOS C300 camera. But it was easy to see this camera coming. The success of the Canon EOS 5D Mark II and other HD DSLRs with serious videographers and filmmakers make this an obvious and logical move for Canon.
Get ready for sticker shock – the predicted price for the EOS C300 is $20k. And that's without any accessories or a lens. The new EF-mount cinema lenses will sell for $6800 to $47k. That's a lot of the story right there. This stuff is expensive – at least for regular video guys and still photographers. Obviously, the new Canon Cinema EOS System isn't a replacement for the $1000 HD DSLR you got for Christmas last year. However, chances are, for broadcast and movie industry pros, the C300′s $20k price tag is still relatively inexpensive.
More interesting to us mortal photographers and video dabblers, is the official promise of a full-frame EOS camera body (see photo, below), "incorporating an enhanced version of the video-capture capability offered in the current EOS-series lineup." Few details were supplied on the "concept" camera except it would have a full-frame sensor and support 4k video capture like the new EOS C300. It's not clear whether this is the direction Canon is going for the much-anticipated EOS 5D Mark II replacement or if this is something completely different. From the announcement photos, the camera looks to have the same burly pro-level body as the EOS-1D line but with a red "C" in place of the 1D badge. No further specs, features, date or camera name were supplied.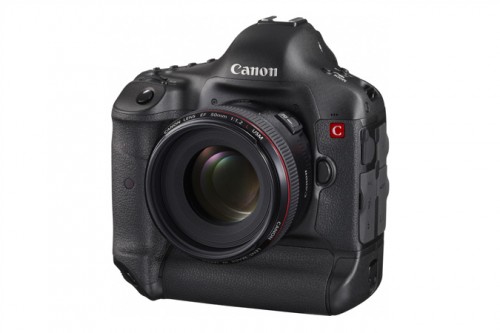 The Canon EOS C300 will come in two versions – an EF-mount model that uses Canon's lenses and a PL model, which uses industry-standard PL-mount cinema lenses. The EF-mount C300 is supposed to be available in January of 2012 and the PL-mount C300 should be available in March. The estimated price for the Canon EOS C300 is US $20,000. The new Canon CN-E14.5-60mm T2.6 L S zoom lens will be available in EF and PL-mounts in January, 2012. The Canon CN-E30-300mm T2.95-3.7 L S zoom is scheduled to be available in EF and PL-mounts in late March. The prime lenses should be available in the summer of 2012.
Canon EOS C300 Cinema Camera Press Release >>
Canon Cinema EOS System Press Release >>
Canon EOS 4K Concept Camera Press Release >>
Canon EF Cinema Lenses Press Release >>

Related Content:
All Canon Reviews
All Digital SLR Reviews
Canon Cameras Forum
Digital SLR Forum
All Canon Camera News And Articles
Canon Cameras Web Site