Sony recently announced a new entry-level DSLR, the Alpha SLT-A58. The A58 has a brand new 20-megapixel APS-C CMOS sensor, full HD video, in-camera "Picture Effects," it can shoot bursts as fast as 8 frames per second, and it sells for just $600. Not only does the A58 have a great feature set, but Sony's SLT camera design sets it apart from other entry-level DSLRs – especially for video.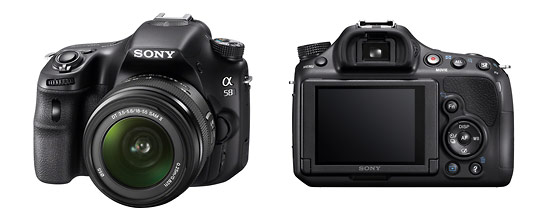 With Sony's "Translucent Mirror Technology" and an electronic viewfinder (EVF), the Sony Alpha SLT-A58 isn't technically a digital SLR, although for all intents and purposes it behaves just like one. The most obvious benefit of Sony's SLT camera design is the A58 has the same auto focus performance for video as for still photos – something no other DSLR-maker can claim. In fact, the Sony SLT cameras are the only DSLRs where continuous auto focus is actually sports-worthy in the movie mode. The electronic viewfinder also offers a lot of benefits. You can see all the same data in the EVF that you can on the LCD, including the effects of exposure and white balance adjustments. And unlike a digital SLR, you can use the EVF when recording video. That adds a third point-of-contact, helping steady and smooth video clips so you don't need to buy expensive accessories to get useable handheld movie footage. If you were unimpressed by electronic viewfinders in the past, it's time to let those memories go. Current EVFs are very, very good and the A58's 1.4-million-dot OLED viewfinder is very different from what were used just 3 or 4 years ago. Most people probably won't even realize they're looking through an electronic viewfinder the first time they put the A58 up to their eye.
Sony Alpha SLT-A58 Key Features And Specs:
New 20.1-megapixel Exmor APS HD CMOS sensor
Built-in sensor-shift image stabilization
Improved BIONZ image processing
Sensitivity: ISO 100-16000
1920 x 1080 full HD AVCHD video at 60i or MP4 full HD at 30p
Built-in stereo microphone
PASM manual shooting modes for video
1.4-million-dot OLED electronic viewfinder
2.7-inch tilting 921k-dot Xtra Fine LCD display
15-point AF system with 3 cross-type sensors
New Lock-on Autofocus subject tracking
Focus peaking
Continuous auto focus in movie mode
New, Auto Object Framing
8 frames per second high-speed burst in Tele-Zoom High Speed Shooting Mode (5 megapixels)
15 in-camera Picture Effect modes
The Sony Alpha SLT-A58 uses a brand new 20.1-megapixel Exmor APS HD CMOS sensor and the camera has improved image processing to complement the new sensor. I expect the A58 will have the best image quality we've seen yet from an APS-C sensor digital SLR. I say that because Sony is currently making APS-C sensors for most of the other camera makers now and no one else is using this sensor yet. The A58 records 1920×1080 60i full HD video in the AVCHD format or full HD at 30p in the MP4 format. It has a built-in stereo mic and offers full manual exposure control (PASM) in movie mode. Auto focus is controlled by a 15-point array, which, as I mentioned in the last paragraph, works just as well for movies as for still photos. It also has focus peaking, an excellent tool that makes a huge difference for getting perfect manual focus. Two new features, Lock-on Autofocus and Auto Object Framing, will help people get better focused and composed photos in a wider range of conditions, no matter what their experience level. Action shooters can shoot at 5 FPS in any mode or 8 FPS in the Tele-Zoom High Speed Shooting Mode (reduces resolution to 5 megapixels).
I'm a big fan of Sony's SLT cameras and I believe Sony is one of the main forces pushing digital SLRs into the future. You get better performance and the most forward-thinking camera design with Sony SLT cameras and the A58 is no exception. Photographers who are looking for something new or who don't already have an investment in another brand should give the Sony Alpha SLT camera line a close look – especially if video is a top priority.
The Sony Alpha SLT-A58 will be available in April (2013). It will sell for about $600 with an 18-55mm zoom lens. You can pre-order now on the Sony Web site or at your favorite authorized online Sony camera dealer.
Sony Alpha SLT-A58 Press Release >>
Related Content:
Sony Digital Camera User Reviews
All Digital SLR User Reviews
Digital SLRs forum
Sony Cameras Forum
All Sony Camera Articles & News
Sony Alpha Cameras Web Site