If you're frustrated with the image quality, speed and auto focus of your point-and-shoot camera it's probably time to think about investing in a DSLR. There's a huge difference between a compact camera and a DSLR. Digital SLRs give you more control, improved performance and much better image quality as well as the versatility of interchangeable lenses. The most noticeable differences are low light image quality and auto focus performance. With a digital SLR you'll be able to focus and shoot in low light situations like candlelight and nightclubs; and you'll be able to use continuous auto focus to capture photos of your pets, kids and friends in action. In this guide you'll find what I believe are the five best affordable entry-level digital SLRs. You can't go wrong with any of them but there are a couple that I think stand really stand out. Read on to find out which ones – you might be surprised.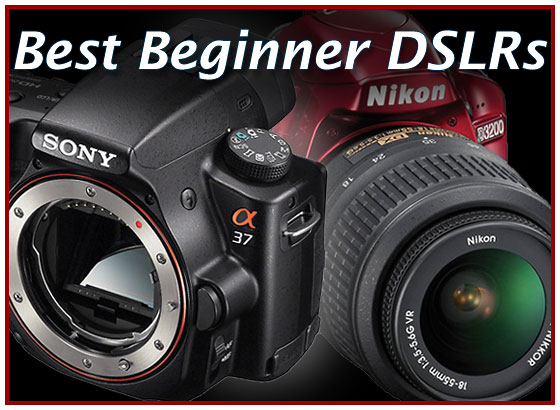 Take me straight to the cameras >>
A few years ago an entry-level digital SLR would cost you around $1000 and then you still had to buy a lens. Now you can get a DSLR with a lens for well under $1000 – there's even one camera in this guide that currently sells for $500 with a lens. All the cameras in this guide also capture full 1920 x 1080 HD video as well as excellent quality still photos. So they aren't just less expensive – you get a lot more now when you buy a digital SLR, too. I realize $500 or $700 might seem like a lot of money to a lot of you. And it is a big chunk of cash. But consider the real value of your photos. Aren't photos and videos of your family vacation, baby's first birthday cake and high school graduation worth two or three hundred extra dollars?
Last year I included a couple of interchangeable lens "compact system cameras," a.k.a. "mirrorless cameras," in this guide just so people would know they're an option. I decided to leave them out this year though, because they really deserve their own buying guide. However, for those who aren't aware of this new and growing camera category, compact system cameras are an excellent digital SLR alternative, offering 80% or more of the quality and performance of a DSLR in a smaller package – and often for less money. If you want to learn more, check our Compact System Cameras Forum and Compact System Cameras Reviews.

With no further ado, let's take a look Top Five Beginner Digital SLR Cameras. The cameras are in no particular order and were chosen based on popularity, price, features, performance, our member reviews and my own experience. If you have your own favorite camera or disagree with any of my choices, please feel free to share your thoughts in the comments section at the bottom of each page. Your comments, questions and recommendations will make this a richer, more useful article.
first camera – Sony Alpha SLT-A37 >>