---
Nikon D5100 Beginner Digital SLR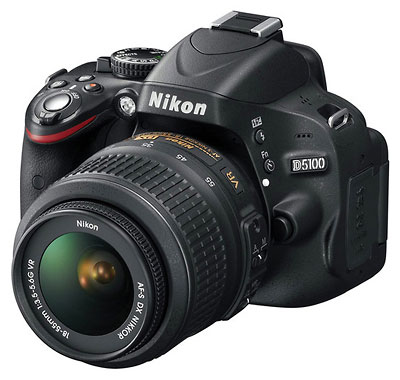 I included the Nikon D5100 the last time I updated this beginner DSLR guide. It's back again because it's right in the performance / features / pricing sweet spot. You trade the D3200's 24-megapixel sensor for a versatile tilt-swivel LCD display that's perfect for self-portraits, low-angle photos, working on a tripod and video. And personally, I'd rather have the D5100's proven 16-megapixel sensor because the lower resolution means photos are easier to process and I save money on memory cards and hard drives.
Article: Why You Should Buy The Nikon D5100 >>
Street Price: approximately $799 with 18-55mm kit lens
16.2-megapixel APS-C CMOS sensor
1920 x 1080 full HD video
Continuous auto focus in movie mode
Sensitivity: ISO 100 to 64000 – expandable to ISO 25,600 (Hi-2)
Burst: 4 FPS
3-inch 921k-dot tilt-swivel LCD
Note: Nikon recently announced the D5200 (Nikon D5200 intro article), an updated version of the D5100 with a 24-megapixel APS-C sensor, a better auto focus system and a faster burst rate. Unfortunately, the D5200 isn't being offered in North America – yet. So if you like the D5100's design but want more, you might wait a bit to see if the D5200 becomes available. I expect the D5200 to sell for about $800 to $900 with a lens if and when it shows up here.
next camera – Canon EOS Rebel T3i / 600D >>