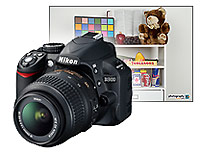 Below, you'll find high-resolution studio sample photos taken with the Nikon D3100, a 14-megapixel entry-level digital SLR. Test photos were shot RAW in aperture priority at f/8 across the D3100′s full sensitivity range – ISO 200 through ISO 3200 – plus the expanded settings – ISO 100, 6400 and 12,800. The test photos were converted without adjustment to TIFF files with Lightroom 3. The logo, text and graybar were added in Photoshop and the images were then saved as maximum quality JPEGs. No post-processing, noise reduction, sharpening or exposure adjustments have been applied. The D3100 has very impressive image quality for an entry-level camera. Download, print, compare and pixel peep away to judge for yourself!

Take Me Straight To The Nikon D3100 Review >>
Click on the thumbnails below to see the Nikon D3100 sample photos at their original resolution. Warning: these files are BIG – be patient while they download.

Nikon D3100 Review >>
All Digital Camera Sample Photos >>




Related Content:
Nikon D3100 User Reviews
Write a Nikon D3100 Review
Nikon D3100 Sample Gallery
All Nikon Camera User Reviews
Digital SLR Camera Forum
Nikon Cameras Forum
More Nikon Camera News And Articles
Official Nikon Digital SLR Web Page
All Digital Camera Pro Reviews
All Digital Camera Studio Sample Photos