The Canon EOS 5D Mark III is official! This has to be one of Canon's most anticipated cameras, ever. It's been three and a half years since the 5D Mk II was announced (September, 2008) and photographers have been (im)patiently expecting a replacement since late 2009. It's been quite a wait but I think Canon shooters are going to be very happy with 5D Mark III. The announcement was timed to commemorate the 25th anniversary of Canon's EOS System and it looks like almost every bit of the 5D Mark III has been improved. Rather than increase resolution, like Nikon did with the D800, Canon kept the resolution about the same and instead improved the image quality. The improved sensor and DIGIC 5+ image processor allowed them to improve video and JPEG image quality by about two stops, increase the burst rate to 6 frames per second and match the 1D X's video features and performance. One of the biggest complaints about the 5D Mk II – poor auto focus – has been addressed, too. The EOS 5D Mark III gets the exact same 61-point auto focus system as the EOS 1D X. In my opinion, that new auto focus system is 5D Mark III's most important feature upgrade. Canon also announced some new accessories with the EOS 5D Mark III. There's a new battery grip, a new GPS receiver, a wireless transmitter, and best of all – a new wireless radio-triggered flash and flash transmitter.


The new 5D is a very well-planned camera. I'm sure people will find things to complain about. But it looks to me like they went over it very thoroughly. It's positioned between the EOS 5D Mark II and the new EOS-1D X. Yes, the EOS 5D Mark II will remain on active duty. You can think of the 5D Mk III as the Mk II on steroids. It's faster, more refined and does lots more stuff than its predecessor.
Canon EOS 5D Mark III Key Features And Specs
New 22.3-megapixel full frame CMOS sensor
DIGIC 5+ image processing
Sensitivity range: ISO 100 to 25,600, expandable to ISO 50, ISO 102,400 (stills-only)
New 61-point AI Servo III auto focus system with 41 cross-type sensors
Auto focus functions down to -2 EV for low light shooting
6 frames per second high-speed burst
Dual axis electronic level
63-zone color-sensitive dual layer metering
1.5-degree spot meter
1920 x 1080 full HD video at 30, 24, and 25 frames per second – 720p at 50 or 60 frames per second
Video recording time increased to 29 minutes and 59 seconds
Audio levels adjustment in 64 steps
Headphone jack for audio monitoring
In-camera multiple exposure
In-camera RAW conversion
In-camera HDR
New, Comparative Playback feature shows two images side by side
M-RAW and S-RAW modes
3.2-inch, 1.04-million-dot LCD display
CompactFlash and SD memory card slots
100% coverage optical viewfinder
Improved dust and moisture resistance
150k-cycle shutter
Same battery as EOS 5D Mark II
New Sensor & Image Quality
I like Canon's 5D Mark III sensor strategy. Rather than dramatically increasing the number of pixels and trying to convince us that's better, they left the resolution basically the same and really made it better. After all, do we really need more than 22 million pixels? I don't think so. There's a lot going on with the new sensor. The most important thing is that the pixel size is 6.5 microns – larger than the 5D Mark II's 6.4 micron pixels. Canon did that by designing new, gapless microlenses that effectively eliminate the space between pixels, allowing them to collect more light. They also redesigned the circuitry on the sensor to further reduce noise and gave it an 8-channel readout, which allows faster data transfer. The 5D Mark II had a 4-channel readout and that's one of the reasons it had such a slow burst rate.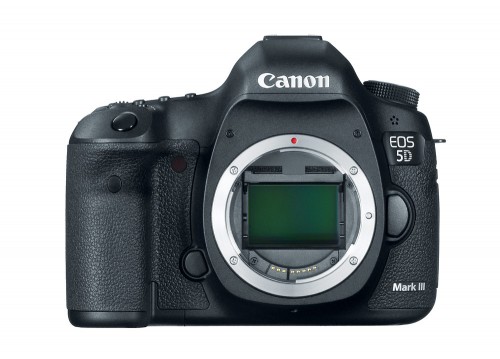 Between the sensor improvements and the DIGIC 5+ image processing, Canon says they've improved the 5D Mark III image quality by two stops for JPEG images and movies. They didn't give any numbers for RAW, but since the pixel size has been increased and the sensor circuitry improved, they assured us that RAW image quality is also better.
Video
It's pretty much a recognized fact that the 5D Mark II revolutionized digital SLR video so there's no way Canon could drop the ball on the Mark III's video features and performance. And they didn't hold back. They gave it everything they gave the EOS-1D X and then some. It has 1920 x 1080 full HD video at 30, 24, or 25 frames per second; and it can also shoot 720p video at 60 or 50 frames per second for slow motion clips. As I said in the image quality section, the video quality is two stops better than the 5D Mark II. However, they also reduced moiré and say the 5D Mark III has less moiré than any other EOS camera.
For sound, the 5D Mark III has a 64-step levels adjustment and it's the first Canon DSLR to have a headphone jack for audio monitoring. Like the 1D X, the 5D Mark III also offers two new H.264 video compression formats: intraframe (ALL-I) compression, which is easier to edit; and higher compression, interframe (IPB) so you can get more video footage on your memory cards.
Speed & Auto Focus
In my opinion, the improved speed and auto focus are the most important improvements on the 5D Mark III. After all, the 5D Mk II's image quality and controls weren't *bad*. But the burst rate was slow and the auto focus was less than stellar. So the new 6 frames per second burst and 61-point auto focus are very welcome upgrades. Those improvements make the 5D Mark III a viable action camera. The AF is the same used in the top-of-the-line EOS-1D X and it's arguably the most sophisticated auto focus on the planet. It has 61 points that can be selected individually or in groups and 41 of those points are extra-sensitive cross-type sensors. Auto focus is not going to hold you back with the 5D Mark III. This is not a camera you'll only want to use in the studio. And 6 frames per second is plenty fast for most sports photography. No, it's not 10 frames per second but if you need that kind of speed then you should be looking at the 1D X, not the 5D Mark III.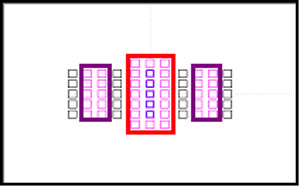 There's also a new feature called EOS iTR (Intelligent Tracking and Recognition), which combines the new auto focus system, the new metering system and a new feature called Intelligent Subject Analysis to better identify subjects for more accurate tracking auto focus. They didn't go into much detail about it in my phone briefing or in the press release but apparently it has multiple, "AF options ideal for wedding and event photography as well as sports and photojournalism." As an example they describe the system using face detection to better track a tennis player in action. Sounds good to me. We'll just have to wait and see how well it works.
Camera Body & Controls
At first glance, the 5D Mark III body looks very similar to the 5D Mark II. However, Canon has refined the body a bit and considerably updated the controls. It has improved dust and moisture-resistance so it's basically on-par with the EOS 7D but not as burly as the 1D X. There are dual memory card slots – one SD and CF – and the Mark III Supports UDMA 7 CompactFlash cards, currently the fastest you can get. It has a totally pro, 100% viewfinder, a new 3.2-inch LCD display and a 150k-rated shutter. One thing they were nice enough to not change is the battery. If you've already got a 5D Mark II that you plan to use as a backup, your battery (or batteries) will work in both cameras.
The 5D Mark III is graced with a bunch of controls from the 7D. It gets a Quick Control button, which allows you to access and change settings directly on the LCD display. It's a very quick, intuitive and efficient way to change all kinds of camera settings. There's also a programmable Function (Fn) button and the same dedicated live view / movie switch that was introduced with the EOS 7D. A couple of new buttons add in-camera photo rating and access to the new in-camera HDR and multi-exposure features.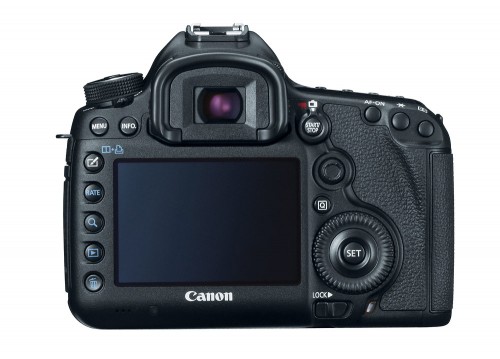 As with the 1D X, the menus are supposed to be improved, with auto focus settings getting their own tab. And for those of us who don't always carry our camera manual, there's a built-in feature guide so help is just one button away.
New EOS Accessories
Canon is also introducing a bunch of new accessories with the EOS 5D Mark III. There's a new battery grip, a GPS unit a wireless file transmitter and most exciting – the new Speedlite 600EX-RT flash and Speedlite Transmitter ST-E3-RT, both of which add radio flash control to Canon's off-camera flash control options. I believe this is the first hot shoe camera flash to offer built-in radio transmitter functionality. It offers full wireless E-TTL flash control with a range of just under 100 feet (30 meters) and you can control up to 15 slave 600EX-RT flashes or cameras with either the ST-E3-RT transmitter or a master 600EX-RT flash.
Conclusion
The Canon EOS 5D Mark III looks like a very worthy upgrade for 5D Mark II owners. With the improved speed and auto focus it's now also a good option for sports and wildlife photographers. I really like that Canon put their effort into improving real image quality instead of needlessly increasing resolution.
The Canon EOS 5D Mark III should be available at the end of March at a suggested retail price of $3,499.00 for the body alone. It will also be sold in a kit with the 24-105mm f/4L IS zoom lens for $4,299.00.
Official Canon EOS-1D X Press Release >>

Related Content:
All Canon Reviews
All Digital SLR Reviews
Canon Cameras Forum
Digital SLR Forum
All Canon Camera News And Articles
Canon Cameras Web Site