Last week I wrote an article entitled, "Why You should buy the Canon EOS Rebel T3i." I'm sure a lot of readers took that to mean I had a Canon bias. That is not at all the case. Really, that article was about why you should buy a cheaper camera and use your money for lenses instead. To that end, I now present a similar ode to the Nikon D5100 digital SLR.
Here's why you should buy the Nikon D5100. The D5100 is a full-featured, entry-level digital SLR that shares the same 16-megapixel CMOS sensor, EXPEED 2 processing and full HD video performance as its higher-end sibling, the Nikon D7000 (our Nikon D7000 Pro Review). With the D5100 you also get a tilt-swivel LCD display – a feature you won't get with the D7000. A tilt-swivel LCD display is an invaluable feature for anyone who works on a tripod or plans to use the D5100 for video. I love it for tripod-mounted landscape photography and studio product photography. The tilt-swivel LCD alone is a strong argument for buying the D5100 instead of the D7000.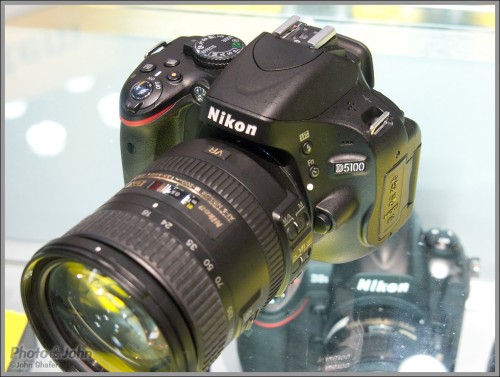 Nikon D5100 Key Features & Specs:
16.2-megapixel DX format sensor (APS-C)
EXPEED 2 image processing
Sensitivity: ISO 100 to 6400, expandable to ISO 25,600 (Hi-2)
Video: 1920 x 1080 @ 30p, 25p and 24p; 1280 x 720 @ 30p, 25p and 24p; 640 x 424 @ 30p and 25p; MOV, H.264/MPEG-4
Display: 3-inch 921k-dot Vari-Angle LCD
Flash sync: 1/200th second
Built-in pop-up flash
In-camera, two-frame HDR
Effects Mode, including Night vision, Color sketch, Miniature effect and Selective Color
What do you give up if you choose the D5100 over the D7000? The D7000 has a studier body, a better auto focus system and it can do shoot bursts at 6 frames per second vs. the D5100′s 4 frames per second. But ask yourself – do you really need that faster burst rate, auto focus and tougher body? For most photographers, if they're honest, the answer will be no. Unless you're a serious sports photographer or you spend a lot of time banging your camera against rocks in the rain, the Nikon D5100 has all the important features you want from the D7000. So do yourself a favor, buy the D5100 and put the extra $400 you save towards a better lens than the 18-55mm kit zoom. My recommendation, seen in this photo I took at the PhotoPlus Expo (below), is to buy the D5100 body alone and get the excellent Nikon AF-S DX 18-200mm f/3.5-5.6 VR II lens instead. It's not quite pro-level glass, but it's likely the most versatile lens you'll ever own. I use my 18-200mm zoom far more than any other lens and don't know how I could live without it anymore.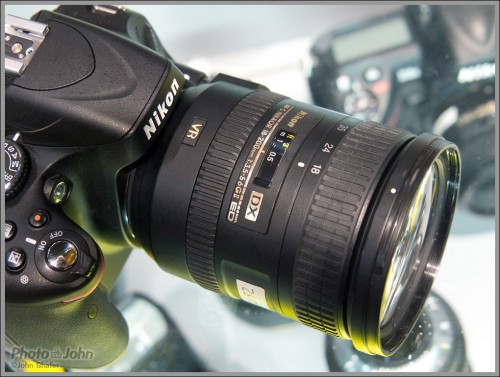 You can take this argument one step further and consider the $600 Nikon D3100 over the D5100 or D7000. I recently did a review of the D3100 (Nikon D3100 Pro Review)and found it to be a great camera with excellent image quality. It wasn't until ISO 1600 that the D5100 and D7000 got noticeably better. Ultimately, lenses are always a better investment than a better camera. That's why you should buy the D5100.
The Nikon D5100 retails for $799 for the body alone and $899 in a kit with the 18-55mm VR kit lens. The Nikon AF-S DX 18-200mm f/3.5-5.6 VR II zoom lens I recommend has a suggested retail price of $850. Yup – that's more than the camera alone and you'll have to spend about $1500 to get up and running if you take my advice. But unlike a digital SLR body, you'll probably own that lens for life and you can use it for almost anything. Trust me.
Nikon D5100 Intro >>
Nikon Digital SLR Buying Guide >>
Related Content:
All Nikon Camera Review Categories
Nikon Cameras Forum
Digital SLR Forum
More Nikon News And Articles
Nikon Web Site