Details about this are already all over the Web because of the bean-spillers but tonight Nikon officially announced a new digital SLR – the D5100. The 16-megapixel Nikon D5100 fits into the Nikon digital SLR lineup between the entry-level D3100 and the prosumer D7000. With the same imaging sensor and EXPEED 2 image processing as the D7000, the new D5100 offers significant performance improvements over the two-year-old D5000. It also has 1920 x 1080 full HD video with expanded resolution and frame rate options, a 3-inch 921k-dot tilt-swivel LCD, 4 frames per second burst rate, a new Effects Mode and two-frame in-camera HDR. Videographers will be excited about the new ME-1 stereo microphone, which uses a 3.5mm mini stereo jack and mounts on the camera hot shoe.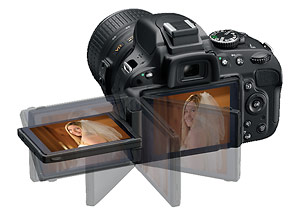 It's impossible not to compare Nikon gear to Canon gear. That being the case, the new D5100 looks to fall somewhere between the Canon EOS 60D and the new Canon EOS Rebel T3i / 600D. Compared to its Nikon siblings, the D5100 is a big step up from the D5000 and D3100 and looks perfect for photographers who want D7000 image quality but don't need the D7000′s speed or auto focus performance (the D5100 uses the same 11-point AF system as the D3100). Basically, if you want a D7000 but aren't shooting action, save a few bucks and buy a D5100 instead. That's especially true for studio photographers and landscape shooters who work on a tripod – speaking from experience, the tilt-swivel LCD alone is a good reason to choose the D5100 over other cameras. If you haven't worked with live view and a tilt-swivel LCD, you're missing out. It's a beautiful thing.
Nikon D5100 Key Features & Specs:
16.2-megapixel DX format sensor (APS-C) – appears to be the same as the D7000
EXPEED 2 image processing
Sensitivity: ISO 100 to 6400, expandable to ISO 25,600 (Hi-2)
Video: 1920 x 1080 @ 30p, 25p and 24p; 1280 x 720 @ 30p, 25p and 24p; 640 x 424 @ 30p and 25p; MOV, H.264/MPEG-4
Display: 3-inch 921k-dot Vari-Angle LCD
Flash sync: 1/200th second
Built-in pop-up flash
In-camera, two-frame HDR
Effects Mode, including Night vision, Color sketch, Miniature effect and Selective Color
The Nikon D5100 digital SLR and ME-1 stereo microphone are both scheduled to be on the shelves within the next couple weeks (mid-April). MSRP on the D5100 is $799.95 or $899.95 in a kit with the AF-S DX 18-55mm VR zoom lens. The price on the ME-1 microphone is $179.95.
Official Nikon D5100 Camera Press Release >>
Related Content:
All Nikon Camera Review Categories
Nikon Cameras Forum
Digital SLR Forum
More Nikon News And Articles
Nikon Web Site