Nikon's new D3100 digital SLR has full-HD 1080p AVCHD video and it's the very first DSLR to offer continuous auto focus in movie mode. I could probably end this article there. Well, maybe not – there are still plenty of photographers who have zero interest in having video in their digital SLR. So for the DSLR video haters, here are the straight photography specs for the new Nikon D3100. It has a new 14.2-megapixel CMOS sensor, sensitivity to ISO 3200 (expandable to ISO 12,800), a Guide Mode, an 11-point auto focus system with tracking auto focus, 3 frames-per-second burst rate and Nikon's brand new EXPEED 2 image processing.

Nikon usually refines digital SLRs for a few generations before completely updating them and the D3100 follows that tradition. It has the same the same basic body and design as its predecessor, the D3000. And like the D3000, the D3100 was designed to appeal to photographers stepping up to their first digital SLR. It has a bunch of consumer-friendly features like the Mode Dial-accessed Guide Mode, Auto Scene Selector in Live View, Active D-Lighting and Face Detection. Entry-level photographers will appreciate the user-friendly features that make it easy to take better pictures. But the 14-megapixel CMOS sensor, wide sensitivity range and 11-point AF system will appeal to experienced photographers looking for a compact, second body; as well as anyone else looking for a lot of camera at a low price.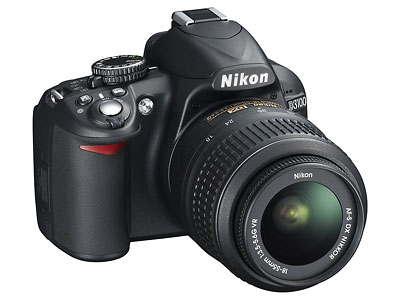 Nikon D3100 Key Features & Specs:
14.2-megapixel CMOS sensor
Nikon's new EXPEED 2 image processing
11-point auto focus system with normal area AF, wide-area AF, face-priority AF, and 3D tracking AF
1080p AVCHD video at 24 frames-per-second (24 or 30 FPS at 720p)
Fully active, continuous auto focus in movie mode and Live View
3 frames-per-second burst rate
ISO 100 to 3200, expandable to ISO 12,800
3-inch LCD display
Guide Mode
SD memory card compatibility
HDMI connectivity and CEC control (Consumer Electronics Control)
100,000-cycle shutter
420-pixel 3D Matrix Metering
iTTL flash metering
As I said in the first sentence of this announcement, it's the D3100′s video specs that are the real news here. Shortly after Nikon introduced the D90, the world's first video-enabled digital SLR, Canon took the HD DSLR lead and hasn't relinquished it – until now. The current Canon HD DSLRs still have more frame rate options than the D3100. But Nikon has matched Canon's 1920 x 1080 full-HD resolution. And even more important – the D3100 is the world's first digital SLR with continuous auto focus for video. I think that makes it one of the most significant video DSLRs announcements yet. More video resolution, variable frame rates and improved low light shooting ability are all great. But continuous auto focus is more valuable for most people. Since video-capable digital SLRs were first introduced, I've been warning photographers that they are likely to be let down by the video from HD DSLRs. Yes, the video quality is excellent. But if your video isn't in focus, who cares? Average folks, used to dedicated camcorders don't want to set up their camera on a tripod, plan where the action is going to be, and then pre-focus accordingly. That's way too complicated and leaves no room for spontaneous video of kids and pets – and that's what most people are actually filming. So, in spite of how impressive digital SLR video is, it's been hard to recommend an HD DSLR to anyone who isn't an experienced photographer or videographer. The Nikon D3100 changes that.
We'll have to wait to see how the D3100′s video auto focus performance really is. In Live View and D-Movie Mode, the D3100 will still be limited to contrast detect auto focus, which is slower and less accurate than the phase detect auto focus digital SLRs use when Live View is turned off. My experience with Live View auto focus doesn't give me a lot of confidence that the D3100′s auto focus will be able to successfully track a dog chasing a stick or one of my buddies on his mountain bike. I'll keep my fingers crossed, though. If the auto focus works well, Nikon has seriously upped the ante for HD DSLR performance and the D3100 will be the most usable digital SLR for videos yet.
The Nikon D3100 should be available in mid-September for $699.95. That price includes the AF-S NIKKOR 18-55mm f/3.5-5.6G VR zoom lens. To compliment the D3100 / AF-S NIKKOR 18-55mm f/3.5-5.6G VR lens kit, Nikon is also introducing a new 55-300mm zoom lens. The AF-S DX NIKKOR 55-300mm f/4.5-5.6G ED VR zoom lens will also be available in September and will sell for $399.95. That means for US $1100 you can have a 14-megapixel digital SLR camera with VR image stabilization, a zoom range of 18-300mm and full 1080p HD video with continuous auto focus.


Official Nikon D3100 Press Release >>
Related Content:
Nikon Digital SLR User Reviews
All Nikon User Reviews
All Digital SLR User Reviews
Nikon Cameras Forum
Digital SLR Forum
Digital Video Forum
More Nikon News And Articles
Nikon Web Site