I got to use the Sony Alpha A99 camera for three days during a Sony cameras press event a few weeks ago in California. I really, really liked it and was very sad when I had to return it. I've used a few full-frame cameras this year but the A99 stands out in my mind as the most forward-thinking pro camera on the market. It has a 24-megapixel full-frame CMOS sensor and Sony has given it some functionality that no other DSLR-maker is even approaching yet – perfectly useable continuous auto focus for video and an electronic viewfinder (technically, the electronic viewfinder means the A99 isn't an SLR, but for all intents and purposes, it behaves like one). The A99 is also the only full-frame DSLR-style camera with built-in sensor-shift image stabilization and an articulated LCD display. You can read more about it in my Sony Alpha A99 First Impressions article. I got a pretty good feel for all those features at the Sony event but I wasn't able to make controlled image quality test photos. Luckily, local photographer Cody Sims was willing to bring his camera to headquarters so we could shoot a set of Sony A99 studio tests. You'll find the full set of Sony Alpha A99 studio sample photos below. I noticed that there are some dust spots on the images – it looks like Cody needs to clean his sensor. The dust doesn't make any difference as far as these tests go, though.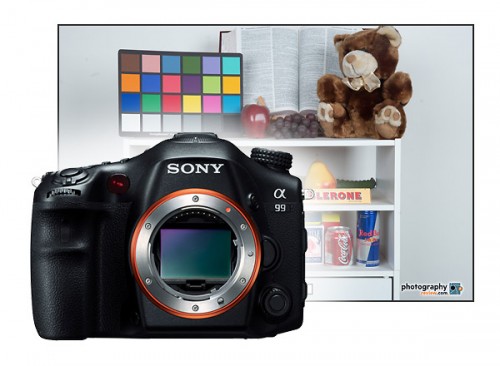 Our Sony A99 studio sample photos were shot RAW in the PhotographyREVIEW.com studio with Sony's wonderful Carl Zeiss 24-70mm f/2.8 pro zoom lens at f/11. The camera was set on the aperture priority shooting mode with white balance on the tungsten preset. We made exposures through the A99's whole sensitivity range, from ISO 50 to ISO 25,600. The RAW files were converted to 16-bit TIFFs in Lightroom with no adjustments. The graybar, text and logo were added in Photoshop and the images were then resaved as maximum quality JPEGs. No resizing was done, no adjustments were made and no noise reduction or sharpening were applied anywhere in the process. Based on these studio tests and my experience with the A99 at the Sony event in California, I think the A99 is totally useable up to ISO 6400 and even ISO 25,600 looks ok if you need to shoot in really bad light. Please pixel peep, print and compare however you see fit.
Warning: these files are huge – be patient while they download.

Sony Alpha A99 First Impressions Review >>
All Digital Camera Sample Photos >>
Related Content:
Sony Digital Camera User Reviews
All Digital SLR User Reviews
Digital SLRs forum
Sony Cameras Forum
Sony Alpha Cameras Web Site