Why should you buy the Canon EOS Rebel T3i? The Canon EOS Rebel T3i – or the EOS 600D, as it's known outside the US – has been one of the most popular cameras on the market since it was introduced. Its combination of great features and image quality for well under $1000 make it a great digital SLR choice for all kinds of photographers and video shooters. That's right – it captures full HD video as well as 18-megapixel stills. In fact, even though it was designed for beginners, it caused something of a revolution in the video and film community because of its excellent price-to-performance ratio. I visited the Canon booth at the PhotoPlus Expo last week to take a closer look and get some photos of the T3i to accompany this article.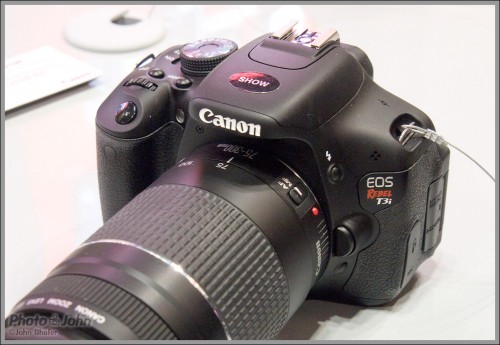 Although it's often called an entry-level camera, the Canon EOS Rebel T3i / 600D is actually a step above Canon's real beginner digital SLR, the 12-megapixel T3 (1000D outside the US). I believe most people underestimate the T3i's capabilities. The most important thing you need to know about the T3i is it has the same 18-megapixel CMOS sensor as its big brothers, the EOS 60D and EOS 7D. That means it has the same image quality and video performance – and for a lot less cash ($200 less than the 60D and $700 less than the 7D). The main tradeoff is the T3i doesn't have as fast a burst rate as the 60D or the 7D and it's not built for the same kind of abuse. On the other hand, that it's smaller and lighter, something that travel and outdoor photographers will appreciate. And unlike the EOS 7D, it has a tilt-swivel LCD (see below), a feature I think most people underestimate. Any photographer who works on a tripod is going to find they love the tilt-swivel LCD. I know I do.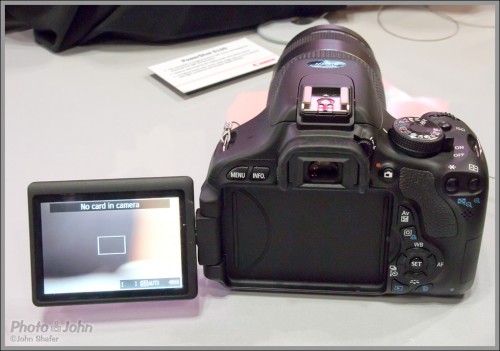 Canon EOS Rebel T3i / 600D Key Features & Specs:
18-megapixel APS-C CMOS sensor
1920 x 1080 full HD video with selectable frame rates of 24p, 25p or 30p
3-inch Vari-Angle Clear View LCD display
DIGIC 4 image processing
Sensitivity range: ISO 100-6400
Burst rate: 3.7 frames per second
Integrated Speedlite Transmitter wireless flash control
Movie Digital Zoom
New A+ Scene Intelligent Mode
New Feature Guide
EOS Video Snapshot
Creative Filters: Soft Focus, Grainy Black and White, Toy Camera, Miniature Effect (tilt-shift)
Aspect ratio crop lines in Live View
New EF-S 18-55mm f/3.5-5.6 IS II kit lens
I own the EOS 7D and I've owned a couple of Canon Rebel digital SLRs. I use the 7D for sports but for landscape, video and studio photography, the T3i is more than enough camera. In fact, I believe it's probably more camera than most photographers need. I want to buy one for a studio camera but the EOS Rebel XSi I've been using in the studio for the past few years refuses to break. If it did die, I'd replace it in a hot second with the T3i. So if you're in the market for a digital SLR for stills or video, and you don't need a fast burst rate, do yourself a favor and buy a T3i and use the money you save for a better lens (or two).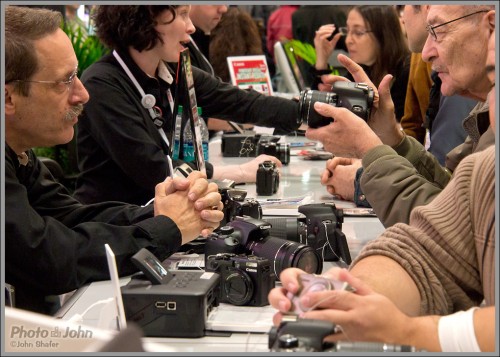 The Canon EOS Rebel T3i sells for $799 body-only, $899 with the EF-S 18-55 IS II kit lens or $1100 in a kit with the EF-S 18-135mm IS zoom lens. My personal recommendation would be to buy just the T3i body and the Canon EF-S 18-200mm IS lens. I can personally vouch for the 18-200mm zoom. It's an awesome all-purpose lens and I use it more than any other lens I own. For more information, read our detailed Canon EOS Rebel T3i announcement article:
Canon EOS Rebel T3i / 600D Intro >>
Related Content:
All Canon Reviews
All Digital SLR Reviews
Canon Cameras Forum
Digital SLR Forum
All Canon Camera News And Articles
Canon Cameras Web Site