One of the surprises for me at this year's PhotoPlus Expo was the Canon PowerShot S100 – specifically, the silver model. The S100 packs a lot of features into a body that comfortably fits in your pants pocket. It's a Canon HS System camera with a large 1/1.7-inch 12-megapixel CMOS sensor, 24-120mm f/2.0-5.9 zoom lens (35mm equivalent), RAW shooting, full HD video, manual exposure controls, full-resolution high-speed burst, built-in GPS and a 3-inch LCD display. I had a Canon S90 back when it first came out (Canon PowerShot S90 article & video) and I was impressed with the lens, the image quality and the pocket-friendly body. But in spite of the camera's performance, I never got really excited about it. I think part of that was the boxy, black design. Camera looks aren't that important to me but I admit they do make a difference. The S90 and S95′s design worked but it didn't inspire. But when I saw the new silver S100, my heart went pitter-pat.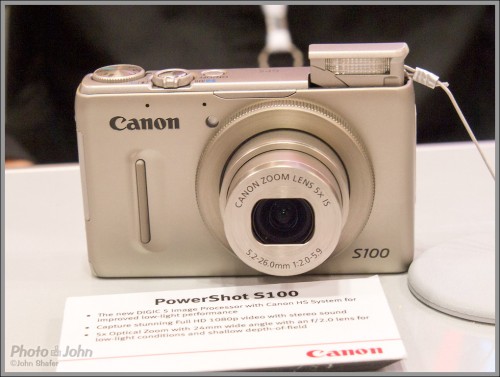 Canon's last two S-Series compacts were great cameras. But there are a few things that I think make the S100 much better. The most important is the wider, increased zoom range. Second, is the full-resolution high-speed burst, which can capture up to 8 shots at 9.6 frames per second. And the last is the addition of a grip on the front of the camera. The grip, of course, makes the camera easier to hold. But it also breaks up the boxy lines of the S100 and gives it a little more style and character than the S90 and S95. The lens still has a large, f/2.0 maximum aperture but the zoom range has been increased from 3.8x to 5x and it's now 24mm on the wide end instead of 28mm. For me, a 28mm wide-angle is pretty conservative. If I'm going wide, I wanna go wide. And 24mm is a lot wider than 28mm.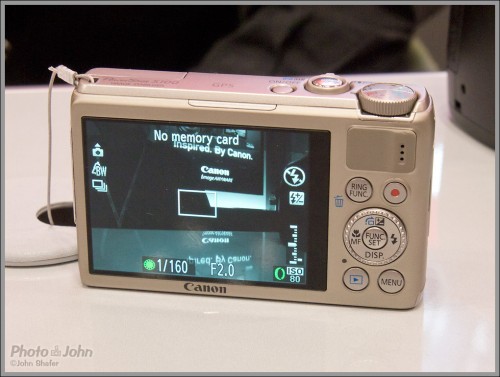 The S100′s image quality is a given. Canon's HS system combines the sensor and image processing for better image quality – especially in low light. I've used three or four Canon HS System cameras now and I can vouch for the image quality. It really is better. With the new DIGIC 5 processer, Canon says the S100 is good for ISO 6400. Those top end ISO settings are really just vanity claims for the camera makers. Not having used the S100, I'd guess it's probably good for ISO 1600. That may not sound great to digital SLR shooters. But for a compact camera, it's excellent. Add the f/2.0 lens (at 24mm) and Canon's new Intelligent IS and you've got yourself a very nice, pocket-sized low light camera.
The Canon PowerShot S100 is supposed to be available this month (November) and at a suggested retail price of $429.99. It comes in silver (I love the silver) and black. Get your order in now because I'm guessing the S100 is going to sell out fast.
Related Content:
All Canon User Reviews
All Digital Camera User Reviews
Canon Cameras Forum
Digital Cameras Forum
Canon News, Reviews & Articles
Canon Web Site