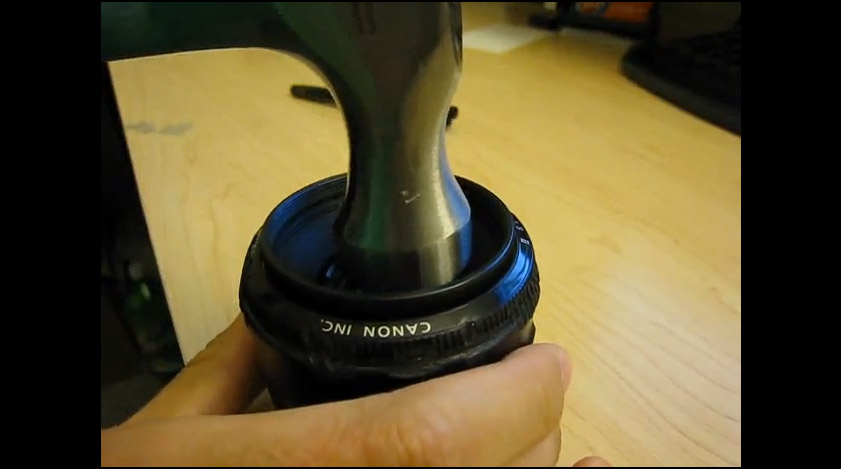 I think most photographers underestimate how durable their camera equipment is. That makes sense since digital SLRs and good lenses cost us a lot of money. But in my experience (dropping cameras and lenses, shooting in the rain and snow, crashing on my mountain bike with a camera in my pack…), it's all a lot tougher than expected. For some proof, witness the video below, by photographer Richard Choi. In the video, he does his best to shatter the front element of a Canon EF 50mm f/1.8 II lens – and fails. And that's not even a burly, expensive lens. New, it sells for about US $100.
Robert Choi's sadistic lens torture video:
Now, to be fair, shattering the front element of your lens isn't the thing you have to worry about most. Scratches are your biggest enemy and those are more likely to be caused by dirt, sand or rocks than a hammer. Remember, glass is harder than steel so the hammer shouldn't scratch the lens element, although it could damage coatings, and chip, crack or shatter the lens. Another thing this video doesn't address is lens alignment. Even if the glass isn't damaged, a good impact to the front element is likely to throw off the alignment and ruin your focus. That's what happened when my Canon EF 300mm f/4 L rolled out of the back of my truck onto the pavement.
I'm not telling you to throw caution to the wind and set your camera down in the sand at the beach. But I think this video (and my own experience abusing cameras) should encourage photographers to loosen up a bit. Don't worry so much about the rain, go ahead and take your DSLR out on the mountain bike, and maybe even save a few bucks and skip the protective filter when you buy your next lens.