Update: Nikon made their 2013 CES camera introductions tonight and one of the announcements was that the D5200 DSLR would be available in the US starting late this month (January, 2013).
Nikon's new D5200 digital SLR, announced earlier this week, combines the best of their D3200, the D5100 and the D7000 DSLRs. It's got a 24-megapixel DX-format (APS-C) CMOS sensor like the D3200, the D5100's tilt-swivel LCD display, and the D7000's excellent auto focus and metering systems. That's a whole lot of performance packed into a small, affordable DSLR body. Unfortunately for photographers in the States, the D5200 isn't going to be available in the US – at least not yet. As far as I know, no reason has been given for not releasing it in the US. Hopefully it's just a temporary delay because the D5200 looks like a hell of an entry-level camera and a solid upgrade for photographers who own the D5100 or other older Nikon DX-format cameras.

Nikon D5200 Key Features & Specs:
24.1-megapixel DX-format (APS-C) CMOS sensor
EXPEED 3 image processing
39-point AF system with 9 cross-type sensors (same as Nikon D7000)
2,016-pixel RGB metering sensor with Scene Recognition System (same as Nikon D7000)
Sensitivity: ISO 100 to 6400, expandable to ISO 25,600
5 frames per second high-speed burst
3-inch 921k-dot tilt-swivel LCD display
1080p full HD video with built-in stereo microphone
Full time auto focus in video mode
When I reviewed the Nikon D7000 (Nikon D7000 Pro Review), it was one of the best APS-C digital SLRs I'd ever used – especially for shooting sports and action. But since most people don't actually need the D7000's speed and auto focus performance, the D5100 was the Nikon DSLR I recommended most of the time. The D5100's image quality was basically the same as the D7000, it cost less and the tilt-swivel LCD display is great when you're working on a tripod or shooting from wacky angles. But with the new Nikon D5200, you pretty much get it all. You get the D7000's high-performance 39-point auto focus system, 2,016-pixel RGB metering and 5 frames per second high-speed burst. That's not quite as fast as the D7000's 6 FPS burst rate, but it's fast enough to be useable for action photography.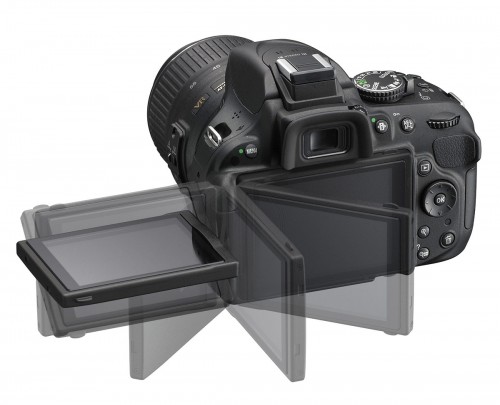 Although the D5200's 24-megapixel sensor appears to be the same as the one used in the D3200, Nikon says it's different. The D5200 sensor has 24.1 megapixels and the D3200 has 24.2 megapixels. It's a negligible resolution difference but it shows that the sensors are different. The D5200 also has a higher maximum ISO than the D3200. The native ISO range is the same (ISO 100 to 6400) but whereas the D3200's expanded sensitivity goes to ISO 12,800, the D5200 expands to ISO 25,600. The D5200 uses EXPEED 3 processing; the same system Nikon uses for the D4, D600 and D800 pro DSLRs. They say the EXPEED 3 image processing delivers better color, less noise and better video quality than previous DX-format cameras. Someone's going to have to do a back-to-back comparison for us to know for sure. But it's clear from the camera specs that the D5200 sensor is at least a bit different from the D3200's. I have to admit, I'm a bit skeptical of the 24-megapixel DX-format sensor. I just don't think that kind of resolution is necessary or even desirable for this level of camera. But people seem happy with the 24-megapixel sensor in the D3200 so who am I to argue? It is going to require more memory cards, computer processing power and hard drive space, though.
The D5200 also has full HD video with a built-in stereo microphone and manual shutter speed and ISO control. Unlike most digital SLRs, you the D5200 (and all Nikon DSLRs) has continuous auto focus in movie mode. It can even track a subject across the frame when 3D-tracking is enabled. However, in my experience, the continuous auto focus in movie mode isn't quite there yet. It's ok for slow-moving subjects but don't expect it to keep with sports or other real high-speed subjects. For people who want to get creative, Nikon included some in-camera special effects, including Selective Color, Miniature Effect, Silhouette and High Key. All the special effects can be used for both stills and video and can be previewed in Live View on the LCD display. There's also built-in HDR and 16 scene modes.
Cameras with built-in Wi-Fi are hot and Nikon has given the D5200 optional Wi-Fi connectivity via their new WU-1a Wireless Mobile Adapter. The WU-1a wireless adapter and the GP-1 GPS adapter can be plugged into a port on the left side of the camera, behind the same cover that protects the microphone jack, mini-USB and HDMI ports. Nikon has free Android and iOS apps that allow you to wirelessly transfer photos and videos to your Smart Phone or even control the D5200 remotely.
A price hasn't been announced yet and we'll have to wait and see if it becomes available for US customers. Since it's a D5100 replacement, I expect it will sell for about US $900 or less with an 18-55mm VR kit lens, just like the D5100 when it was first announced – if they sell it in the US.
The Nikon D5200 will be available in the US in late January of 2013. The suggested retail price for the D5200 body in a kit with the AF-S 18-55mm f/3.5-5.6 VR zoom lens is US $899.95.
Nikon D5200 Press Release (Europe) >>
Related Content:
Nikon Digital SLR User Reviews
All Nikon User Reviews
All Digital SLR User Reviews
Nikon Cameras Forum
Digital SLR Forum
Digital Video Forum
More Nikon News And Articles
Nikon Web Site