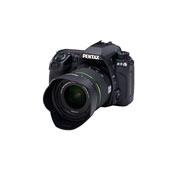 We're a little behind on Pentax DSLR reviews. It's been hard to get digital SLRs for review from Pentax, and let's be honest – they probably have the smallest digital SLR market share right now. But that doesn't mean their cameras are no good or that we aren't interested. When we reviewed the Pentax K10D a few years ago, I really enjoyed using it. But it's been a while since we had one of their DSLRs in the office. So I was pleased to see this well-written and detailed review for the Pentax K-5, written by new member, Michelle Clair.
If you're a Pentax shooter, please write a review for your cameras and lenses. Your reviews are the foundation of this site and Pentax needs better representation here:
---
Featured Review: Pentax K-5 Digital SLR
by Michelle Clair (Intermediate)
Price Paid: $1741.00 from New Zealand
Review Date: August 9, 2011
Used product for: 3 Months to 1 year

Overall Rating: 5 of 5
Value Rating: 5 of 5

Summary:
My last Pentax was an *ist DS. It was my first all digital SLR and I have loved it for years. It has been everywhere, in all weathers and had a few mishaps, but still produces beautiful photographs without much help from me.
A great camera, very easy and light to use, it was evidently unpopular because it had an odd name? Why that would matter is beyond me..it works!
However the time came for me to upgrade to a camera that had a few more megapixels than my cell phone…. I did read up on the relative reviews of all the major name DSLR's but still couldn't find any reason not to buy the new Pentax K 5.
I was a bit in awe of the reviews I found on it, as it sounded complicated to use, and I am an instinctive sort of photographer, I like to act on impulse, and too many complications can get in the way of this. But I needn't have worried, it is as light (almost) and as easy to use as my last one.
Read The Rest Of The Review >>
Michelle Clair is a New Zealand photographer and happy Pentax owner. Check out her beautiful photos of the dramatic New Zealand landscape on her Michelle Clair (Sondelart) Facebook page.
Related Content:
All Pentax User Reviews
All Digital SLR User Reviews
Pentax Cameras Forum
Digital SLRs Forum
All Featured User Reviews
All Pentax Camera News & Articles
Pentax Cameras Web Site