Canon calls the new EOS Rebel T4i a.k.a. 650D their "most 'consumer-friendly' DSLR to date." To that end, the T4i has a new 18-megapixel "Hybrid CMOS" sensor that makes continuous auto focus possible in movie mode; and it's the very first digital SLR to have touchscreen controls – a 3-inch tilt-swivel electro-static LCD display with a 1.04 million-dot resolution. In my opinion, the movie mode continuous auto focus is the most important improvement. However, Canon made a lot of changes to the T4i and I think it looks like a solid upgrade for T3i / 600D and other entry-level DSLR owners – especially those interested in video and action photography. Other T4i upgrades are DIGIC 5 image processing, an improved 9-point auto focus array, increased ISO sensitivity, faster high-speed burst, new shooting modes and a built-in stereo mic for video.


Canon EOS Rebel T4i / 650D Key Features And Specs
New 18-megapixel APS-C Hybrid CMOS sensor
DIGIC 5 image processing
3-inch 1.04-million-dot tilt-swivel touchscreen LCD display
Continuous auto focus in movie mode
Sensitivity range: 100–12800 (expandable to 25600 in H mode)
Improved 9-point auto focus system with all cross-type sensors
5 frames per second high-speed burst
1920 x 1080 full HD video at 30, 24, and 25 frames per second – 720p at 50 or 60 frames per second
Built-in stereo microphone
New Handheld Night Scene, HDR Backlight Control, Multi-Shot Noise Reduction & Video Snapshot modes
Although Canon has been the industry favorite for HD DSLR video since they introduced the EOS 5D Mark II, they've been behind both Sony and Nikon when it came to movie mode auto focus. Nikon and Sony have had continuous auto focus in their DSLRs for a couple of generations now but with Canon DSLRs you had to pre-focus and let it roll – there was no continuous auto focus in the movie mode. You *could *use the AF button to refocus while recording video but it wasn't smooth or quick so setting up a new shot was really the more effective method. That's not really an issue for cinematographers and video pros because that's how most of them shoot video anyway – set up the shot, pre-focus, record and then do it again. But regular folks with kids and action sports videographers can really benefit from a focus system that can keep up with and even track their subjects. Thanks to a new 18-megapixel "Hybrid CMOS" sensor, the T4i is the first Canon DSLR with continuous auto focus and subject tracking in video mode.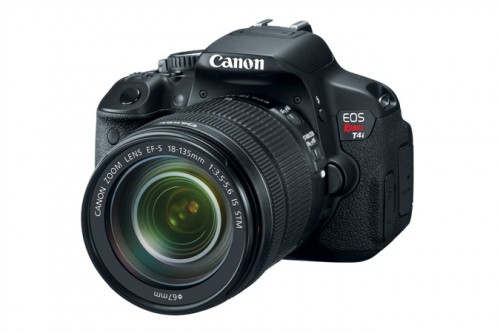 It's impossible to talk about movie auto focus without getting into a little of detail about auto focus systems. Trying to keep it simple – for still photos, digital SLRs use a "phase detect" auto focus array, located on the mirror, above the sensor. Contrast detect auto focus, used in mirrorless cameras, point-and-shoots and live view / movie mode on digital SLRs (except Sony's Alpha SLT cameras*), is uses the imaging sensor to focus. Phase detect auto focus is far superior for predictive, continuous auto focus. Canon never said as much, but the poor contrast detect continuous auto focus performance could be the reason they didn't offer movie mode continuous AF in previous digital SLRs. The continuous auto focus on Nikon DSLRs wasn't that impressive and maybe Canon decided they'd rather not include it if it wasn't up to par.
The way Canon got around the phase-detect-array-on-the-mirror problem is by embedding phase detect sensors around the center of the imaging sensor. So when the subject is in the middle of the frame (below, left), continuous auto focus will be via a combination of phase detect and contrast detect systems. If the subject is outside the center of the frame (below, right), then continuous auto focus will be by contrast detect only. The T4i's movie mode continuous auto focus will work with any Canon auto focus lens but it's supposed to work best with Canon's two new "Stepping Motor" (STM) lenses (Canon EF-S 18-135mm f/3.5-5.6 IS STM lens and Canon EF 40mm f/2.8 STM pancake lens), which also deliver quiet, continuous auto focus in videos when using the new "Movie Servo AF" mode. I won't speculate on the movie mode continuous auto focus performance since all I have right now are diagrams, specs and descriptions. The new hybrid auto focus system looks good on paper though and I'm looking forward to seeing how it does with tough subjects like mountain biking, running dogs and unpredictable two year olds.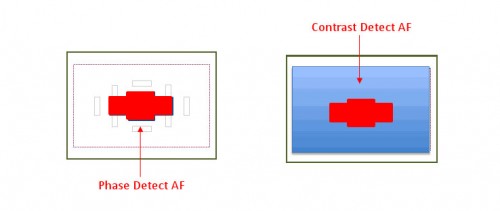 It's not just video auto focus that's been improved. All 9 focus points on the T4i now have extra-sensitive cross-type sensors. Basically, it looks like Canon upgraded the T4i's auto focus to the same spec as the EOS 60D. The T4i's auto focus performance should be much more accurate and responsive compared to the T3i / 600D. Add the 5 frames per second burst rate (the T3i could only shoot 3.7 FPS) and the T4i looks like a pretty good action camera – especially considering that it costs less than US $1000. It should also be a very worthy and inexpensive backup body for Canon photographers who own a 60D or a 7D (like me).
Sony, Panasonic and Olympus all have mirrorless interchangeable lens cameras with touchscreen LCDs, but the new Canon T4i / 650D is the first true digital SLR to have one. It's a 3-inch tilt-swivel LCD with a 1.04-million-dot resolution and "multi-touch capabilities," which basically means you can use it the same way you use the touchscreen on your smart phone, including swiping to scroll through photos and pinching to resize photos. The touchscreen also allows for some new features, including Touch Focus, Touch Shutter and you can now select a subject for tracking by touching it on the LCD display. The touchscreen should make the T4i / 650D more intuitive and less intimidating for casual photographers looking to step up from a point-and-shoot or smart phone. The most-used features will be accessible on the touchscreen via the Quick Menu display so getting up and running should require less time reading the manual for new DSLR users or photographers switching from other brands.
At first glance, the new Canon EOS Rebel T4i / 650D may not look very different from the T3i / 600D – especially if the first thing you look at is resolution. But the changes Canon made are smarter and will be more useful to photographers than more megapixels. It doesn't matter how good your video or still image quality is if your subject isn't in focus. Continuous auto focus in movie mode means more useable and versatile video for all kinds of users; and the improved burst rate and auto focus system make the T4i the best-spec'd action camera for less than US $1000. In this smart phone era, the new touchscreen display makes the T4i more intuitive, user-friendly and accessible to the average person. The T4i / 650D is a solid and thoughtful step forward and I'm really looking forward to getting one for review.
The Canon EOS Rebel T4i / 650D should be available at the end of the month (June, 2012). The US body-only price will be $849.99. It will also be available with the standard Canon EF-S 18-55mm f/3.5-5.6 IS II kit lens for $949.99; and in a "Movie Kit bundle" that includes the Canon's new EF-S 18-135mm f/3.5-5.6 IS STM zoom lens, for $1199.00. The new Canon EF-S 18-135mm f/3.5-5.6 IS STM zoom and EF 40mm f/2.8 STM pancake lenses will also be available at the end of June for $549.99 and $199.99, respectively.
*The Sony Alpha SLT cameras use a transparent mirror with an auto focus array in front of the sensor allowing them to use phase detect auto focus for still photos and video.
Official Canon EOS Rebel T4i Press Release >>

Related Content:
All Canon Reviews
All Digital SLR Reviews
Canon Cameras Forum
Digital SLR Forum
All Canon Camera News And Articles
Canon Cameras Web Site