Seems like everyone with a digital SLR is now a filmmaker as well as a photographer. Lowepro hasn't missed this development and they've made a few tweaks to their "top-selling and award-winning" Fastpack camera packs and come up with their new DSLR Video Fastpack AW series. Besides padded storage space for your HD digital SLR and a laptop sleeve, the new Fastpack AW backpacks also include a compartment for microphones, cables, transmitters and headphones as well as a carrier for a tripod or video support rig.

"We chose one of our most popular designs, the Fastpack, as the inspiration for the new DSLR Video Fastpack AW series. It's built to meet the needs of today's multimedia photographers who shoot stills and video, plus capture sound for their clients."

Tim Grimmer, Lowepro, director of marketing and product management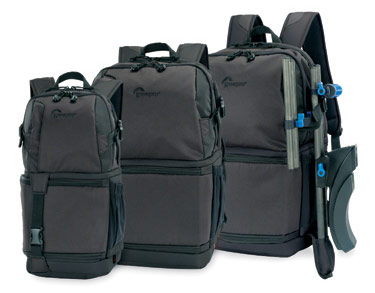 There are three pack sizes in the new Lowepro DSLR Video Fastpack AW line. The DSLR Video Fastpack 150 AW backpack is designed to carry a non-grip pro digital SLR with a small fast zoom lens (17-55mm f/2.8) with storage for a second lens, flash, a 15-inch laptop and either a tripod or DSLR video support rig. The DSLR Video Fastpack 250 AW increases the camera compartment to accommodate a larger mounted zoom (24-70mm f/2.8) and a couple of spare lenses. The DSLR Video Fastpack 350 AW is the big daddy of the new line. It can handle a real pro DSLR like the Nikon D3 and Canon EOS-1D Mk IV or a prosumer camera with a grip attached and a lens as big as a 70-200 f/2.8 mounted. It also has room for two more lenses, a 17-inch laptop, a tripod or stabilization rig and all your HD DSLR audio accessories.
All three packs offer side access for sling-pack-style camera access, Lowepro's AW all weather cover, Hideaway Tripod Mount, a padded laptop compartment and the upper audio gear storage compartment with Lowepro's removable custom audio utility pouch.
The new Lowepro DSLR Video Fastpack AW 150, 250 and 350 camera backpacks should be available now for $119.99, $149.99 and $169.99, respectively.
Lowepro DSLR Video Fastpack AW Press Release >>
Related Content:
Lowepro Camera Bag User Reviews
All Camera Bag User Reviews
Digital SLR Camera Forum
Lowepro Web Site