I think 2012 should be called "Year of the Full-Frame." Seems like everyone's got a new full-frame digital SLR – including Sony. It's been four years since they introduced their first full-frame camera, the 24-megapixel A900; and Sony photographers have been anxious for a replacement. In the past couple of years Sony has introduced a bunch of new APS-C digital SLRs and mirrorless cameras with groundbreaking features and design. The new Sony Alpha SLT-A99 puts all of that creativity and innovation in a full-frame DSLR. The resolution of the A99 is the same as the 24-megapixel A900 but all similarities end there. The SLT-A99 has a 24.3-megapixel full-frame CMOS sensor, 60p full HD video, an electronic viewfinder, Sony's exclusive Translucent Mirror design, and a brand new dual phase-detect AF system. It even has built-in GPS. Spec-wise, I believe the Sony A99 is the most advanced digital SLR on the planet.



"The new a99 camera is the ultimate combination of Sony's expertise and rich history of image sensor production coupled with our truly innovative approach to camera design. It redefines what can be accomplished with a full frame DSLR camera."

Mike Kahn, director of Sony's alpha camera division
Sony Alpha SLT-A99 Key Features and Specs:
New 24.3-megapixel Exmor CMOS full-frame sensor
Built-in sensor-shift image stabilization
Sensitivity: ISO 50 – ISO 25600
Translucent mirror design
1920 x 1080 full HD video (24p, 60i, 60p)
Headphone jack and adjustable audio levels with audio levels display
New "Dual AF" dual phase detect auto focus system
2.3-million-dot OLED electronic viewfinder
New 3-inch 3-way tilting 1.2-million-dot LCD display
15-point AF system
Continuous auto focus in movie mode
6 frames per second high-speed burst
200k-rated shutter
Built-in GPS
Weather and dust-sealed magnesium alloy body
Dual memory card slots – SD & SD/memory stick
New silent, programmable multi-control dial on front of body
Price US $2800 (body-only)
At first glance, the A99 looks a lot like the current Nikon and Canon full-frame digital SLRs. But look a little closer and you quickly find it's very different. Instead of an optical viewfinder it has a 2.3-million-dot electronic viewfinder (EVF). That means everything you can see on the LCD you can also see in the viewfinder. And even more important, you can use the EVF while recording video, adding a third point-of-contact for steadier handheld video. The A99 is the only full-frame DSLR with built-in sensor-shift image stabilization. Unlike Nikon and Canon DSLRs, where the image stabilization is in the lens, the A99 compensates for camera shake by moving the sensor. That means you don't need to buy special lenses to benefit from image stabilization technology. The A99 is the only full-frame camera with a tilting LCD display. That's huge for videographers and photographers who work on a tripod. But I think the most important exclusive feature is the A99's Translucent Mirror Technology (photo, below), which earned Sony our 2010 Camera of the Year award when they introduced it in the SLT-A55 (2010 Camera of the Year page). The transparent mirror allows the A99 to use the same phase detect continuous auto focus for live view as well as still photos. Only Sony uses a transparent mirror and no other camera maker has been able to achieve really useable continuous auto focus for digital SLR video recording. The A99 is also the only digital SLR that can shoot 1920 x 1080 full HD video at 60 frames per second. Slow mo, anyone?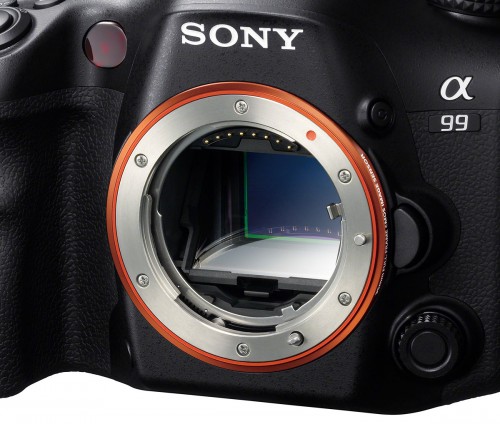 Although the technology above is new to full-frame cameras, most of it has been standard on Sony's APS-C sensor SLT cameras for a couple of years now. The A99's most significant new features are in the auto focus system. It has a brand new "dual phase-detect AF system," which has a 19-point phase-detect array on the mirror – the standard place for a DSLR auto focus sensor; and a 102-point "focal plane phase-detection AF sensor" right on top of the imaging sensor – sort of like a second anti-aliasing filter. On the new AF system, Sony says, "light is passed to both phase-detection AF sensors simultaneously and continually, measuring subject distance and position more completely than other cameras." I'll have to use the A99's new AF system to pass judgment, but the technology certainly sounds good to me.
The A99 also has a couple of interesting new auto focus features: AF-D (depth) continuous auto focus mode and AF range control. The AF-D auto focus mode takes advantage of the new Dual AF system to better track subjects moving in three dimensions. In other words – it tracks a subjects as they move parallel to the lens as well as towards and away. It's supposed to be better at tracking erratically moving subjects – football players or dogs, for example. Sony says it can even continue to track a subject if they leave the frame. That sounds like magic to me. AF range control lets you set limits on how close and far the camera will focus. This will be especially useful for sports photographers who have to shoot through fences as they can set the camera to only focus beyond the fence.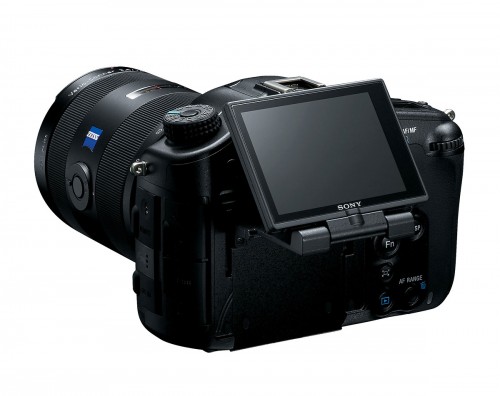 Sony announced a bunch of new accessories along with the SLT-A99. There's a new 300mm f/2.8 telephoto lens designed especially for sports and wildlife photographers, the 300mm F2.8 G SSM II (SAL300F28G2) lens; and they also announced they're working on a new full-frame Carl Zeiss Planar T* 50mm F1.4 prime, which should be available in the spring of 2013. There's a vertical grip for the A99, an RMT-DSLR2 Remote Commander, an HVL-RL1 Ring Light; and the new dust and moisture-resistant HVL-F60M hot shoe flash, which includes built-in LED lights for video. Also for video, Sony has a new XLR-K1M XLR Adaptor Kit, which includes a shotgun mic and adds two XLR terminals to the camera for professional mics, mixing boards, etc.
As usual, Sony's pricing is very aggressive. At $2800 for just the body, the SLT-A99 isn't at all cheap. But when you start comparing the features and prices of other full-frame digital SLRs, it looks very, very good. The Sony Alpha SLT-A99 will be officially introduced next week at the biennial Photokina tradeshow in Germany and it's scheduled to be in stores next month – October, 2012.
Sony Alpha SLT-A99 Press Release >>
Related Content:
Sony Digital Camera User Reviews
All Digital SLR User Reviews
Digital SLRs forum
Sony Cameras Forum
Sony Alpha Cameras Web Site