Today, Gary Fong Inc. launched the latest installment of its popular Puffer line of pop-up flash diffusers that brings the Puffer's diffusion capabilities to Sony and Konica Minolta DSLR users. The unique body-types of Sony and Konica Minolta DSLRs have led inventor and company CEO, Gary Fong to rework his popular Puffer Pop-Up Flash Diffuser to attach to these cameras.
With the Puffer in place, photographers of all levels can create professional-style diffused lighting with merely the on-camera flash. Affixing directly to the camera's hot-shoe, the Puffer softens the harsh light of an on-camera flash to eliminate shadows and create professional-style diffused lighting perfect for portraits and close ups. The previous Puffer model accommodated most Canon, Nikon, and Olympus DSLRS as well as some HP, Kodak, Leica, and Panasonic units.
To better connect with potential users, Gary Fong, Inc. is now using Microsoft Tag scanning technology. To use the re-printable tag included below to view the demonstration video:
Download the tag-reading app from: http://www.gettag.mobi/
Open the app and scan the image below with your mobile device's camera
View the Gary Fong demo video to learn more about the Puffer product line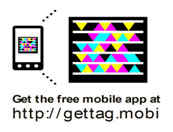 The Konica Minolta and Sony Puffer Pop-Up Flash Diffuser is available for $19.95.
Gary Fong Puffer Pop-Up Flash Diffuser For Konica Minolta and Sony DSLRs Press Release
Related Content:
All Gary Fong User Reviews
All Flash Accessory User Reviews
Photography Studio and Lighting Forum
More Studio and Lighting News and Articles
Gary Fong Web Site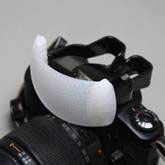 next page – Gary Fong Puffer Pop-Up Flash Diffuser For Konica Minolta and Sony DSLRs Press Release >>