Like everyone else out there, I've been anxious to get my hands on the Nikon D800 and Canon EOS 5D Mark III, the latest and greatest full-frame professional digital SLRs. Instead of waiting to get official review cameras from Nikon and Canon, I went straight to my local pro shop, Pictureline, and had their man, Nick Gilson, do a hands-on intro and comparison for me. I do plan to do full pro reviews for both cameras. But for those of you who want to see them and learn more about them right now, the video below should do the trick. I'm also assembling some first impressions material to add to this page, including high-res sample photos that you can compare back-to-back.

In the video, Nick implied that the Nikon D800's image quality isn't as good as the Canon EOS 5D Mark III's. I think that was the common assumption, based on the Nikon's higher resolution sensor. However, we hadn't done a proper image quality comparison at that point and probably spoke a little too soon. Today I did a close comparison of ISO 12,800 images from both cameras and I think the image quality – at least with 8.5×11-inch prints – is a wash. The Nikon might be a hair grittier but not enough to really matter. The bottom line is both cameras have excellent image quality at ridiculously high sensitivity settings. I plan to add a full set of sample photos for comparison to this page as soon as I can get them set up and uploaded to our server. So make sure to check back so you can make your own judgment about the Nikon D800 and Canon EOS 5D Mark III image quality.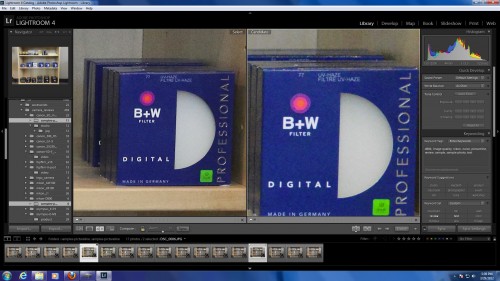 To learn more about the Nikon D800 and Canon EOS 5D Mark III cameras, check the links below for detailed announcement articles.
Nikon D800 Intro >>
Canon EOS 5D Mark III Intro >>
Related Content:
All Nikon User Reviews
All Canon User Reviews
All Digital SLR User Reviews
Nikon Cameras Forum
Canon Cameras Forum
Digital SLR Forum
More Nikon News And Articles
More Canon News And Articles
Nikon Web Site
Canon Web Site