We finally got a Canon EOS-1D X in for review and the studio sample photos are all available below. The 1D X is Canon's long-awaited (it was announced almost a year ago) flagship digital SLR. It's an 18-megapixel full-frame camera with native sensitivity to ISO 204,800 (expanded). Until now, Canon has had two EOS-1D camera lines – a faster camera with an APS-H cropped sensor for sports photographers and photojournalists; and a slower, higher resolution full-frame camera for commercial and fine art photographers. With the 1D X they've merged the two lines into one camera they believe provides the speed and low light performance necessary for sports photographers as well as the resolution necessary for commercial and landscape photographers. But we're here to talk about image quality so let's get to it.

So far all I've shot with the EOS-1D X are a big mountain bike race and the studio tests below. But my first impressions are excellent. I shot over 1000 photos at the mountain bike race in deep forest and rainy conditions, many of them at ISO 3200 and ISO 6400. I think the ISO 6400 images look very good. They have tons of detail and the color and contrast held up very well. Check out photo below to see what I mean. It was shot at ISO 6400 and then pushed pretty hard in post to open up the shadows. Yes, you can see noise when you zoom way in. But I was able to set the shutter speed to 1/1000th of a second to freeze the action and when you view the images normally they look great. I consider this a totally publishable photo. In the past I would have had to use flash in these conditions, which would have spoiled the atmosphere in this photo.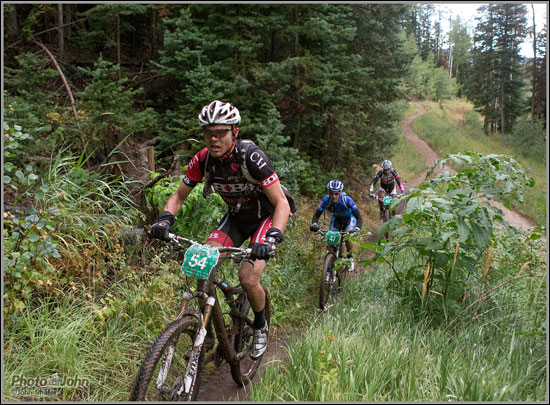 After taking a closer look at the studio tests below I'm thinking I should have used an even higher ISO to shoot that mountain bike race. Just for kicks I sized the ISO 12,800 and 51,200 1D X sample photos up to 20×30 inches and printed an 8.5×11 crop of each. The ISO 51,200 print was definitely pushing the limits, with visible noise at a normal viewing distance (twice the diagonal). But the ISO 12,800 crop print looked pretty good. Sized to 8.5×11, ISO 12,800 looked excellent and ISO 51,200 was passable. Based on those print tests, I think the Canon EOS-1D X is rock solid up to ISO 12,800. In low light and when detail isn't critical (photojournalism, sports, location portraits) I think even ISO 25,600 is useable – as long as you aren't printing too big. It's certainly good enough for a full page magazine image. Of course, what's good and acceptable depends on conditions, subject-matter and your own (or your editor's) personal standards. So don't take my word for it, make your own prints from the images below and decide for yourself.
These Canon EOS-1D X studio sample photos were shot RAW in aperture priority at f/11 with the Canon EF 24-70mm f/2.8L zoom lens. The white balance was set to the camera's tungsten preset and the RAW files were converted to TIFFs in Lightroom at the default settings. The graybar, logo and text were added in Photoshop before resaving the photos as maximum quality JPEGs. No adjustments have been made – that includes noise reduction and sharpening. What you see is what you get.
If you own the Canon EOS-1D X, please write a user review!
Canon EOS-1D X Studio Tests
Canon EOS-1D X First Impressions >>
All Digital Camera Sample Photos >>
Related Content:
All Canon User Reviews
All Digital SLR User Reviews
All Canon EOS-1D X Sample Photos
Canon Cameras Forum
Digital SLRs Forum
Canon News, Reviews & Articles
Canon Web Site
All Digital Camera Pro Reviews
All Digital Camera Studio Sample Photos