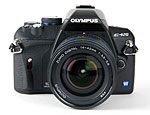 The Olympus E-420 is currently the world's smallest digital SLR. Offering professional performance and features in a compact, lightweight body, the 10-megapixel E-420 includes Live View, a 2.7-inch LCD and Face Detection. It can capture both RAW and JPEG file formats.
Want to buy an Olympus E-420?
Compare prices and shop for a Olympus E-420 digital camera >>

Pros
DSLR performance in a remarkably small, lightweight body.
10-megapixel sensor provides excellent image quality.
Ability to shoot in RAW format.
2.7-inch Live View LCD with auto focus.
Face Detection technology
Dust-reduction system.
Built-in pop-up flash.

Cons
No mechanical Image Stabilization.
Bigger than a point-and-shoot.
Battery charger requires long cord.

Introduction
The Olympus E-420 is my first digital SLR experience. Photo-John gave it to me to review because he thought it would provide an interesting perspective for first-time DSLR buyers considering this camera. Previously, I've used film SLRs, compact digital cameras and digital point-and-shoots. The E-420 kit I had for review included the Zuiko Digital 14-42mm f/3.5-5.6 lens (28-84mm equivalent) and sells for $600. The body alone retails for $500 and the camera is also available in a second kit with a super-compact 25mm "pancake" lens (50mm equivalent) for $700.
I used the E-420 to shoot landscapes around my home in western Montana, as well as on excursions to the nearby Garnet ghost town and Miracle of America Museum. The E-420′s size and weight compared favorably with the compact digital cameras I've used, while offering more features, faster performance and superior image quality.
next page – Olympus E-420 Camera Features >>