The Leica M9 is a manual focus, 18-megapixel full-frame digital rangefinder camera. Other than the digital sensor, it's pretty much the exact opposite of what most photographers are using now. That said, the Leica M-rangefinder's simple, German design and rich history are an aphrodisiac for pretty much every experienced photographer I've ever known. I've probably lusted after Leica rangefinder cameras since I was in college – about 20 years now. Last week I attended a Leica Akademie workshop at Pictureline in Salt Lake City. I spent the day in a classroom with seven other photographers and a $7000 Leica M9 digital rangefinder.

Why Leica & Why Rangefinder?
In this era of high-ISO, 10 frames-per-second auto focus cameras with live view, video and superzoom lenses, it might be hard to get your head around the Leica M9. With no auto focus, no scene modes and no high-speed burst, why would someone choose the M9 over a Canon EOS 5D Mark II or Nikon D7000? Two reasons – first, the M9′s simple rangefinder design allows the photographer to relate to their subject differently and thereby take a different kind of picture. And second – the quality. Although Leica rangefinders don't have all the bells and whistles of a contemporary digital SLR, as soon as you pick one up it's obvious you've got something very different in your hands. The solid, metallic feel is unlike anything else on the market right now. And even though the M9 is smaller than a digital SLR, the metal and glass used gives it more mass than a comparably sized digital SLR.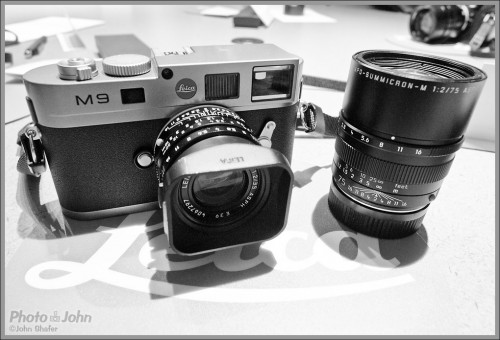 There's a mystique to Leica rangefinder cameras, lenses and image quality. It's more than just myth, too. Leica images do have a special feel. Part of it probably has to do with the way the rangefinder makes you approach your subject. But something special happens with a Leica lens open up to f/4 or wider. There's a bright snappiness to the focused areas and a natural glowing bokeh in the out-of-focus areas that you don't see in photos taken with other camera systems. This unique image quality is one of the reasons photographers will choose a Leica rangefinder over a more sophisticated digital SLR.
From the glass they use to the hand assembly process, Leica lenses are different. They take a lot longer to make and cost a lot more. The difference is pretty clear in the photo below. (Good one, huh?) The chunk of glass on the left is made by Leica and costs $900 to make. Leica lenses are all hand assembled in Germany and some elements can spend months in a cooling chamber to ensure they are optically perfect. The chunk on the right is Canikon flourite ED glass – the best Nikon and Canon have to offer. But that piece of glass only costs $19 to make, according to the Leica rep. If you pick them both up the difference is even more obvious – the Leica glass probably weighs twice as much. It's that special glass that's responsible for Leica's legendary image quality.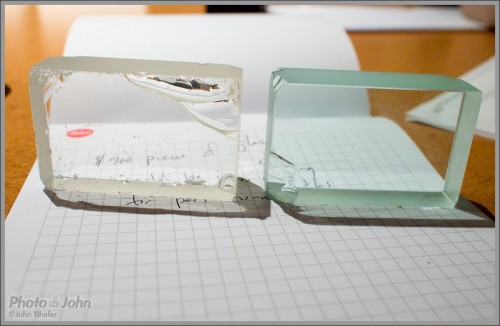 Optics aren't the only thing that make the M9 different. Unlike a digital SLR, there's no anti-aliasing filter on the sensor, making M9 images noticeably sharper right out of the camera. And then there are the mechanics of the camera – the rangefinder*, the manual focus prime lenses, and the simplified manual exposure.
Using the M9′s rangefinder is a little awkward when you're used to a through-the-lens SLR viewfinder. You don't see exactly what's being captured and you compose with frame lines in the viewfinder that aren't 100% accurate. On the other hand, there's no blackout when you take a picture and your lens aperture doesn't affect depth-of-field in the viewfinder so you see everything normally. Finally, there's the fact that you have to focus and do almost everything else manually. You are fully responsible for focus and exposure with a Leica rangefinder. The M9 does have a few modern touches – aperture priority and auto ISO help keep things loose and make the transition from a digital SLR a little easier. A lot of photographers yearn for the purity and simplicity of a manual rangefinder like the M9. But the M9′s simplicity is a double-edged sword. Yes – the experience has a simple purity that you don't get with a digital SLR. But it's a lot easier to blow it and take crappy pictures. However, if you embrace the responsibility, you will be a better photographer.
next page – Leica M9 Experience >>