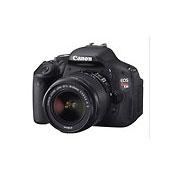 With an excellent feature-set and a very friendly price, the Canon EOS Rebel 600D (called the EOS Rebel T3i in the US) has been one of the most popular and best-selling cameras in 2011. So I was happy to see this fine user review by community member Anthony Reiss. It gives me a chance to give the T3i / 600D some well-deserved extra attention.
If you own the Canon EOS 600D / Rebel T3i, please share your experience with other photographers by taking a few minutes to write a review. User reviews are the foundation of PhotographyREVIEW.com. We need reviews from all kinds of photographers. Everyone's opinion counts!
---
Featured Review: Canon EOS Rebel T3i / 600D Digital SLR
by Anthony Reiss (Professional)
Price Paid: $784.00 from Canon Dealer
Review Date: October 8, 2011
Used product for: 1 to 3 months

Overall Rating: 5 of 5
Value Rating: 5 of 5

Summary:
One of the most value for money DSLRs to come in a long time.
To those who know what they are after in a DSLR, what they want out of a DSLR, this model has a lot to offer, and is a refreshing solution to their needs.
I will not repeat what has been said or what you can learn from information out there, rather, I will spell out what really gets me excited about this new model.
1. It has the same sensor as the 7D and the 60D.
To a lot of experienced photographers, that's what counts the most, only followed by the bells and whistles that are thrown in.
2. Articulated screen. For someone like me, who has been in the video and film movie industry for over 20 years, an articulated screen means a lot. It makes the ergonomics of this model closer to the feel of a pro video cam.
3. Full manual control of exposures in movie mode. That's Hollywood style.
Read The Rest Of The Review >>
Canon EOS Rebel T3i Intro >>

Related Content:
All Canon Reviews
All Digital SLR Reviews
Canon Cameras Forum
Digital SLR Forum
All Canon Camera News And Articles
Canon Cameras Web Site